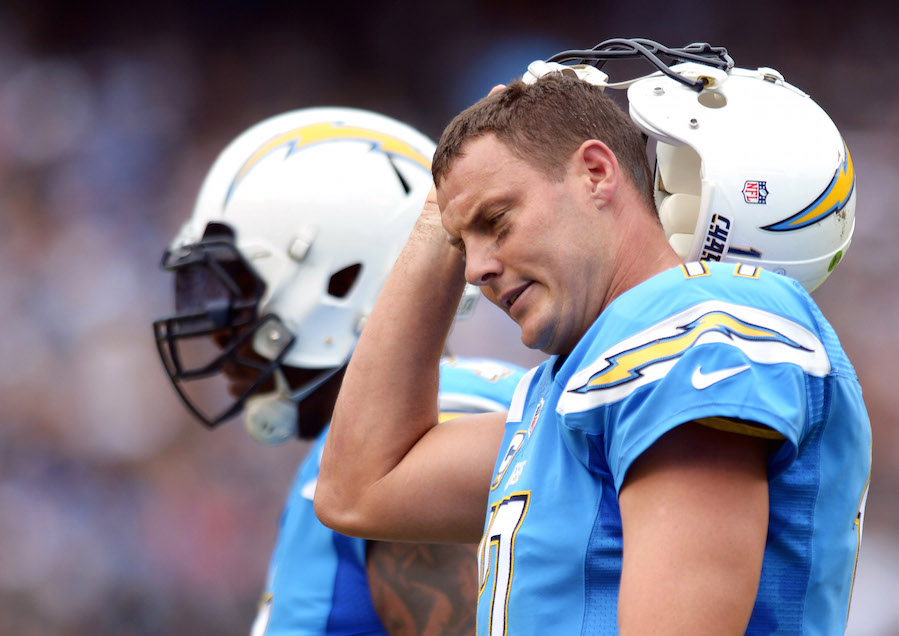 It's Monday morning and there's nothing to gripe about, celebrate or articulate. Not in the way we normally do here in Denver, Colo. No Broncos? No good. No James Merilatt's Monday morning column to fire all of you up; the bye week reminds all of us here at Mile High Sports exactly how serious the business of covering the Broncos truly is.
It's very serious. What the heck did you people do with yourselves yesterday anyway?
Imagine the dilemma of trying to capture your attention without much of anything on your mind to begin with. Welcome to my world. Welcome to my "Bye Week Bouillabaisse."
What the hell is a bouillabaisse? Glad you asked. It's a French word that's built of two verbs: "to boil" and "to simmer." For practical purposes, it's originally and essentially a French fish stew, consisting of – get this – fish that French fishermen could not sell to markets or restaurants. It just wasn't good enough.
A Monday without the Broncos during football season ? It's a net full of stuff not fit for a main course.
Nonetheless, stew on this…
The AFC West
It's ours, Denver. That's right, this race is over. The Broncos will win their fifth consecutive AFC West division title and it won't even be close. The rest of this crappy division just keeps beating itself up.
The Chiefs, cursed with injury, won't factor in (don't let that win over a Big-Ben-less Steelers team yesterday fool you).
The Raiders thumped the Chargers (who we thought might be decent) yesterday, bringing Oakland to 3-3 and San Diego to 2-5. With the Broncos already getting over in Oakland, it's highly likely that they'll come away 2-0 against the only team that could conceivably make it a race.
The Chargers have the easiest part of their schedule in front of them, but they also play the Broncos twice and Miami once – a game that's no longer a gimme. Plus, the Broncos and Chargers go head-to-head in the final week of the season in Denver. Barring a meltdown akin to the one we saw in 2009 (don't worry, this defense is too good for that), this should be a runaway.
Da Buffs
What's really going to miff Buffs fans come December is the fact that one game will stand between them and a bowl game: Hawaii.
In case you missed it, the Buffs snapped a 14-game, in-conference losing streak on Saturday by beating Oregon State. It was a workman like effort, highlighted by excellent defense and zero turnovers. That gives the Buffs their fourth win on the season. Mike MacIntyre and his ball club deserve huge kudos for not throwing in the towel and picking up the win – a must win by every account.
Remaining on the Buffs schedule: UCLA on the road, Stanford and USC at home, and then Washington State and Utah on the road. There are no easy wins left on the docket. There might not be any wins, for that matter. But my gut tells me MacIntyre's bunch is resilient and will pick up one win for sure – possibly two (let's say USC in Boulder and either UCLA or Washington State on the road).
Sure, that's a long shot. But, what if? Well, if and when that happens, it will be the Hawaii game that makes Buffs fans sick to their stomach. First of all, they shouldn't have played that game at all (that oddly-timed matchup in the Pacific Ocean gave the Buffs 13 total games, meaning they could only qualify for a bowl game with seven wins); secondly, they should have beaten the Rainbow Warriors – a team that's gone 1-6 since – anyway. Yuck.
Futbol
Without local professional football to discuss, let's talk about local professional futbol. On Sunday night in Oregon, the Colorado Rapids fell 4-1 to the Portland Timbers. It was an appropriate finish to a season worth forgetting.
Officially in the books, the Rapids 2015 campaign looks like this: 15 losses, 10 draws, nine wins – all good for the worst point total (37) in Major League Soccer's Western Conference. It's the second year the Rapids will miss playoffs under second-year head coach Pablo Mastroeni. While Colorado didn't finish in last place last season, they only amassed 32 points. Forgive me for asking the obvious, but what the heck is going on with this team?
This was an organization that was fired up about the season back in March. They'd brought in talented South Americans Marcelo Sarvas, Lucus Pittinari and Juan Ramirez. Ireland's Kevin Doyle was on his way. Among them, they totaled just nine goals (Doyle alone had five). They also had top, young, homegrown talent in Shane O'Neill and Dillon Serna, both of whom spent time with the senior U.S. Men's National Team. Serna caught on late, but only logged eight starts and 680 minutes. He finished with three goals. O'Neill's season began in controversy (he simply wasn't utilized) and it ended with a transfer to Apollon Limassol of Cyprus.
Word on the street is the Mastroeni's job is safe. I'm not here to suggest that someone should be canned, but where the blame lies is anyone's best guess. Something stinks in Commerce City, and this time it's not the refinery.
America's Pastime
Guess what? The World Series kicks off Tuesday.
There was a day, when the entire country would have known this. But here's a true story: I walk into the barber shop Sunday wearing my Kansas City Royals hat, and the barbers says, "Oh, Kansas City … how are they doing?"
It's sad but true; baseball is currently an afterthought in America (for the most part). But I'm here to tell you that this year's Fall Classic will be absolutely fantastic. Both the Mets and Royals are teams worth watching (if nothing else, you've got to watch all of Daniel Murphy's at bats). But furthermore, and relevant to baseball fans in Colorado, take note as to how both of these teams are built. They've got great – and I mean great – bullpens. Sure, they've got a few outstanding starters, but they've been built "from the back forward." Kansas City in particular was put together with the idea that if the starter got to the sixth inning with a lead, the Royals have a great chance of winning.
So, Rockies, how does that sound? Actually, come to think of it, the only times the Rockies have been decent, were seasons in which they had a legitimate closer and/or setup man. Huston Street was a huge reason Colorado made the playoffs in 2009. The combination of Brian Fuentes and Manny Corpas mowed down late-inning batters all the way to the World Series in 2007. Even Darren Holmes, Bruce Ruffin and Curtis Leskanic combined for 35 saves in 1995 – which, behind the NL's highest run production, got Colorado into the playoffs.
Guess what team led the NL in run production in 2015? That's right, your Colorado Rockies. It's all for naught without a respectable bullpen. Then again, you already knew that. Kansas City knows that. The Mets know that.
It's not easy to get pitchers to come to Colorado. History suggests the Rockies aren't too good at developing them either. But dammit, you've can't just ignore bullpen all together. The Royals were sixth in the AL in runs scored. The Mets finished ninth. Both teams are in the World Series because of their bullpen. The Rockies finished last in the NL West because of theirs.
…And the Best News?
No Broncos got themselves into trouble during the bye-weekend. That doesn't sound like a big deal, but it is. These Broncos, despite their "ugly" 6-0 start, have San Francisco in February on their mind.
Now, you too, may resume thinking about the Broncos, the Super Bowl and all the things that were missing this weekend.