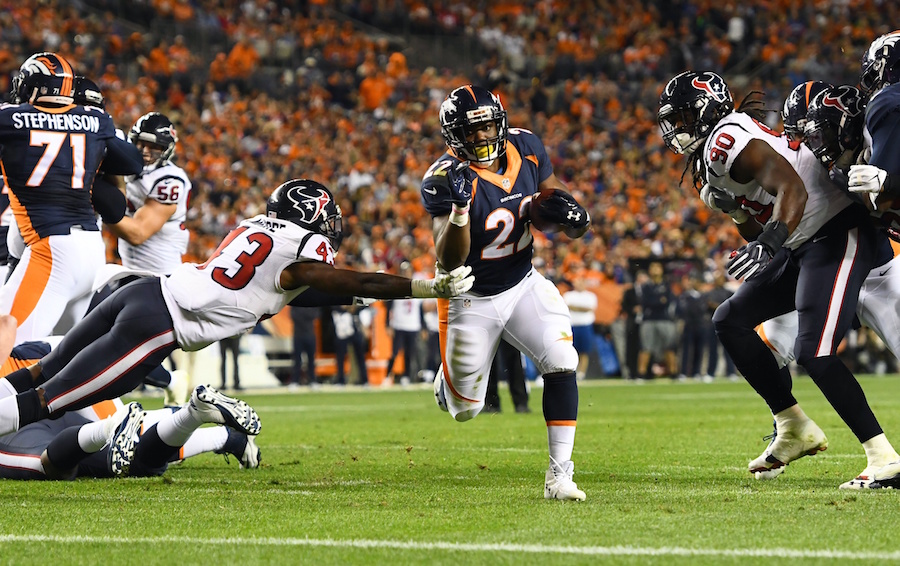 As a potentially tumultuous offseason looms, one that could see more than one Broncos mainstay departing, running back C.J. Anderson is making it clear that he wants to remain with the team, taking to Twitter Monday morning to declare both his desires — and relay to fans that the decision is out of his hands.
So let's get this out the way once and for all right. I want to be back yes badly, it's not my decision it's the organizations. So asking me that question is pointless so everybody please stop asking cuz it's out of my control. https://t.co/yaAkfsV2RL

— Cj Anderson (@cjandersonb22) January 15, 2018
Anderson will be an unrestricted free agent in 2020 and his contract only counts as $4.5 million dollars of cap space over the next two years, but to pursue a big-name quarterback like Washington's Kirk Cousins, the Broncos will need to save money wherever they can. Anderson's contract carries no 'dead cap' hit, meaning that the team could release Anderson this offseason without financial penalty.
Anderson rushed for 1,007 yards in 2017 — the first 1,000-yard rushing season of his career — and added four total touchdowns (three rushing, one receiving).
After his career-best season for the Broncos, Anderson now ranks in the top ten in rushing attempts, rushing yards and rushing touchdowns in Broncos history.
Anderson signed with the Broncos as a college free agent in 2013 out of the University of California. He earned a Pro Bowl nomination in 2014 and scored Denver's only offensive touchdown in their Super Bowl 50 victory.