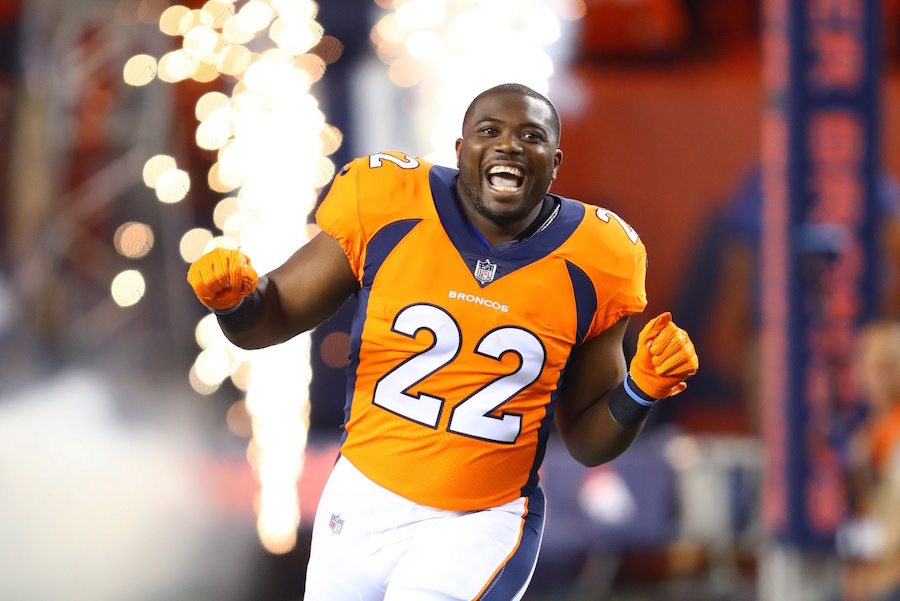 The formula has been simple for the Denver Broncos in their three wins this season: Run the ball, play tough defense and don't turn the ball over.
The crew from "NFL Playbook" says that formula should send the New York Giants home from Denver on Sunday night licking their wounds after what would be an 0-6 start to the season for Big Blue.
Retired Giants center Shaun O'Hara sees the damage teams are doing on the ground against his former team and thinks Broncos running back C.J. Anderson should be primed for a big day:
"They couldn't stop [Los Angeles Chargers running back] Melvin Gordon. I think C.J. Anderson's licking his chops, and rightfully so."
Rhett Lewis and coach Brian Billick expect a heavy dose of Anderson against a Giants defense that is allowing 139.0 yards per game rushing and ranks 29th in the NFL.
"How about that formula of playing great defense and running the ball?" Billick asked in reference to how the Broncos have managed to jump out to a 3-1 start to the season.
"And who'd have thought about the Denver Broncos and their run offense being the strength of this offense? But that's exactly what happened. This is a group now that in 2017 they're averaging 143 yards a game on the ground. This was a team last year," Billick continued, "that was 28th in the league in rushing offense. They've re-tooled the offensive line and they have a healthy C.J. Anderson to go with Jamaal Charles on the outside."
"The key for them now: League-leading defense; run the ball; Trevor Siemian play within your wheelhouse – 25-30 throws a game; don't turn the ball over. That's a winning formula," Billick says.
O'Hara is understandably concerned with the Giants on offense, as a spate of injuries last week means Eli Manning will likely be without his top three targets. New York is short on playmakers with Odell Beckham Jr., Brandon Marshall and possibly Sterling Shepard all out for the game.
"I think [tight end] Evan Engram's gotta step up and [wide receiver] Roger Lewis is a guy that [Manning's] going to look to," O'Hara says.
Denver boasts the league's top overall defense, surrendering just 260.8 yards per game – nearly 50 yards better than No. 2 Miami (309.5). With so few pass-catching weapons at their disposal this week, New York will also have to lean on running backs Orleans Darkwa, Wayne Gallman and Shane Vereen. That will be a tall task for the trio. The Broncos have been especially stout against the run, giving up a league-best 50.8 yards per game.
On the other side of the ball, O'Hara sees a big opportunity for Denver against a Giants defense that is in disarray.
"You mentioned the Giants defense," O'Hara said. "Everybody last year was talking about how great this defense was, Landon Collins was playing lights out. They're just not showing up. They can't stop the run. They can't get off the field. And they've got one interception all season long, so they're not creating any turnovers.
"That guy [defensive end] Jason Pierre-Paul's got to show up. He disappeared against the Chargers. He might be going against Menelik Watson [in Denver], who has really struggled this year – he's given up more sacks than any right tackle."
Surrendering sacks has been one of Denver's few weaknesses this season. The Broncos have allowed 13 sacks through four games, an average of 3.25 per game. That's a step back from even last year, when the pass-protection unit allowed 40 (2.5 per game).
"I think this Giants defense has got to show up. Now, all of a sudden, the ship is taking on water. DRC (cornerback Dominique Rodgers-Cromartie) isn't happy. He leaves practice – suspended, not suspended. I think Ben Macadoo's got a serious issue here. It's a long flight home from Denver at 3:00 in the morning if you're 0-6," O'Hara says.
The Broncos and Giants kick off from Denver at 6:30 p.m. MDT on "Sunday Night Football."