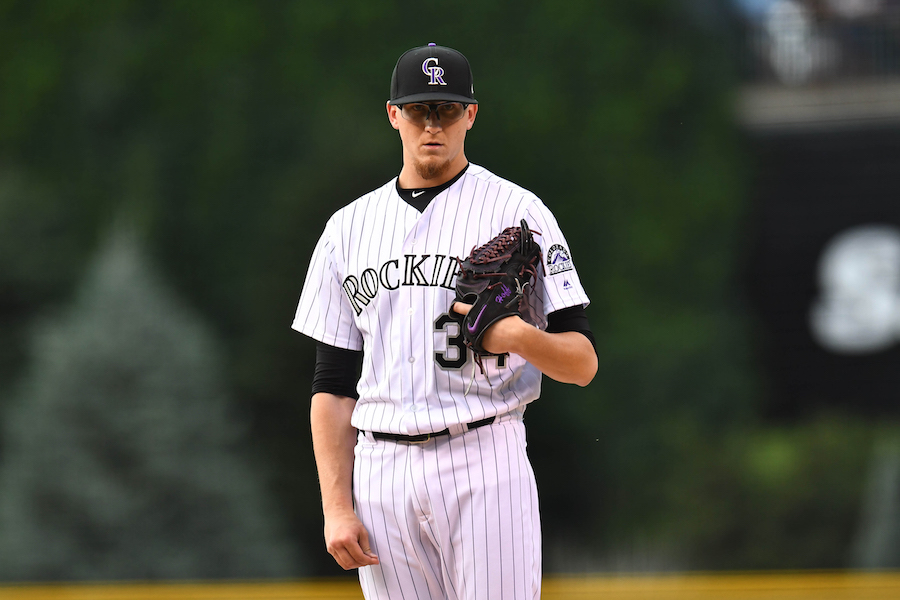 The Colorado Rockies open Cactus League play on Friday, and 25-year-old right-hander Jeff Hoffman will be on the mound. It may be a bit overzealous to read too much into who manager Bud Black selected to start the first game of Spring Training, but it's also hard not to see some meaning in the fact that Hoffman will be the first pitcher handed the ball in a "live" environment for the 2018 season.
The first game played at Salt River Fields at Talking Stick between the Rockies and Diamondbacks in 2018 won't look much like the game the two sides last played against one another — save for perhaps the final score and the number of players used in the game. The last time these two teams met, Arizona ended Colorado's surprising run to the MLB postseason in a barn-burner at Chase Field. Black used 20 of the 25 men on his roster in that game, an 11-8 Rockies loss. Jeff Hoffman was not on that roster.
Hoffman in 2017 was one of four Rockies rookie pitchers to start at least 10 games, joining Kyle Freeland, German Marquez and Antonio Senzatela. Although Hoffman carried the most prior MLB experience into the season (31.1 innings over eight games, six starts) compared to his fellow rookies, he ended last season with the fewest wins, starts and total innings among the four. That's not to say his first full season with the big-league club was a failure — far from it. Hoffman ended the year with a 6-5 record, a marked improvement over the 0-4 record he compiled as a late-season call-up in 2016.
Still, as his fellow rookies wowed with impressive performances — a near no-hitter and multiple clutch outings from Freeland, NL Rookie of the Month (April) honors for Senzatela, the team lead in wins, strikeouts and innings pitched for Marquez — it was hard not to view Hoffman's 5.89 ERA and relegation to the bullpen late in the season as somewhat disappointing.
Hoffman came to Colorado as the centerpiece to the Troy Tulowitzki trade. (Sorry, not sorry, Jose Reyes.) At 6-foot-5, 225 pounds Hoffman has the look and build of another pitcher the Rockies will rely on as they attempt to improve on last year's 87 wins and go farther in the playoffs this year, Jon Gray. Lose the stylish sports glasses and grow out his locks, and Hoffman might pass for Gray to fans sitting in the upper reaches of Coors Field. Both are long and lean with powerful fastballs and a four-pitch mix that has top-of-the-rotation potential. Not quite one year apart in age (Gray turned 26 in November; Hoffman turned 25 in January), the two have the potential to be a devastating duo for the Rockies through at least the 2020 season, after which time Gray could become an unrestricted free agent.
But in order for that to happen, Hoffman has to take some major steps forward. Although he'll make the first Spring Training start for Bud Black, the Rockies had Hoffman sixth on the starting rotation depth chart upon its first release ahead of the season. Another solid spring from Antonio Senzatela, the only starter currently below him, could drop Hoffman down to seventh by the time the team breaks camp for the regular season. However, a strong Cactus League showing from Hoffman could shuffle the deck in a rotation that seems wide open after Gray.
Expect Hoffman to see extended and meaningful innings during Spring Training. The Rockies have high expectations for the former Eastern Carolina standout, and competition will be fierce for at least two, maybe three, spots in the rotation.
Hoffman must improve his command first and foremost to earn a spot.
Hoffman's fastball, which averaged 94.8 mph and was thrown 67 percent of the time last season, had a -11.0 wFB and -1.02 wFB/C rating according to Fan Graphs. To simplify that for the non-analytics types, those stats rate the quality/effectiveness of a given pitcher's fastball in terms of preventing or allowing runs. A zero number in either of those categories is considered average. A -20 wFB (based on total pitchers) and a -1.5 wFB/C (the average over 100 pitches) is considered poor at the major league level.
His curveball, however, rates a 2.0 and 0.68 on those same scales. It is his only "plus-outcome" pitch, and he is increasing his frequency in using it. Last year he threw it nearly 19 percent of the time.
His 3.6 BB/9 in 2017 tied with Freeland for the highest among returning starters in 2018. His 1.47 WHIP is the second-highest among returning starters, after Freeland. But unlike Freeland, Hoffman never put together a "signature" outing.
While Freeland pitched gems against the White Sox (a near no-hitter) and Dodgers (a home-opening win), Hoffman's best starts flew under the radar. He had impressive wins early in the season in Philadelphia and in San Diego, going seven innings and allowing just one earned run with 16 combined strikeouts and no walks in those consecutive starts, but he faded greatly down the stretch. After starting the year 4-0 and improving to 6-1 on July 16, Hoffman was out of the rotation by mid-August. His ERA spiked more than 1.5 points over the final 2.5 months of the season. In his final two outings he allowed seven earned runs and four walks to just one strikeout over 1.2 innings pitched (while not recording an out in one of those two appearances).
Despite the shaky end to last year, it should come as no surprise that Black gave Hoffman the first start of Spring Training. He has all the potential to be a top-line starter, but his command and stamina must improve. Just as they did with Gray, the Rockies seem willing to put Hoffman out there in sink-or-swim situations. However, unlike with Gray, there are numerous other bodies competing for spots in the rotation. Make no mistake, Hoffman will see meaningful major league starts this year. But, how he performs throughout this Spring Training will dictate whether he begins the season in Denver or in Albuquerque.