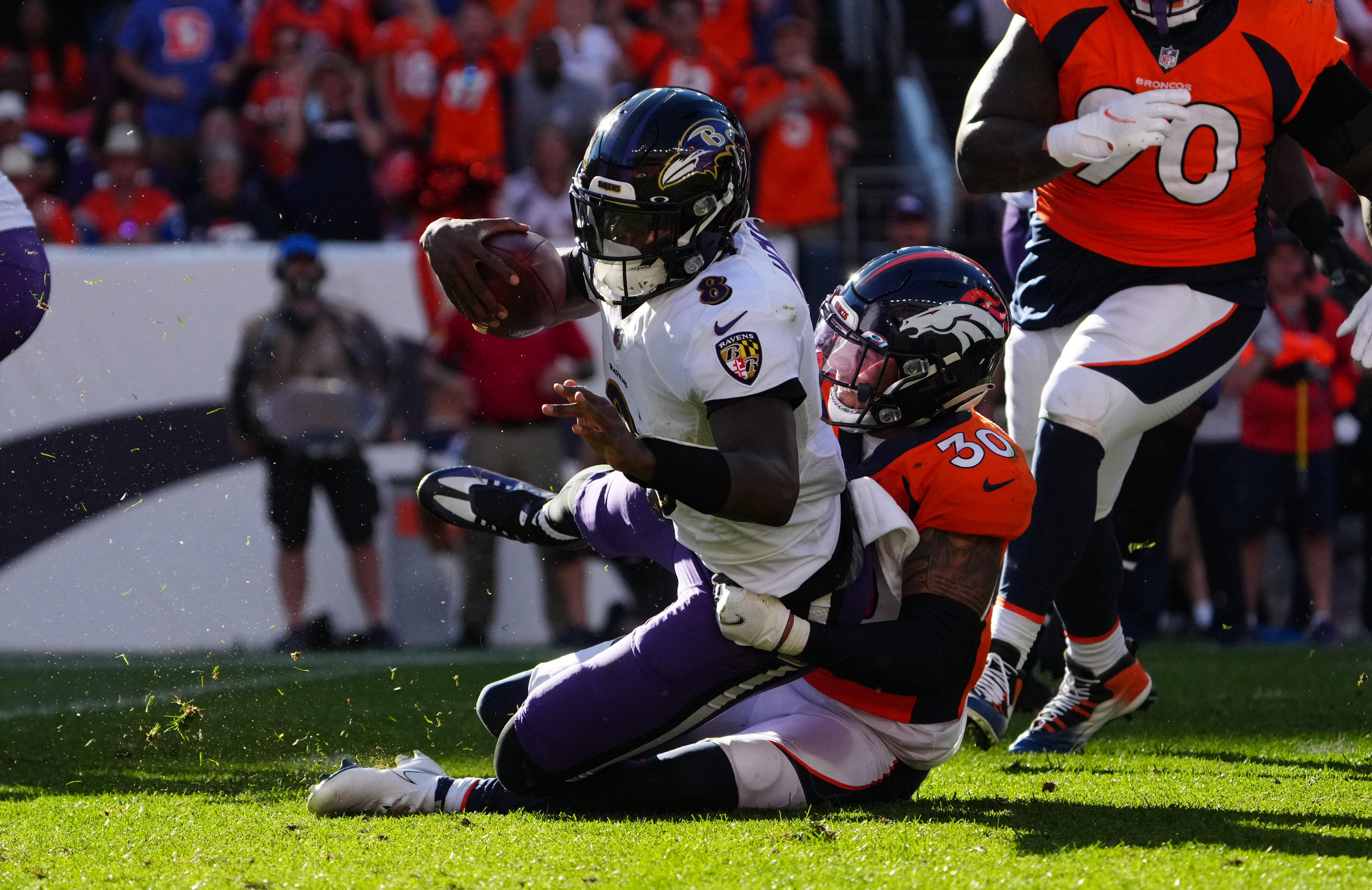 The Denver Broncos dropped their first game of the season due to a series of miscues and injuries, as they were thoroughly outclassed by the Baltimore Ravens.
Which players played the biggest hand in the defeat? Let's look.
Stock Up
Caden Sterns
It was a rough day for almost everyone in the Broncos defensive backfield, but Caden Sterns played marvelously, especially so when you consider his rookie status.
Following a game against Zach Wilson that saw Sterns notch the first interception, he had another impressive performance against Lamar Jackson and the Ravens.
Sterns was used frequently as a blitzer by Vic Fangio and Ed Donatell and was incredibly productive when given the opportunity.
On the day Sterns tallied two sacks of Jackson, while the rest of the team's defense managed just one sack.
As the cherry on top, Sterns delivered a beautiful hit on Sammy Watkins downfield to force an incompletion and prevent a big gain, when Denver desperately needed a stop
Run Defense
Entering their game against the Broncos, the Ravens were averaging 185 yards per game on the ground. Vic Fangio made sure that Ravens ground attack wouldn't run wild today, as Denver's defense managed to bottle up the most dangerous runner in the league, and arguably the most dangerous rushing offense.
If not for a stretch of garbage time that inflated Baltimore's rushing total by 30 yards, it would have been their first non-100 yard rushing game in 33 games. They still only managed 102 on the night.
Stock Down
Teddy Bridgewater and Drew Lock
After three truly spectacular games that had Teddy Bridgewater looking like one of the best quarterbacks in the league, he came back down to earth against the Ravens, in what was a pretty underwhelming performance.
Bridgewater went 7-for-16 for 65 yards and a score in the first half — though two drops, including a potential touchdown to Albert Okwuegbunam, made that line look much worst than it truly was. Nonetheless, Bridgewater was thoroughly mediocre, at best, and often underwhelmed.
However, things got much much worse when Drew Lock entered the lineup.
Should we have expected a superstar performance from Lock? No, of course not. He had no practice reps this week and was thrust into the same heavily injured offense Bridgewater was struggling in.
That said, the offense's production took a steep and notable drop the moment Lock entered the lineup, which is disappointing given how much his development was hyped up this offseason.
Hopefully he looks better when given a full week to prepare.
Courtland Sutton and Albert Okwuegbunam
Courtland Sutton and Albert Okwuegbunam made a handful of mistakes that ultimately cost Denver the game.
Albert Okwuegbunam dropped what would have been a beautiful touchdown pass from Teddy Bridgewater that couldn't have been placed better in-stride up the seam. On the very next play, Bridgewater was sacked and the drive ended with zero points.
The very next drive, Sutton dropped a wide-open slant that would've converted a first down and placed the Broncos right outside field goal range. The drive quickly stalled after, resulting in zero points.
That's arguably 10 points right there lost in the first quarter, in a game where the Ravens didn't gain a lead greater than 10 until midway through the third.
Sutton arguably also showed a lack of effort late in the game on deep shots, which is something that can't happen against Pittsburgh.