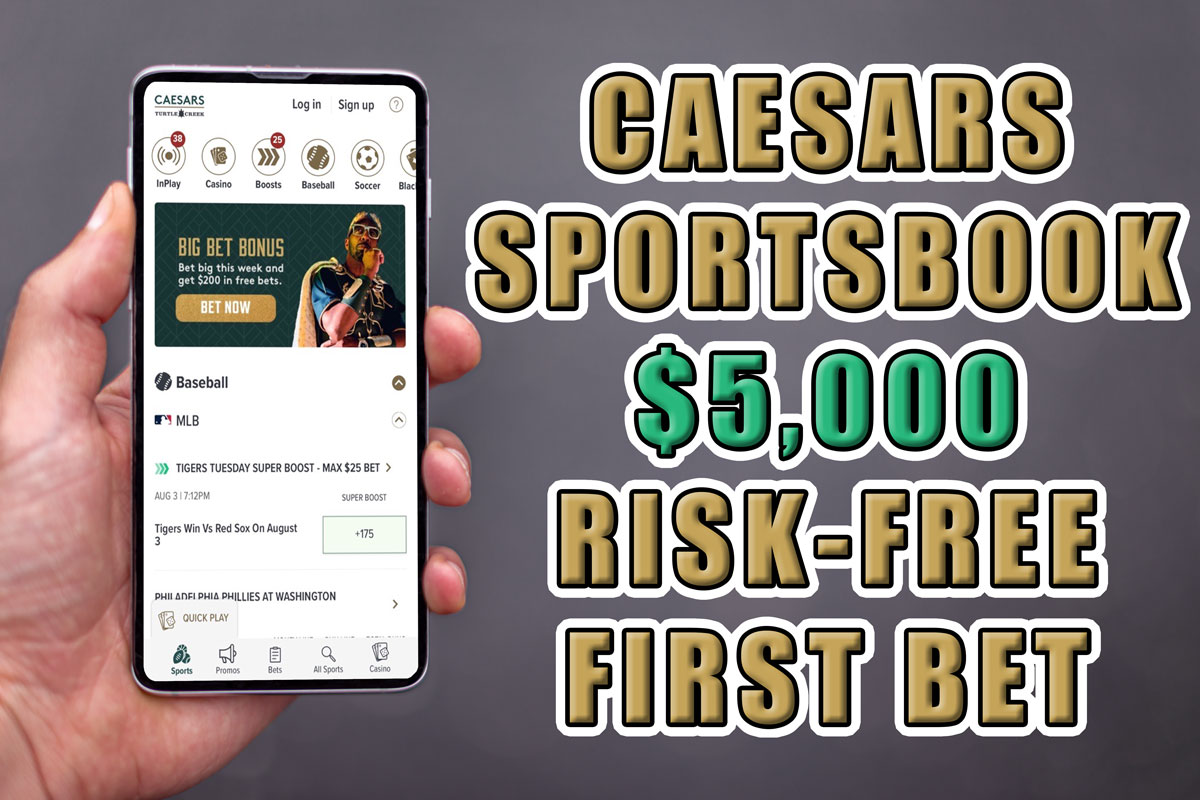 The long wait is finally over as the first week of the 2021 NFL regular season brings 15 more games Sunday and Monday. Caesars has your NFL betting weekend covered offering new customers a $5,000 risk-free bet.
What exactly is a risk-free bet $5,000 bet? In the simplest of terms, when you download the Caesars sportsbook and make a deposit, your FIRST bet amount will be refunded up to $5,000.
Whether you bet $100 on the Broncos or $5000, if you lose the bet, you will receive the amount back in free credit in your Caesars sportsbook account.
How To Get A Free $5000 Bet at Caesars Sportsbook
Caesars Sportsbook has an industry-leading promotion of a risk-free $5,000 bet for new players. Plus a free NFL jersey when you bet during week 1 of the NFL season. Here is how to take advantage of these two offers together if you are a new player:
Deposit to fund your account.
Place your first risk-free wager (choose wisely as only your first wager is risk-free up to $5,000).
If your wager(s) total $100 or more, you are eligible for the free NFL jersey already and your first bet is risk-free.
One note to be aware of is that you will need to opt-in on the Caesars sportsbook site or app to be eligible for the NFL jersey giveaway.
How To Get Your Free NFL Jersey From Caesars 
New and existing customers can take participate in the free NFL jersey promotion at Caesars. Here is how to get your free NFL jersey:
Deposit to fund your account.
Opt-in to the promotion.
Place $100 (or more) worth of wagers on NFL markets in the month of September.
You will be given a $150 gift card to NFL Shop to purchase your jersey, after you reach the $100 in NFL bets for September.
YES, this promotion can be combined with the $5,000 risk-free bet, and is available to both new and existing users. To be eligible you must have a Caesars Sportsbook account and be located in one of the following states when placing your bets: Arizona, Colorado, Iowa, Indiana, Michigan, New Jersey, Tennessee.