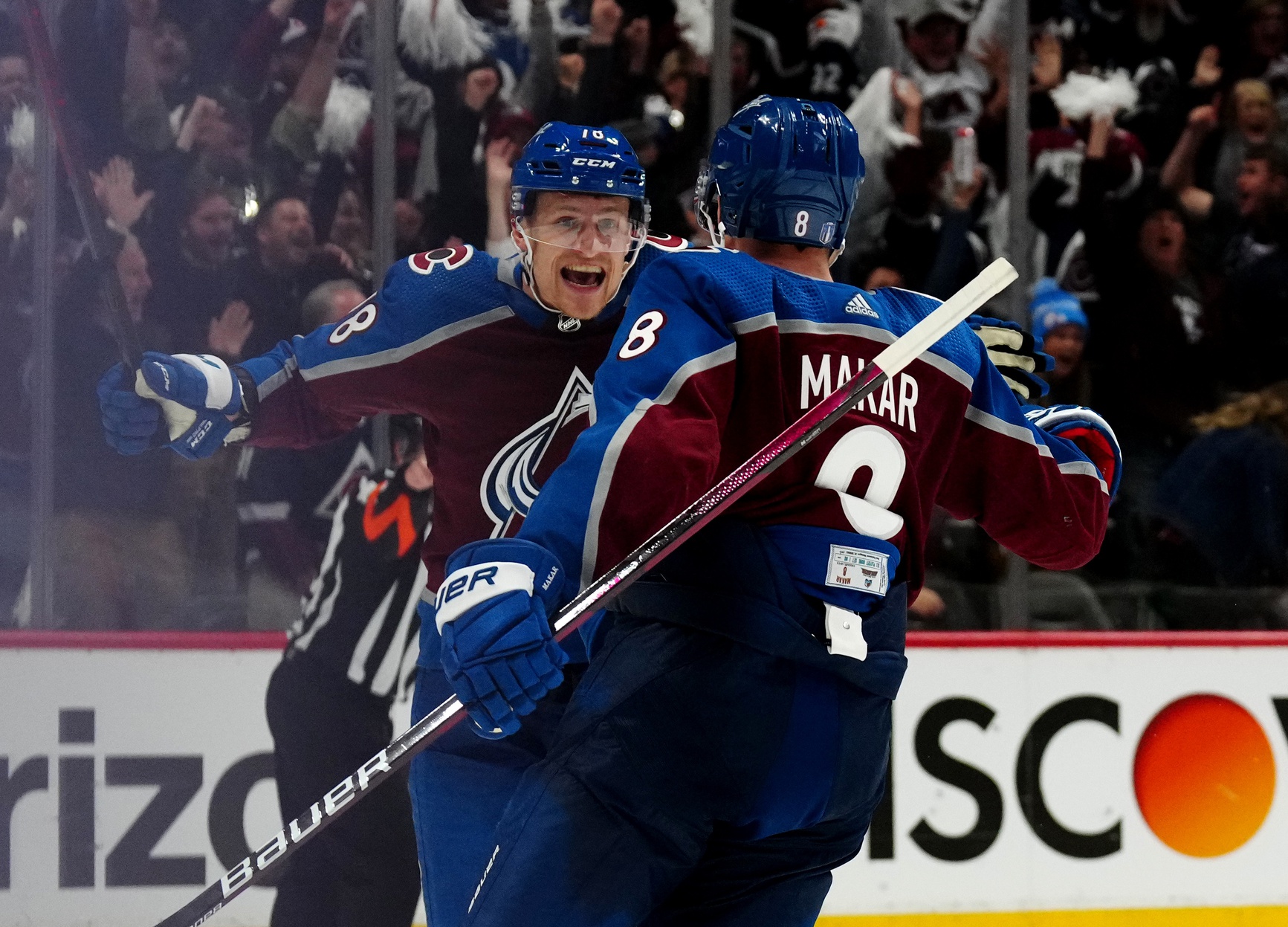 The Avalanche found a way to do it again.
Unlike its dominant victory two nights ago, Colorado needed 51 shots on Thursday to take a 2-0 series lead over the Nashville Predators. The Avs scored on their first and 51st shot to defeat the Preds 2-0 in overtime at Ball Arena.
They continued to pour it on even when it felt like nothing would get past Nashville goalie Connor Ingram.
"Our guys just stuck with it and kept doing it the right and eventually they got rewarded," coach Jared Bednar said.
Cale Makar capitalized 8:31 into overtime to seal the win for the Avalanche, who are just one of two teams to take a two-game series lead through the first four days of the Stanley Cup playoffs (Carolina over Boston).
Listen to "Cale Makar Wins It in Overtime" on Spreaker.
He shot the puck from the blueline while forward Logan O'Connor — who was a healthy scratch in Game 1 — successfully battled Roman Josi for positioning and screened the goalie. The puck found its way through Ingram's five-hole to put the game away.
"I tried to just throw it low and luckily went in," Makar said of his goal. "Overall, just a good effort by the guys getting everything to the net."
Makar had one of the more impressive performances by a defenseman in recent memory — even breaking an Avalanche record along the way. He had 23 total shot attempts, 11 of which were blocked. His 12 shots on target in a playoff game were the most in franchise history.
Colorado jumped out to an early 1-0 lead following a goal from superstar center Nathan MacKinnon in the first period. His third of the series was the first shot Ingram faced before stopping the following 49.
For MacKinnon, it was also one of eight shots in another spectacular performance to lead the charge.
"He loves to compete," Makar said MacKinnon's exceptional play since the start of the playoffs. "Even before the first game you can see it in morning skate, just how amped up he was. He's a driving force on our team.
"He's definitely a different animal in the playoffs and that's why he's probably the best player in the world."
An incredible performance from the Avalanche ends with a thriller in overtime. Here's @runwriteaarif and @JJoftheYear to share their thoughts from the pressbox at Ball Arena#GoAvsGo pic.twitter.com/atcycM7kP7

— milehighsports (@MileHighSports) May 6, 2022
Darcy Kuemper faced just 26 shots in goal for the Avalanche but needed to be strong when called upon. He celebrated his 32nd birthday with a victory but was complimentary of his team for controlling play for most of the night.
"You just got to worry about the next save," Kuemper said. "I'm really confident in our group that eventually one is going to go in for us. If I just focus on the shots that I do get, I have a lot of faith in the group ahead of me."
The series now shifts to Nashville for the next two games. Puck drop for Game 3 is set for 2:30 pm. on Saturday.
"It'll be rowdy. Hostile. It always is," said Bednar when asked about his expectation for the Nashville crowd. "They'll gain some life from tonight's performance and we'll need another really strong game. We'll need to take what we did at home and transfer it right onto the road."
__
Aarif Deen is our Colorado Avalanche beat reporter. He covers Avs games live from Ball Arena and attends practices, media availabilities and other events pertaining to the Avs on the daily beat. He is also a co-host of Hockey Mountain High: Your go-to Avalanche Podcast. Deen joined Mile High Sports upon completion of his bachelor's degree in journalism and master's in business administration from the University of Michigan – Dearborn. Before Mile High Sports, Deen worked for the Michigan Wolverines Athletics Department as the assistant sports information director.
Listen to "Cale Makar Wins It in Overtime" on Spreaker.