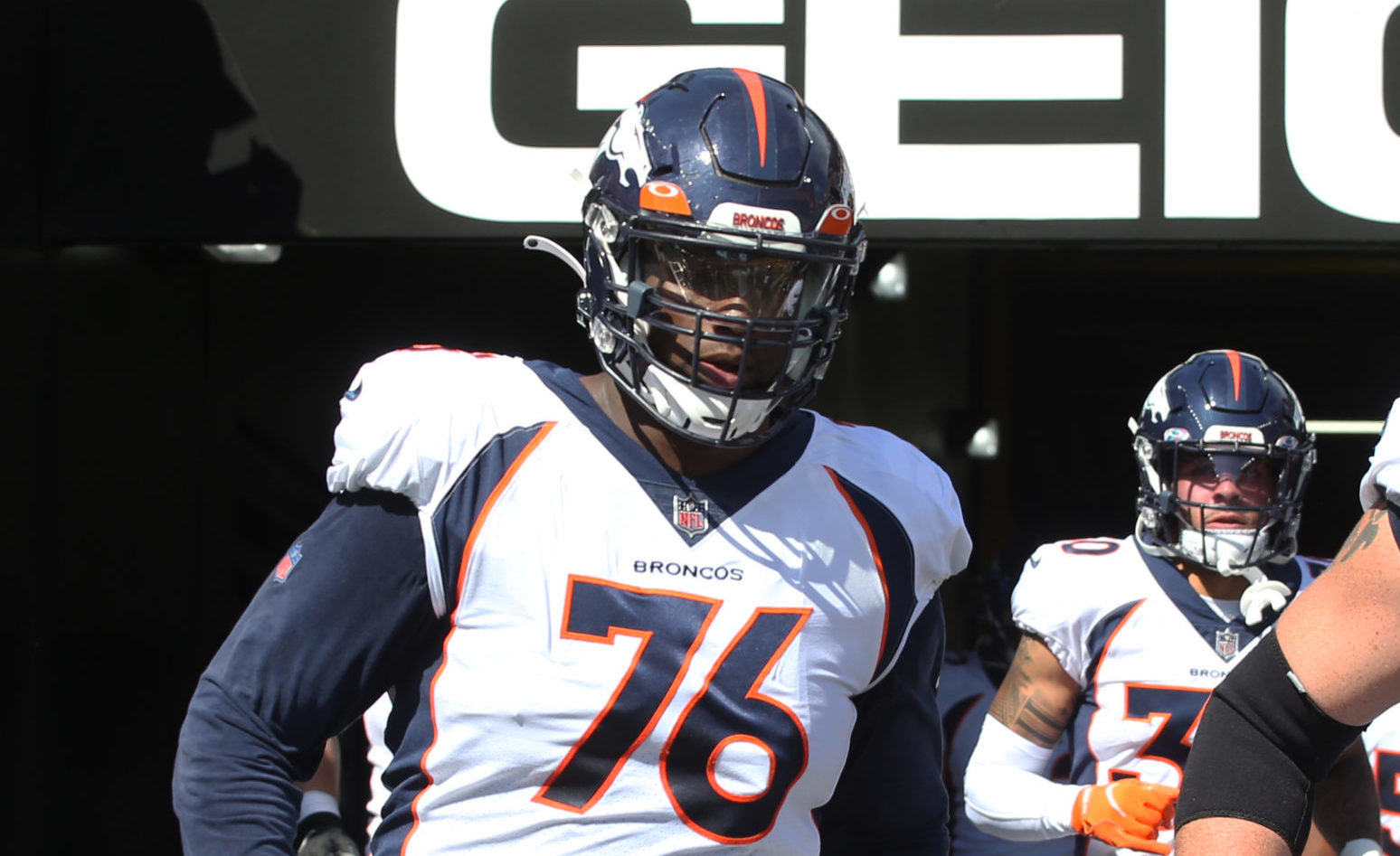 It's obvious that Russell Wilson's high-end talents and Nathaniel Hackett's offensive brilliance were going to change how some aspects of the team operated.
What might surprise some, however, is how the additions of Wilson and Hackett have completely changed the team chemistry, in a positive way.
Calvin Anderson of the Denver Broncos joins the show https://t.co/8x03g7sjvl

— Let's Talk Broncos Podcast (@TheLTBPodcast) June 15, 2022
In an exclusive interview with Mile High Sports' Let's Talk Broncos Podcast, Broncos offensive tackle Calvin Anderson shared his perspective on how different the atmosphere is in Dove Valley this season.
"[Head] Coach [Nathaniel] Hackett is bringing energy and juice every single day," Anderson said on Wednesday's episode of the show. "When you have somebody who is getting in front of us, talking to the team meeting, and he's got the energy he's telling us he wants us to have, then it's much easier for us to match that every day. So, not just days when you're feeling it, but even when you might come in and you might be tired or something, Coach Hackett is up there bouncing around, ready to get to action. He's the leader and he's the guy we're playing for, so it makes it much easier to go out on that practice field and try and give it your all."
Anderson believes the impacts of this shift in energy will carry over to gameday too, as Hackett's personality is just too infectious.
"I think all of [the players] love [Hackett's energy], and I think there's no question it's gonna be better for our play on the field," Anderson continued. "I have no question that hes gonna be out there screaming, jumping, and being just as into the game as we are. And that's infectious for players because it's an emotional game."
There's no doubt that the energy is different for #BroncosCountry !

I asked @THE_CONDA25 on @TheLTBPodcast for @MileHighSports about the effect it's had on the team, and he gives us his insight on how important it's been for the success of the new Broncos era: pic.twitter.com/Bud7HQbTlv

— Bri 🦇 (@BriBri0322) June 16, 2022
Just as valuable as Hackett's energy, has been Wilson's leadership, according to Anderson.
"Having Russ[ell Wilson] in the building is infectious because Russ is like the stock example of a competitor," Anderson said. "We were playing basketball today, and anything he does, he wants to win. You just feed off of that, especially as an offensive line. You see the guy you're blocking for — he's like doing anything he can, looking at anything he can, thinking about anything he can, in order to help us win, and find a way to win, so that's infectious.
"I think when that does bleed out of football and into the other areas of our life, like even today, when we're playing basketball, or when we're trying to do community service things — just that you're trying to win everything you do. And I think when that comes from the two leaders, the head coach and the quarterback, that stuff is infectious and I think we've all benefited from it."
If Anderson is right about these effects, the 2022 season should be the thrill fans have awaited for so long.