Rams road to a sixth-straight bowl begins and ends on defense
*A version of this story appears in the July issue of Mile High Sports Magazine. Subscribe here!
***
Three years into the Mike Bobo Era at Colorado State and things are good, but not yet great. Three straight bowl appearances under Bobo is solid – and five straight overall – but the Rams have yet to win a bowl game under their current head coach. It's not only in bowl games where CSU has struggled, but all big games; the Rams are currently 2-7 in rivalry games against CU, Air Force and Wyoming, and they've still never beaten Boise State.
What Bobo has done in terms of recruiting has been better than anything we've seen at Colorado State since the Sonny Lubick Era. The green and gold are utilizing a winning culture as well as Canvas Stadium and Fort Collins' natural beauty to lure in top-notch recruits as well as transfers. Bobo also did well to embrace the previous regime's players – like Nick Stevens, and many more – pushing them to be their best, while also integrating in his own recruits, whether they're freshman or not.
While many college football coaches preach "competition," Bobo's follow through is proof that the best man will play, despite age or lack of experience. To wit, Collin Hill was inserted into the lineup just two games into the 2017 season, and the true freshman quarterback played well until he was injured in Week 6 with a torn ACL. Others include safety Jamal Hicks, receiver Warren Jackson, tight end Cameron Butler among a bevy of more.
Speaking of Hill, he was to be the starting quarterback, hands-down, to start the 2018 season. Then, in February, he re-tore that ACL and had to miss all of spring ball and will likely miss most, if not all, of this season. The Rams reached out to K.J. Carta-Samuels, a graduate transfer quarterback from Washington, who will almost certainly start behind center this year for the Rams offense. Carta-Samuels' play will be key to the offense's continued production – or massive drop-off – because CSU is loaded with talent at the playmaking positions of receiver, running back and even tight end. While the Rams' offensive line has been stout for years, expect that unit to be a work-in-progress this year as stalwart starters Jake Bennett and Zack Golditch have graduated. There is hope on the Hill front; he's healthy and has been cleared to play, so Rams fans could see him soon, especially if Carta-Samuels struggles.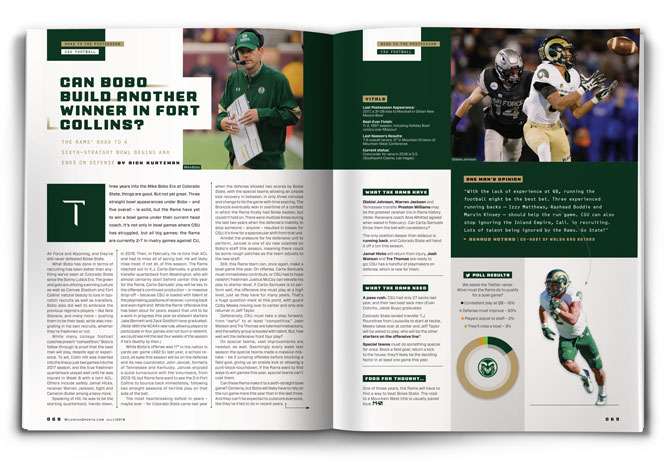 While Bobo's offense was 11th in the nation in yards per game (492.5) last year, a school-record, all eyes this season will be on the defense and its new defensive coordinator John Jancek, formerly of Tennessee and Kentucky. Jancek enjoyed a quick turnaround with the Volunteers, from 2013-15, but Rams fans want to see the D in Fort Collins to bounce back immediately, following two straight seasons of terrible play on that side of the ball.
The most heartbreaking defeat in years – maybe ever – for Colorado State came last year when the defense allowed two scores by Boise State, with the special teams allowing an onside kick recovery in between, in only three minutes and change to tie the game up. The Broncos eventually won in overtime of a contest in which the Rams finally had Boise beaten, but couldn't hold on. There were multiple times during the last two years when the defense's inability to stop someone – anyone – resulted in losses for CSU; it's time for a spectacular shift from that unit.
Amidst the pressure for his defensive unit to perform, Jancek is one of six new coaches on Bobo's staff this season, meaning there could be some rough patches as the team adjusts to the new staff.
Still, this Rams team can, once again, make a bowl game this year. On offense, Carta-Samuels has to be able to immediately contribute, or CSU has to hope redshirt freshman Justice McCoy can elevate his play to starter-level. And, if Carta-Samuels is to perform well, the offensive line has got to play at a high level, just as they have for many years. That's a huge question mark at this point, with guard Colby Meeks moving over to center and only one returner being Jeff Taylor.
Defensively, CSU must take a step forward, from "awful" to at least "competitive." Josh Watson and Tre Thomas are talented linebackers, and the safety group is loaded with talent. But, how well will the defensive front four play?
On special teams, vast improvements are needed, as well. Seemingly every week last season the special teams made a massive mistake – be it jumping offsides before blocking a field goal, giving up an onside kick or allowing a punt-block-touchdown – and if the Rams want to find ways to win games this year, special teams can't cost them.
Can these Rams make it to a sixth straight bowl game? Certainly, but Bobo will likely have to rely on the run game more this year than in the last three. And they can't be expected to outscore everyone, like they've tried to do in recent years.
***
VITALS
Last Postseason Appearance: 2017, a 31-28 loss to Marshall in Gildan New Mexico Bowl
Best-Ever Finish: 11-2, 1997 season, including Holiday Bowl victory over Missouri
Last Season's Results: 7-6 overall record, third in Mountain Division of Mountain West Conference
Current status: Over/under for wins in 2018 is 5.5. (Southpoint Casino, Las Vegas)
***
ONE MAN'S OPINION
"With the lack of experience at QB, running the football might be the best bet. Three experienced running backs – Izzy Matthews, Rashaad Boddie and Marvin Kinsey – should help the run game. CSU can also stop ignoring the Inland Empire, Cali. in recruiting. Lots of talent being ignored by the Rams. Go State!" – Renaud Notaro, co-host of 'Sean Walsh and Renaud Notaro'
***
WHAT THE RAMS HAVE
Olabisi Johnson, Warren Jackson and former Tennessee transfer Preston Williams may be the greatest receiver trio in Rams history (Note: Receivers coach Alvis Whitted agreed when I asked in February). Can Carta-Samuels throw them the ball with consistency?
The only position deeper than wideout is running back, and Colorado State will hand it off a ton this season.
Jamal Hicks will return from injury, Josh Watson and Tre Thomas are ready to go; CSU has a handful of playmakers on defense, which is new for them.
***
WHAT THE RAMS NEED
A pass rush. CSU had only 27 sacks last year, and their two best sack men (Evan Colorito, Jakob Buys) graduated.
Colorado State landed transfer T.J. Roundtree from Louisville to start at tackle, Meeks takes over at center and Jeff Taylor will be asked to play; who will be the other starters on the offensive line?
Special teams must do something special for once. Block a field goal, return a kick to the house; they'll likely be the deciding factor in at least one game this year.
***
TWITTER POLL RESULTS
We asked you, on Twitter, what the Rams need to do to make the postseason this year. Here are the results:
Consistent play at QB – 15%
Defense must improve – 80%
Players adjust to staff – 2%
They'll miss a bowl – 3%
***
FOOD FOR THOUGHT…
One of these years, the Rams will have to find a way to beat Boise State. The road to a Mountain West title is usually paved blue.
***
For more from Mile High Sports Magazine, subscribe here!