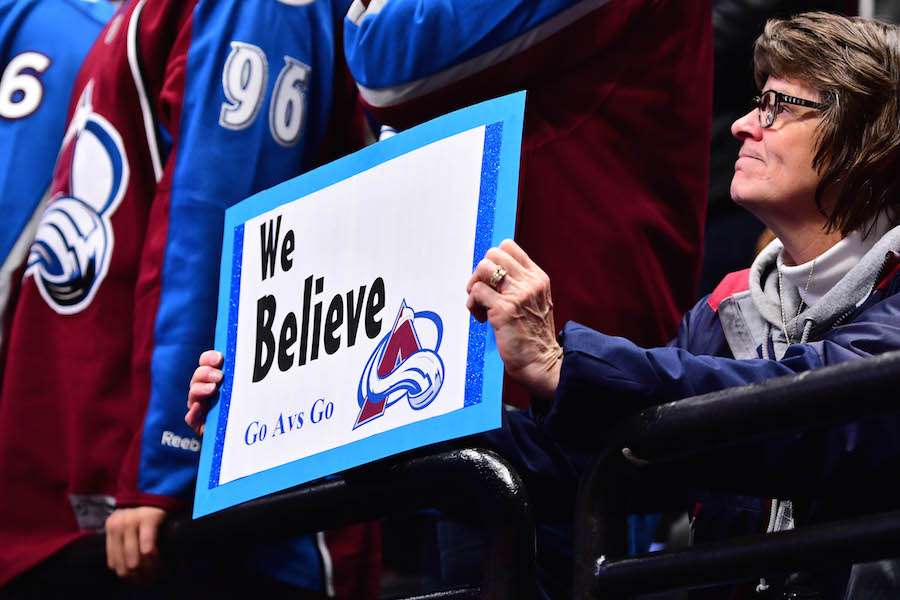 The last time the Avalanche earned a postseason shutout, they needed just one goal and a miraculous 51-save effort from then starting goalie Craig Anderson against the San Jose Sharks in 2010. On Thursday, Colorado scored three times, blanking the Sharks 3-0 behind a 32-save performance from Philipp Grubauer and another dominant game from superstar Nathan MacKinnon.
MacKinnon scored an uncharacteristic rebound goal in front of the crease to give Colorado a lead midway through the second period. The goal held as the eventual game-winner as the Avs earned their first postseason shutout in nine years to send the series back to San Jose tied 2-2.
"It's big," coach Jared Bednar said about the opening goal. "You're not getting a whole bunch of space, so to get that first goal is big. MacKinnon goes to the net and we get a puck down there. We caught a break. You need someone to make a play and capitalize on a chance and you need your goalie to make a save or two. That's what I'm seeing out of the series right now."
It was a complete effort from the Avs, who were rebounding from a frustrating loss in Game 3 that ended their eight-game winning streak at the Pepsi Center. But perhaps the most important victory Colorado got from the game was the belief that they can actually pull off another series upset, and perhaps in front of the home crowd on Monday.
"It will be fun," defenseman Erik Johnson said about the Avs' opportunity to play at least one more home game in Game 6. "Hopefully we can close one out on the road and then close one out back here. Wouldn't that be something?"
Johnson rebounded in a massive way from his tough performance in Game 3. The 31-year-old scored an empty net goal with just over a minute remaining and finished with a +1 rating in 17:06 of ice-time. More importantly, Johnson was a steady force in his own zone, which was a far cry from his turnover-filled game just two nights prior.
The Avalanche have now won two of the last three games and have dominated for large stretches in every one. The older, slower, but more physical and experienced Sharks have played a lot more hockey over the past month, but coach Peter DeBoer does not believe it to be an issue.
"I think we're fine," he said about his team's energy both physically and mentally. "We have a long way to go in the playoffs so I'm not concerned about our energy."
San Jose has struggled to shutdown MacKinnon, who is currently riding a career-high eight-game playoff point streak. MacKinnon recorded six of Colorado's 12 shots in the second period, one of which beat goalie Martin Jones, to continue to lead both the Avs and the NHL in playoff scoring—a title he shares with teammate Mikko Rantanen, who he was reunited with on the top line from the opening faceoff.
"When you play over a hundred and fifty games together it brings some chemistry," Rantanen said. "We know what to do, he's obviously a really good player so it's fun to play there."
MacKinnon's playoff dominance has certainly been a treat for everyone to watch, including his own teammates.
"He's clearly on another level," Johnson said. "He's going to take us as far as he wants to."
Johnson was also very proud of Colorado's ability to win a low-scoring game against a high-scoring opponent. The Avs had surrendered 12 goals against the Sharks in the opening three games of the series before the shutout on Thursday.
"I just think that in a simple game, we can win those 1-0 games," Johnson said. "You're not going to have many 1-0 games in the regular season, but it felt like that today. And we got the job done."
Grubauer's shutout has elevated his postseason save percentage to .930, while dropping his goals against average to 2.17. He continues to play a large role in the Avs' playoff run and any chance they have of defeating San Jose.
"He's played some really good ones lately," Bednar said about his starting goaltender. "He was good tonight though. We had a couple breakdowns, we went brain dead at the end of the second period and we give up a breakaway and he makes a huge save. He made some big saves at key times for us. It was a big performance by him."
Grubauer was a large reason why the two main weapons on the Shark's roster, Norris Trophy nominee Brent Burns and centerman Logan Couture were both a team-low -2. The pair combined for just four shots and were unable to sustain a consistent attack like they had in prior games.
Colorado's six playoff wins matches their totals from 2004 and it's the first time in the salary cap era that they have eclipsed four wins in one playoff year. Similar to 2004, the Avs have the best player remaining in the playoffs on their side. While MacKinnon may not have the resume Peter Forsberg boasted 15 years ago, his continued dominance, along with Grubauer's calming presence and a total buy in from the rest of his teammates has Colorado thinking upset for the second series in a row. And if successful, the Avs will participate in the Western Conference Final for the first time since 2002.
The Avs and Sharks will drop the puck for Game 5 at 8 pm MT on Saturday at the SAP Center in San Jose, California.