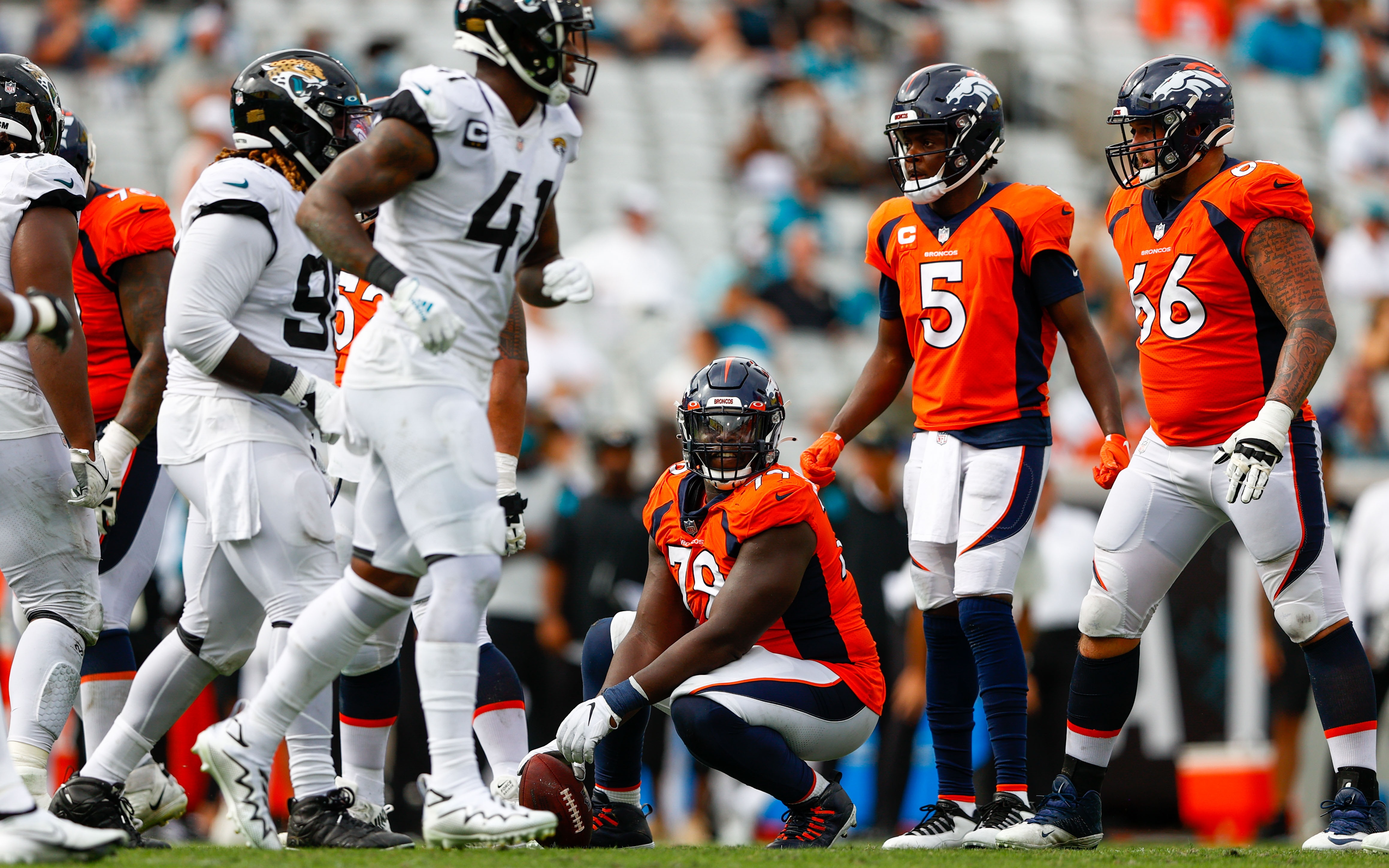 Will the Broncos overlook the Jets ahead of a stretch of tough opponents? And what does our team think the final score be? Let's see what the team had to say this week.
The Mile High Sports Broncos team discussed Denver's upcoming matchup against the New York Jets and each shared their insight. Let's dive in.
What concerns you most despite the Broncos 2-0 start?
Lindsay Bebout (@lindsaybebout): That Tom McMahon was allowed back on the plane following last Sunday's game. I'll give somebody $100 if they can come up with one logical reason as to why that man is still employed because it's an impossible task. He got lucky that the score difference was large enough that that kick-return TD didn't matter.  I worry that we might not get so lucky next time.
Rich Kurtzman (@RichKurtzman): The offensive line. Lloyd Cushenberry has been barely passable, and Dalton Risner has been so-so at best while Graham Glasgow is injured.
Nicholas Manning (@Dr_NManning): I believe the running game will get ironed out. Mike Munchak is too good of a coach to let this talented group underachieve all year. Tom McMahon on the other hand… I do not trust him at all. Paton and Fangio are providing him with plus athletes to improve their coverage units and the group continues to struggle. Sadly, I do not see this getting better anytime soon.
Joey Richards (@JRDrafts): The Broncos' interior offensive line and inability to control the line of scrimmage is the biggest concern up until this point. While Teddy Bridgewater looks fantastic, for the Broncos to compete against tougher competition they will need to find a way to effectively run the ball.
JT Matthews (@JTMatthews01): I would say special teams are still a massive concern. It seems like every week there is some sort of gaffe that costs the Broncos either in the field position battle or on the scoreboard. It's something that needs to be fixed and quickly.
Zach Segars (@Zach_Segars): The interior offensive line. Lloyd Cushenberry III didn't take the second-year leap Denver so desperately needed from him while Dalton Risner's sophomore slump has carried into year three. Even Netane Muti was somewhat disappointing, despite the PFF grade. They need Graham Glasgow back badly.
Is Teddy Bridgewater's elite level of play sustainable?
Rich Kurtzman: To a degree. He was the 5th-most accurate passer last year, so if we're talking elite accuracy, yes. I do expect some drop-off in his play, but not too much.
Joey Richards: Teddy Bridgewater has been amazing through two weeks but I don't think fans should expect him to throw for 300 yards and multiple touchdowns every game. I think of him as a really good rental quarterback and maybe somebody the Broncos can be a competitor with if there's a superb team around him.
Lindsay Bebout: For one more week…yes. I can't think of a better three-team series for a new quarterback to introduce themselves with. Beyond that? The following three games are against the Ravens, Steelers, and the surprisingly strong Raiders. I think Teddy gets brought back down to Earth and a bit, but I still think his overall season performance will outperform people's preseason expectations.
Nicholas Manning: You know, call me an optimist but yes I think he can. I believe the offense fits him well and he seems to have a mastery of it already this season. He may have some games without the top-end statistical production but will have a lot of great games as well against some weak opponents. Looking at their schedule, Bridgewater should Pro Bowl consideration.
Zach Segars: No, but that doesn't mean he's destined to revert to being the "same old Teddy." Right now, almost every advanced analytic has him as the NFL's second-best quarterback, trailing only Patrick Mahomes. That won't be the case come season's end, but a top 10-15 quarterbacking season is very attainable.
JT Matthews: Teddy's stats will dip towards the mean as the competition gets stiffer, it's just the fact of the matter. That being said, Denver doesn't necessarily need him to play at an elite level to accomplish their goals of a playoff seed, but if they want to go further than that, he will need to keep it up.
As large favorites against the Jets, will the Broncos be looking past them to the Ravens in two weeks?
Joey Richards: Fangio said it best. "Anybody can beat anybody in this league." It would not be wise of the Broncos to look past any team in the NFL. While the expectation is that they win, flukier things have happened in the past.
JT Matthews: The Broncos will not overlook the Jets because they already made that mistake with Jacksonville and came out on fire. Every week is a challenge in the NFL, so, even if they are weak at most positions, the Jets will be ready to play on Sunday.
Lindsay Bebout: As much fun as it has been watching games knowing we're guaranteed a win before it even starts, the Ravens game is when things will start getting more real. (After the last five years of torture, it's the least fans could be gifted). We will see what this team is made of after this.
Nicholas Manning: I am a bit worried they will. The running game most likely will struggle against an average defense, limiting their offensive production. Fangio's defenses seem to feel their opponent out early on like a fighter in a boxing match. This leads them to give up some big plays resulting in early points against them. They will try and cruise late to preserve their starters limiting them on both sides of the ball.
Rich Kurtzman: Let's hope not, at least, if they want to make the playoffs. I don't see this team looking past anyone though, considering they've been under .500 for years.
Zach Segars: I don't think Denver is looking past Week 3. Based on the glimpses we've gotten from inside Denver's locker room, it appears Coach Fangio has had this home-opener on the team's mind for a long time. This squad is dying to play in front of a home crowd with a winning record.
Sutton remains the focal point of the offense against the Jets, or will someone else have a big game?
Rich Kurtzman: Sutton should honestly be a star every week, but it's telling how well Teddy has incorporated every receiver and how well the offense is clicking currently.
Lindsay Bebout: I believe he will remain the focal point and will come away with a touchdown this game. He's just that good that it would almost take more effort for him not to be. However, I think Teddy is dying to get Hamler involved, so I expect to see more from him this game than last week's almost non-existent performance.
JT Matthews: Yes and he should be the focal point. He is the most senior and talented player on the offense and has the most game-changing ability. Sutton showed that he is back in a big way. Teams would be foolish not to game plan for him. Feed him.
Nicholas Manning: The offense will try and highlight the running game this week. I assume the Jets will focus on stopping Melvin Gordon and Javonte Williams. They will dial-up pressure as their edge players are not very good. Look for Sutton to have a big day as it seems like Hamler just is not ready yet to be a featured piece to this offense.
Zach Segars: I think this offense will frequently rotate who the go-to weapon is because their absurd talent at the skill positions provides them that luxury. However, the Jets' most-glaring weakness being cornerback makes me think Sutton shall remain the focal point for another week.
Joey Richards: While Sutton is the clear No. 1 wide receiver, him playing that well repeatedly this season should open things up for other weapons as well. I think Hamler, Fant, or Patrick can all easily have just as big of a game on any given Sunday.
What is your final score prediction this week, and why?
Zach Segars: Broncos will win 31-10 in a game that will play out similarly to the first two, just with an incredible home environment this time around. Denver's offense will operate efficiently and soak up the clock. Ultimately this will limit their point total, while the defense suffocates Wilson save for the occasional meaningless drive.
Rich Kurtzman: Broncos win 24-10. Denver will keep it rolling but it won't be a perfect game. They're still young, inexperienced, and have a bunch of starters injured already.
Lindsay Bebout: My score prediction is 27-6. I don't think the Broncos give up any touchdowns (unless Tom McMahon gifts another opponent an easy return TD…which let's be honest, is always very likely with you know who is in charge of special teams). The Jets have a decent defense, so I'm giving the Broncos two offensive touchdowns, a Pick-6, and two field goals.
Nicholas Manning: Playing in front of their first home sellout crowd in 645 days, I expect some increased intensity and the Broncos will overwhelm the Jets. However, not until the second quarter on. This has been the script so far this season, and I predict more of the same. Broncos win 31-13.
JT Matthews: It will be a nice barometer game for Denver and likely an emotional one. It will be Bridgewater's debut in front of the home crowd and he will be anxious to win over the remaining naysayers. I predict that Denver will win easily in a 30-10 display of strength.
Joey Richards: 28-7 is my gameday prediction. The Broncos will beat the Jets with Teddy Bridgewater having yet another great game and the defense causing multiple turnovers.