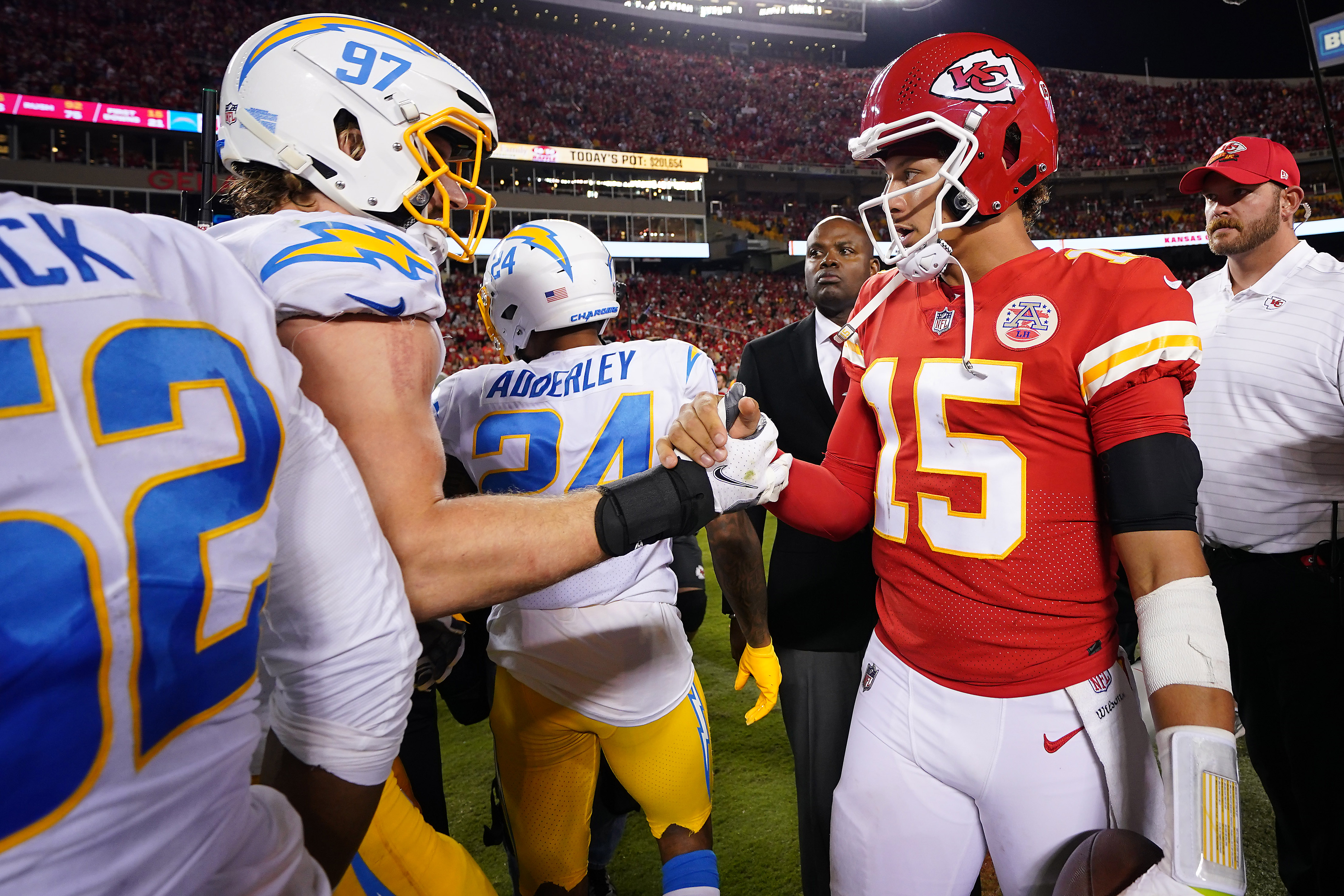 The Denver Broncos have had a rough couple of weeks to open up the 2022 season, yet they're managing to remain in the thick of the AFC West division race.
How are the Broncos stacking up against the Kansas City Chiefs, Los Angeles Chargers, and Las Vegas Raiders through two weeks? Let's take a look, in this edition of the AFC Power Rankings.
1. Kansas City Chiefs
Although Kansas City retained control of the top spot in the first iteration of these power rankings, it should be noted that the column was openly skeptical of their placement and made it clear that the only reason they were placed at No. 1 was their track record.
Now, all that skepticism feels pretty laughable.
the Chiefs were shitting on the Cardinals so much that CBS just said fuck it and switched to the Raiders Chargers game 😭 pic.twitter.com/0IjiQposcE

— IKON Highlight Heaveñ (@highlghtheaven) September 11, 2022
In Week 1, the Chiefs were arguably the best team in football, completely suffocating the Arizona Cardinals' offense, and then turning around to trounce their defense. In that game, Kansas City converted 33 first downs on 66 offensive plays. That is an insane rate of offensive production and efficiency.
Chiefs shift CEH back into a Fullback spot and forces the Cardinals to communicate. Watch #34 and #59 run with Mecole Hardman and clear out the Shovel. pic.twitter.com/LnNFBORkjw

— Nate Tice (@Nate_Tice) September 12, 2022
In Week 2, Kansas City's offense came back down to earth and they were arguably outplayed by the Los Angeles Chargers at home, but these two project to be among the AFC's superpowers, so it's hard to knock the Chiefs for playing a close game.
Travis Kelce is 33 now, and looks it to some extent, but is still a very effective weapon even if he isn't a game-wrecker. Andy Reid is actually committing to the run game, and it's working like a charm to aid Patrick Mahomes' revenge tour.
2. Los Angeles Chargers
The other three teams in the AFC West, and frankly, the rest of the NFL, should be thanking the Los Angeles Chargers for not setting Justin Herbert up to experience greater success.
Joe Lombardi's offense puts unnecessary restraints on Herbert's abilities, forcing him to play like a late-stage Drew Brees, with an average depth of target (ADOT) that ranks 30th in the NFL.
At some point Staley has to realize just because Herbert is executing Lombardi's scheme doesn't mean it's ideal. This Saints scheme from when Brees' arm was cooked just doesn't make sense with what you have.

— Robby (@Robby_NFL) September 11, 2022
Some of that blame also falls on a pass-catching group that is completely devoid of any and all 'juice', but nonetheless, you'd like to see the Chargers' offense take advantage of having one of the league's most special talents.
Justin Herbert has freakish talent & we'd love to see a more aggressive passing attack but I don't know if we'll ever get it under OC Joe Lombardi

Herbert's early down target depth:

2021: 6.4 air yards/att (#36 of 42 QBs)

this year?

a still below avg 6.7 air yards/att https://t.co/9yBhAPVfuo

— Warren Sharp (@SharpFootball) September 15, 2022
At no point should the Justin Herbert Chargers resemble the Teddy Bridgewater & Pat Shurmur Broncos.
On the plus side, Herbert still looks like an amazing talent and the defense is completely gelling under Brandon Staley in his second season at the helm. Derwin James has been a force all over the defense, and Khalil Mack seems to have found the fountain of youth.
Last week, they went on the road, to Arrowhead, on a short week, and were the better team. They'll battle Kansas City for the top spot in these rankings all season.
3. Las Vegas Raiders
The Las Vegas Raiders are a difficult team to decipher, but they've raised more questions than they've answered so far this season.
The offensive line was brutalized in Week 1 by the Los Angeles Chargers, and as a result, Derek Carr's confidence floundered and he had a disastrous performance that included three interceptions and two fumbles. That offensive line appears to be a major problem, as they currently rank 26th in pass block win rate, and Carr's collapses earlier in his career have generally been tied to the offensive line sputtering.
In Week 2, new problems arose, as the Raiders suffered from a massive second-half meltdown to lose to the Arizona Cardinals at home. The defense, which had been a bright spot through the first six quarters of the season were thrown into a pit of molasses by Kyler Murray, who looped every which way around Vegas defenders en route to leading his Cardinals to victory.
A lot of that way Murray being remarkable, but it did expose that the defense is pretty flawed when Maxx Crosby and Chandler Jones aren't singlehandedly wrecking shop. The offensive line was also exposed again in Week 2, and Josh McDaniels hasn't been overly impressive as a head coach so far. In Week 1, Hunter Renfrow and Darren Waller struggled to make an impact, and in Week 2, Davante Adams was shut down by an iffy Arizona secondary, recording just two receptions for 12 yards and a score.
4. Denver Broncos
In the first release of this list, the Denver Broncos were also in last place, but that was just a result of them still having to prove they deserved respect inside a loaded AFC West.
Two weeks into the season and the Denver Broncos have gone from semi-respected to the laughing stock of the league.
They might have a better record than the Raiders, but the Raiders narrowly lost to the Chargers and Cardinals, both of which were in the playoff projection discussion ahead of the start of the season. The Denver Broncos lost in, frankly, stupid fashion to the Seattle Seahawks and then played well-below their talent level to nearly lose to the Houston Texans, both of which were favored to land top-five picks in 2022.
The talent on the Broncos is obvious, but if the coaching continues to be this bad, that roster talent won't matter.