The Denver Nuggets need some fire on the offensive side of the ball, and one name that pops out is Jabari Parker of the Milwaukee Bucks.
Parker, 20, is in the midst of his sophomore season of his NBA career.  Parker's rookie season was cut short due to a torn ACL; however, he has bounced back a year removed from injury.
The Denver Nuggets are in need of a player that is versatile on both ends of the floor.  Parker would slide in nicely with the Nuggets and bring youth to an already youthful team.
Parker is a player that was regarded as a scorer coming out of college, a guy that could stretch the floor and put up big numbers on a nightly basis. Parker has done that but has also shown there is more than meets the eye.
Jabari is listed at 6-foot-8, 250 pounds and plays a very physical breed of basketball.
The Nuggets are in need of a guy that can score on a nightly basis and help defensively down low.
Parker has drawn comparison to players like Carmelo Anthony, and while he has the intangibles to be a knock down shooter in the NBA, he also possess the skills to be a plus defender.
The Nuggets need a guy like Parker and are in the perfect position to make a run at him.
The Nuggets have financial flexibility, a hefty amount of draft picks and developed NBA talent.
The Bucks made the playoffs last year, but they've taken a significant step back following their postseason appearance.
Milwaukee is a young team any way you put it. They have a young core of players such as Parker, Michael Carter-Williams and Giannis Antetokounmpo to name a few.They also have a young head coach in Jason Kidd.
The Bucks need veteran players to help form and mold their young talent.
The Nuggets posses these players and have made it clear that they are expendable.
Guys like Jameer Nelson, Darrell Arthur and JJ Hickson are guys that have a ton of NBA experience, and they could really make an impact on a young Bucks squad.
The two seem to lineup perfectly for a trade.
So what would be a realistic trade for Jabari Parker be?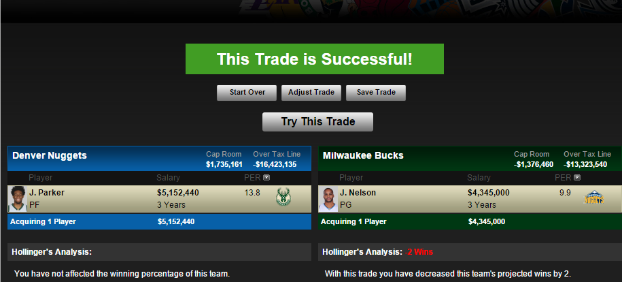 Before you go storming off and say that this trade won't work, keep reading.
This would just be the outline for a trade. Remember, the Nuggets have a plethora of draft picks, so if you throw in the Houston pick and a future pick, the trade could work.
WHY IT WORKS
Nuggets: The Nuggets would get the scorer they are looking for; they get a power forward that can stretch the floor. The Nuggies would also be getting a young, versatile player with tremendous upside.
Bucks: The Bucks need veteran leadership, and Jameer Nelson is that guy. With Parker out of the equation, that would leave Michael Carter-Williams as one of the youngest guys on the team. Nelson is a veteran guard that has played for 12-plus years and is known as a player favorite that is excellent at helping out young guys.
The acquisition of draft picks would also allow further growth opportunity within the organization to make the team younger.
For all you trade machine junkies, if you really want to get fancy, we can make a three team deal involving the Nuggets, Bucks and Knicks that would improve each team.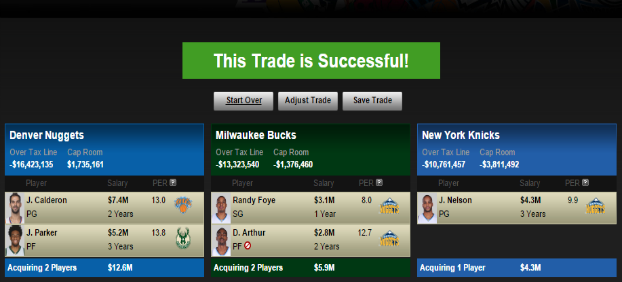 WHY IT WORKS
Nuggets: Aside from Jabari, the Nuggets would get Jose Calderon, a serviceable point guard, to replace the void of Jameer Nelson.
Bucks: The Bucks would get a solid big man in Darrell Arthur and a veteran scorer in Randy Foye. Michael Carter-Williams biggest downfall is his inability to shoot; Foye is a guy that has proved throughout his career that he can do just that. The Bucks would also get a draft pick that would help set them up for the future.
With Arthur, the Bucks get a big man down low who can play stout defense, stretch the floor and provide leadership to the rest of their young roster.
Knicks: The Knicks are in desperate need of a point guard with experience. Bingo, Jameer Nelson is the guy. Nelson has proved in his career that he is a ball-moving, pass-heavy point guard.  Nelson would work well in the triangle offense in New York.
There are an endless amount of trade ideas that would work; however, the Bucks would have to be willing to pull the trigger on trading Jabari parker.
While it seems unlikely at this point nothing has been ruled out completely, so their is hope that the Bucks become open to trading Parker.