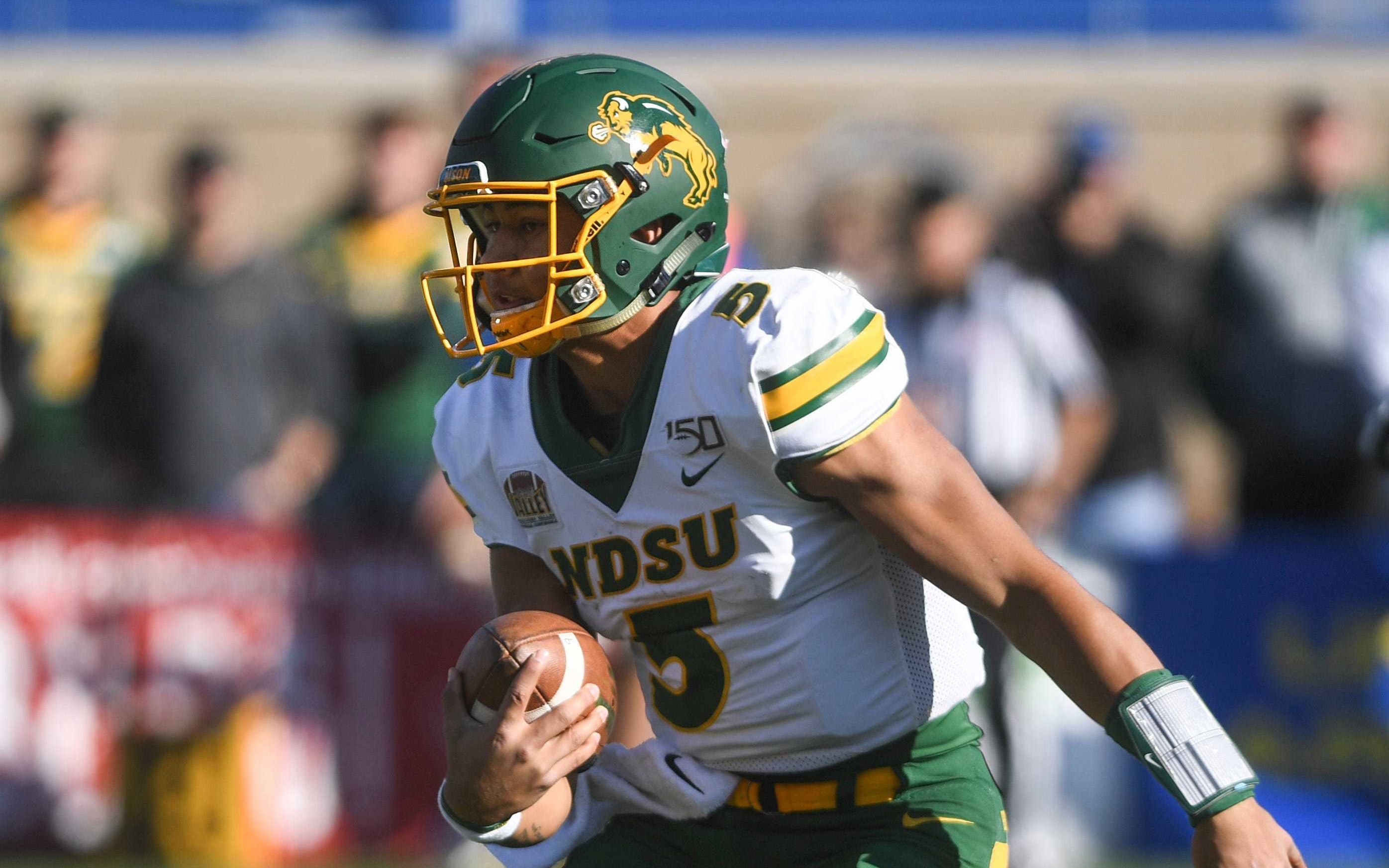 Ever since Peyton Manning's departure following Super Bowl 50 win, the starting quarterback position has been a revolving door for the Denver Broncos.
From Trevor Siemian to now starting quarterback, Drew Lock, the Broncos have had a staggering thirteen starting quarterbacks since 2015. In this span, the Broncos have also only finished with a single winning season, which was carried greatly by a tremendous defense.
If you take a closer look at how the Broncos have managed this position since 2015, they have not invested the draft capital that it typically takes to land a face-of-the-franchise, type of quarterback. In fact, the Broncos have never invested a top ten selection on a quarterback in the franchise's history.
Sitting at pick nine, and in a draft class with multiple highly-touted quarterbacks, the Broncos have a great chance to finally select their first.
If they do, there may not be a more talented quarterback than North Dakota State's Trey Lance.
As a three-star recruit out of Marshall High School, in Minnesota, Lance was a two-sport athlete. Playing both football and basketball, he did not get the recognition one may expect for the very talented athlete we see today. Ultimately, Lance accepted a scholarship to play football at North Dakota State, as many of the other schools were recruiting him as a safety and he was set on playing quarterback.
Lance would go on to be the full-time starter for the Bison's for only a single season, but in that season, he would be incredible.
As a redshirt freshman, Lance would throw for 2,786 yards and 28 touchdowns while not throwing a single interception and also contributing another 1,100 yards and 14 touchdowns on the ground. The season was capped off nicely as Lance lead the Bison to a 14-0 record and FCS National Championship win.
Could he bring some of that magic to Denver?
Positives
At 6-foot-4 and 224 pounds, Lance offers prototypical size with a very sturdy and athletic build. His physique will allow him to adapt to the violence of the NFL game as both a passer and runner. Specifically, Lance has a very strong and powerful lower half that allows him to bounce off and avoid opposing defenders.
To go along with his amazing build, Lance displays great arm talent and can effortlessly make any throw on the field. As seen throughout his film and at his pro day, Lance throws with plenty of velocity, allowing him to fit the ball into the tightest of windows, or push the ball down the field with ease.
His arm talent forces the defense to cover the entire field, making the job of the defensive back increasingly difficult. While he can throw with great power, he also has the ability to throw with touch, allowing for him to drop the ball in over opposing defenders.
Trey Lance launching a football 63 yards in the air. No pro hop, doesn't need to take multiple steps up to deliver it, just pure arm strength.

I know it's incomplete, this is still unreal arm talent. pic.twitter.com/Hl4N5rwpwj

— Nick Akridge (@PFF_NickAkridge) February 27, 2021
In the pocket, Lance demonstrates great poise. Whether scrambling to buy time or simply hanging in the pocket and taking a big hit, Lance rarely ever seemed frazzled in the face of pressure. Often utilizing subtle movements or quick and concise decision-making, Lance appears to be very confident in the pocket.
That level of confidence and comfort is extremely rare for a player with only one year of starting experience and is part of what makes him especially intriguing.
As recently mentioned, Lance did not throw a single interception in his one full year as a starter. This stat could be a bit misleading though, as he had multiple throws that could have resulted in a turnover. Overall, however, his decision-making was very promising and he has proven, for the most part, that he can be careful with the ball.
Quite possibly the easiest part of his game to translate to the NFL is his mobility. Lance is truly a threat to opposing defenses on the ground. With more than adequate speed, great size, and a tough running style, he is not easy to bring down in space.
With the Broncos' current personnel, this is a dimension of the offense that they simply are not able to tap into, and as a result, he could serve as a dangerous weapon to add to the Pat Shurmur offense. Another factor to consider is quarterback coach Mike Shula's previous experience tutoring a player that's similar stylistically in Cam Newton. Mike Shula was the offensive coordinator for the Carolina Panthers in 2015, the year Newton won the MVP award and lead the Panthers to a Super Bowl appearance.
Picked up my first share of Trey Lance….will not be my last. pic.twitter.com/3JduB5WxE4

— TheOGfantasyfootball (@TheOGfantasy) April 12, 2021
Negatives
At the next level, Lance will have to improve his accuracy, as he is still somewhat inconsistent in that facet of the game. NFL coaches will need to work to improve the consistency in his footwork and overall mechanics, but unless improved upon, his accuracy could severely hinder his opportunity to play early in his career.
Lack of experience is a big question for Lance going forward as scouts have only one full season to evaluate him. In prior drafts, selecting a quarterback with such little experience in the first round has rarely worked out in the team's favor. This will leave many wondering if Lance can sustain success or whether this is just a one-year wonder.
In the modern era there are five quarterbacks with <18 starts who were taken in the first round:

-Kyler Murray
-Cam Newton
-Dwayne Haskins
-Mark Sanchez
-Mitch Trubisky

Trey Lance made 17 starts at North Dakota State
Mac Jones made 17 starts at Alabama

— Joe Rowles (@JoRo_NFL) March 23, 2021
Entering the NFL from a North Dakota State team, which is in the NCAA Division 1 FCS football division, will be a massive jump in terms of Lance's level of competition. The Bison are also the reigning football dynasty of the FCS, which means they're often playing against inferior talent, making his NFL transition difficult to project.
Verdict
While the concerns with Lance should not be taken lightly, he may just have the highest ceiling of any quarterback in this draft cycle. The tools he has are truly rare to find at his position and if managed properly, could make him a franchise quarterback in the NFL for a very long time.
General Manager, George Paton, has put the Broncos in a position to draft the best player available in this upcoming draft. With how important the quarterback position is to success in the NFL, and uncertainty around their current starting quarterback, Drew Lock, the Broncos would be wise to seriously consider a trade-up in the first round for Lance.
If falls into their lap at pick No. 9, it's a no-brainer.
Draft Projection: Top 10
MHS Big Board Ranking: 3rd overall (3rd among QBs)