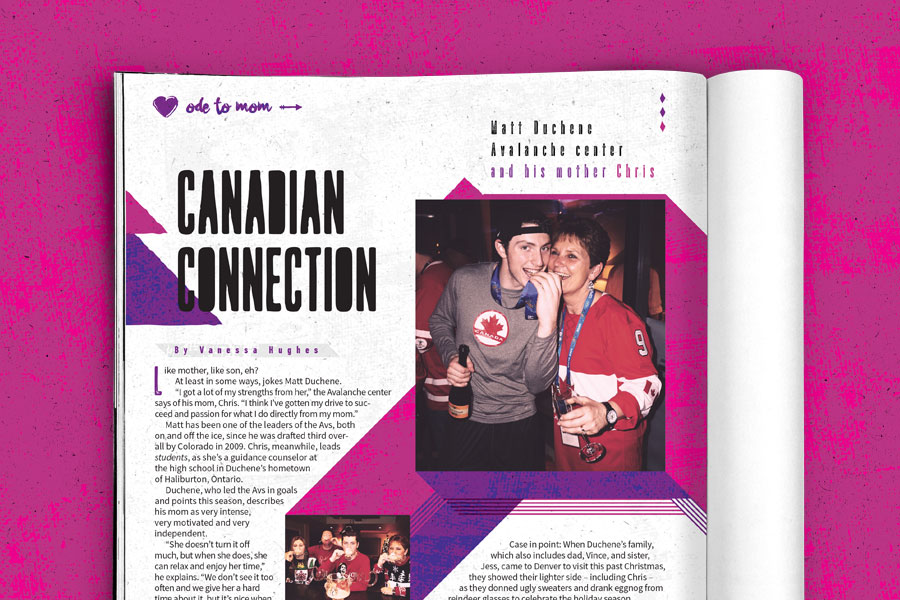 Like mother, like son, eh?
At least in some ways, jokes Matt Duchene.
"I got a lot of my strengths from her," the Avalanche center says of his mom, Chris. "I think I've gotten my drive to succeed and passion for what I do directly from my mom."
Matt has been one of the leaders of the Avs, both on and off the ice, since he was drafted third overall by Colorado in 2009. Chris, meanwhile, leads students, as she's a guidance counselor at the high school in Duchene's hometown of Haliburton, Ontario.
Duchene, who led the Avs in goals and points this season, describes his mom as very intense, very motivated and very independent.
"She doesn't turn it off much, but when she does, she can relax and enjoy her time," he explains. "We don't see it too often and we give her a hard time about it, but it's nice when she does get in that mode."
Case in point: When Duchene's family, which also includes dad, Vince, and sister, Jess, came to Denver to visit this past Christmas, they showed their lighter side – including Chris – as they donned ugly sweaters and drank eggnog from reindeer glasses to celebrate the holiday season.
Chris wasn't afraid to have fun with her son in Sochi either, taking a bite out of Matt's medal when Team Canada won gold at the the 2014 Winter Olympics in Russia.
The two have shared many hockey-related memories over the years; from the days of driving four hours round-trip to Matt's AAA games to his being chosen by the Avalanche, which just happened to be Matt's favorite team growing up, to winning Olympic gold, hockey has afforded Matt and Chris an incredible, memorable journey together thus far.
Like any mother and son, they don't always see eye-to-eye, which can occasionally result in getting on each other's nerves. Still, they're very close, and Duchene appreciates the bond they share.
"She's always there when I need her to be and need to talk," says the 25-year-old. "She's a great role model for me in her day-to-day life and how she handles herself. I love her a lot and I've always had a good relationship with her."