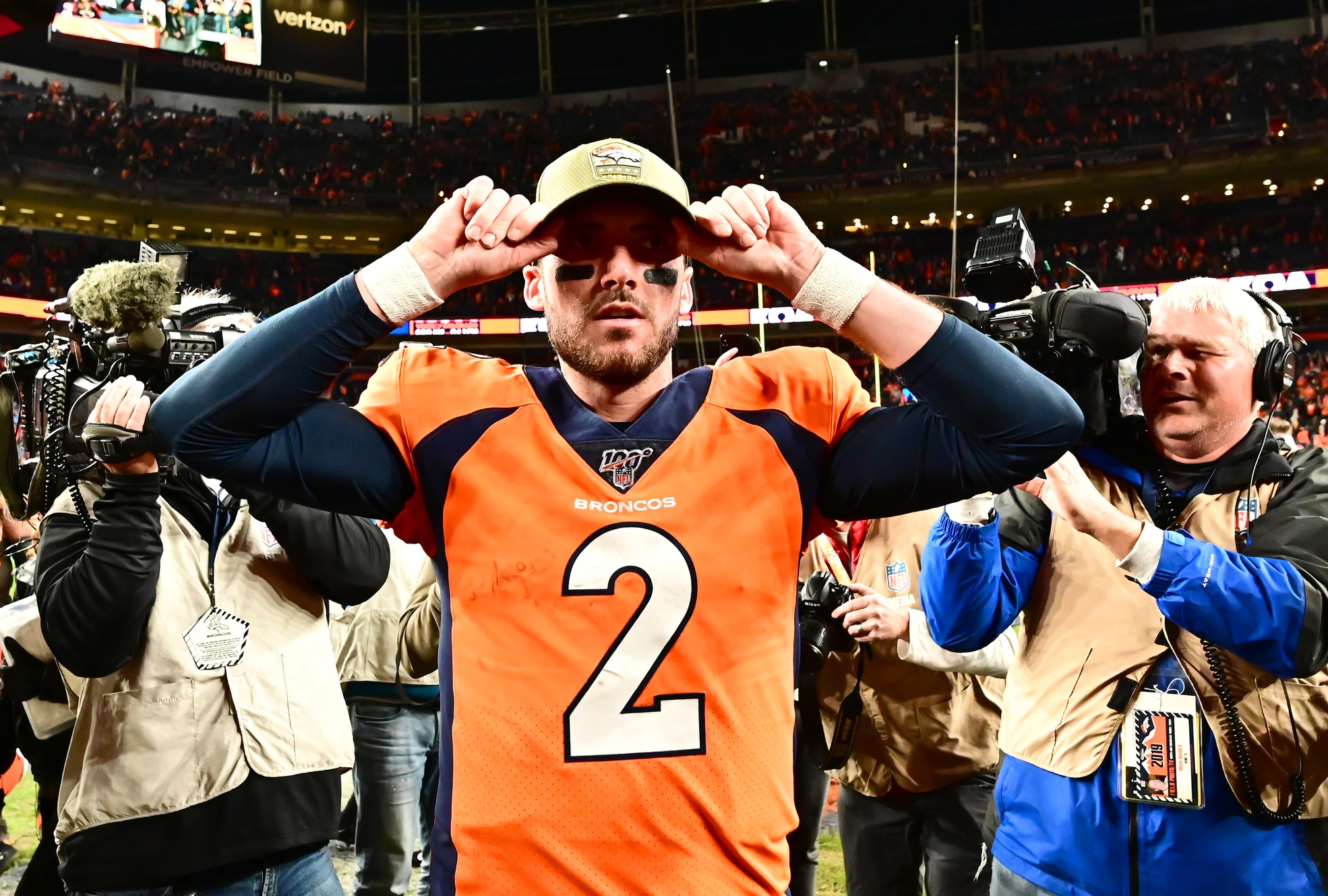 Regardless of how the Broncos 2018-19 season ends, one thing will forever hold true: Sunday, Nov. 3 was fun.
It was fun watching a young quarterback seize an opportunity. It was fun seeing why Noah Fant, who was on the verge of being labeled a bust, was selected in the first round. It was fun watching first-year offensive coordinator Rich Scangarello open things up – just enough to be successful.
It's always fun watching Phillip Lindsay, Courtland Sutton and Dalton Risner. And it will never not be fun reminding Cleveland that it's still Cleveland and Denver is still Denver.
The Drive. The Fumble. THE Brandon Allen.
Too soon?
Probably. Or, as Vic Fangio put it, as only Vic Fangio can: "We're not ready to put him in Canton yet, but overall pleased with the way he played."
Canton can wait. There was enough fun to go around on Sunday, but when the kazoos and Solo cups are eventually cleaned up sometime Monday, the fun must turn to questions.
A few that should be asked:
Is Brandon Allen really that good? Examination of his one-game sample size suggests that he could be. If it looks, like a duck, walks like a duck, well then…. Brandon Allen looked like an NFL quarterback. In fact, the guy under center on Sunday looked like the first NFL quarterback playing for the Broncos since Peyton Manning. Behind Allen, the Broncos averaged 7,02 yards per play, which equates to the highest single-game average since Manning's last regular season game. Nobody is suggesting he's "there" by any means, but he looked like he belonged. He made plays with his arm, his feet and his brain. He wasn't a robot. He wasn't incompetent. He won the game.
Why was he good though? He had a quarterback rating of 125.6, better than Baker Mayfield, better than any game Joe Flacco has played as a Bronco. Was it because the Browns aren't exactly world beaters? Was it because there was no tape on Allen or Scangarello's new and improved offense? Or, was he good on Sunday because he's just good?
Those are questions John Elway and Co. must answer over the next few weeks.
The answers to those questions will lead to others: What about Drew Lock? What do you do with Flacco and his cap-unfriendly contract? What about the draft? If the plan was to play Allen, a dark horse if there ever was one to win the job as the Broncos quarterback of the future, and lose games, it just backfired.
Here's another question that came to mind on Sunday – while watching Fant catch passes and scamper down the seams, while Allen connected with Sutton like they'd been playing together for years, while watching coordinator and quarterback take the kind of chances that Flacco griped about last week – Where has this been?
If Allen turns out to be the answer in Denver – which is still somewhat of a longshot, by the way – has this season been wasted by the belief that an ultra-conservative offensive gameplay led by an ultra-conservative quarterback? With the Broncos losing and averaging below 16 points a game, why wait until week nine to make offensive "tweaks."
"I thought we just mixed the play passing a little bit more one the early downs, went for some shots like you saw the one to Courtland and some other ones," Fangio explained. "It's not a major overall just a little tweak here and there."
Was Sunday's performance an anomaly, a discovery, or a trend? Are the Broncos headed right back to the middle of the pack, exactly where nobody wants them to be?
Or, should everyone take a deep breath, pump the brakes and reconvene after a second look at the Brandon Allen-led Broncos?
That's the responsible position to take, but Denver, an impatient football town starring down the barrel of an unprecedented, third-straight losing season, and a third straight season without a suitable answer at the city's most important job (that would be quarterback), wants answers.
Could Brandon Allen, a new household name nobody could remember a week ago, really be the answer?
All of a sudden, we can't wait to find out.