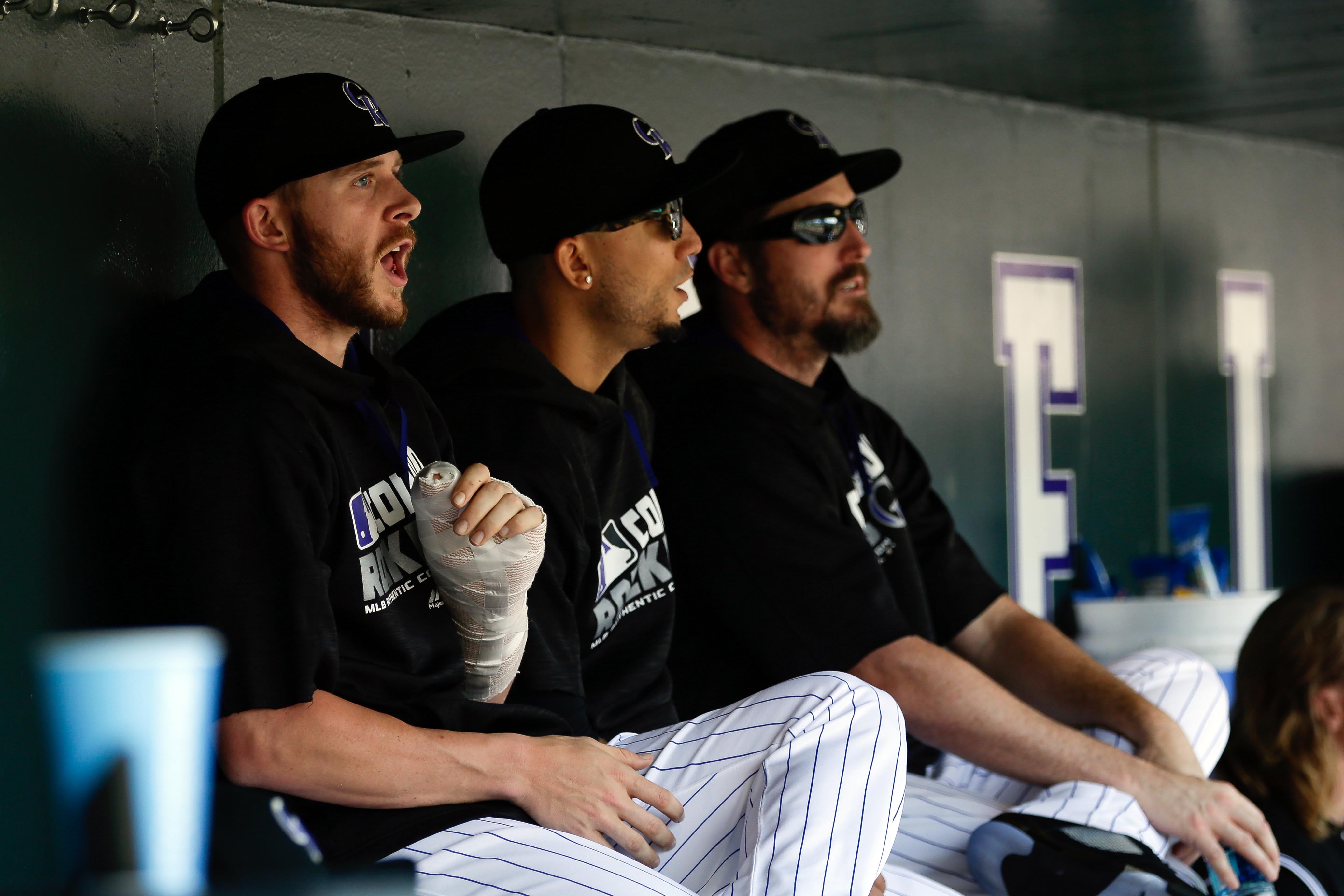 As if the Rockies needed any more bad news after a second consecutive blown save from Carlos Estevez, Carlos Gonzalez walked through the team clubhouse on crutches. He wasn't relying on them exclusively, but they helped keep the pressure off his inflamed left ankle. Otherwise, all he could do was limp.
Before CarGo came out in the second inning, he was trying to yell and get Mark Reynolds' attention that he could not run. Reynolds looked at him and shrugged, not really knowing what was going on. Then Gonzalez signaled to the bullpen to call the dugout to get the word out. He injured the ankle in game two of the Dodgers series and sat out the last game of the Marlins series to recover.
"I think it was a continuation from the other day," Gonzalez said. "I felt fine before the game. I hit in the cage, I did everything to get ready and then during the warm ups I started to feel a little tight. It kind of got worse. When I was running down the line, I felt really bad. Good thing there was no play in right field."
His 17-game hitting streak remains intact, because he did not have a plate appearance. With the Rockies struggling to stay at .500, let alone playoff contention, streaks are the least of their worries. The loss is the team's second in the last four games in which they surrendered a lead in the ninth. After winning 11 of 13 games, they have lost four of their last five.
"I think the tape put too much pressure on it. That's why it looks the way it does," Gonzalez said. "I think you can manage it. I think that's the case right now. I don't want it get worse because I want to play. We have a chance We're playing good ball. Even the last game I got a couple of hits I was running around with pain, but it wasn't swollen."
The Rockies have been playing good baseball even without their All-Star right fielder, but another great pitching effort was thwarted by the 23-year-old Estevez (2-7) who has been showing his inexperience as of late.
Estevez said he was able to have good success with his changeup, but it was that pitch that tied the score at three after the Rockies had a 3-1 lead headed into the ninth. Estevez was asked if being in the wild card race comes to his mind when he hits the mound.
"No," Estevez said. "They do mean [something] because we are in the race, but stuff like this is going to happen, and you have to just shake it off and go ahead."
When Tyler Anderson out duels Cole Hamels and Walt Weiss compares his starter to one of the best lefties in the game, playoff caliber teams don't lose these games. The starting pitching is the biggest reason the Rockies are even thinking about a wild-card birth. Anderson only gave up two hits, which is a season and career low, and pitched seven innings, which ties his season and career high. He has now pitched six or more innings in eight consecutive starts.
"We know it's a good team," Anderson said. "They've won a lot of games for a reason. You know they're going to battle, and they're going to prove that. Tried to come back with [David] Dahl starting us off in the ninth. But the beautiful thing is we get to play tomorrow."
Moving forward, though, Adam Ottavino might have to assume the closer's role, as he's been the best reliever the Rockies have extending his scoreless innings streak to 26 1/3 innings, longest in the majors.
"I feel really good where I'm at now," Ottavino said. "I think my arm is where it needs to be. If I throw any harder, then it's probably dangerous. I'm happy."
For the Rockies to be happy, it might be time to let Estevez develop in a less high-profile role and allow Otto's slider to dominate the ninth inning.
Notable feat: Nolan Arenado recorded his 30th home run of the season and the 100th of his career becoming the first Rockies player to record two consecutive seasons of 30 or more home runs since matt Holliday in 2006 and 2007.