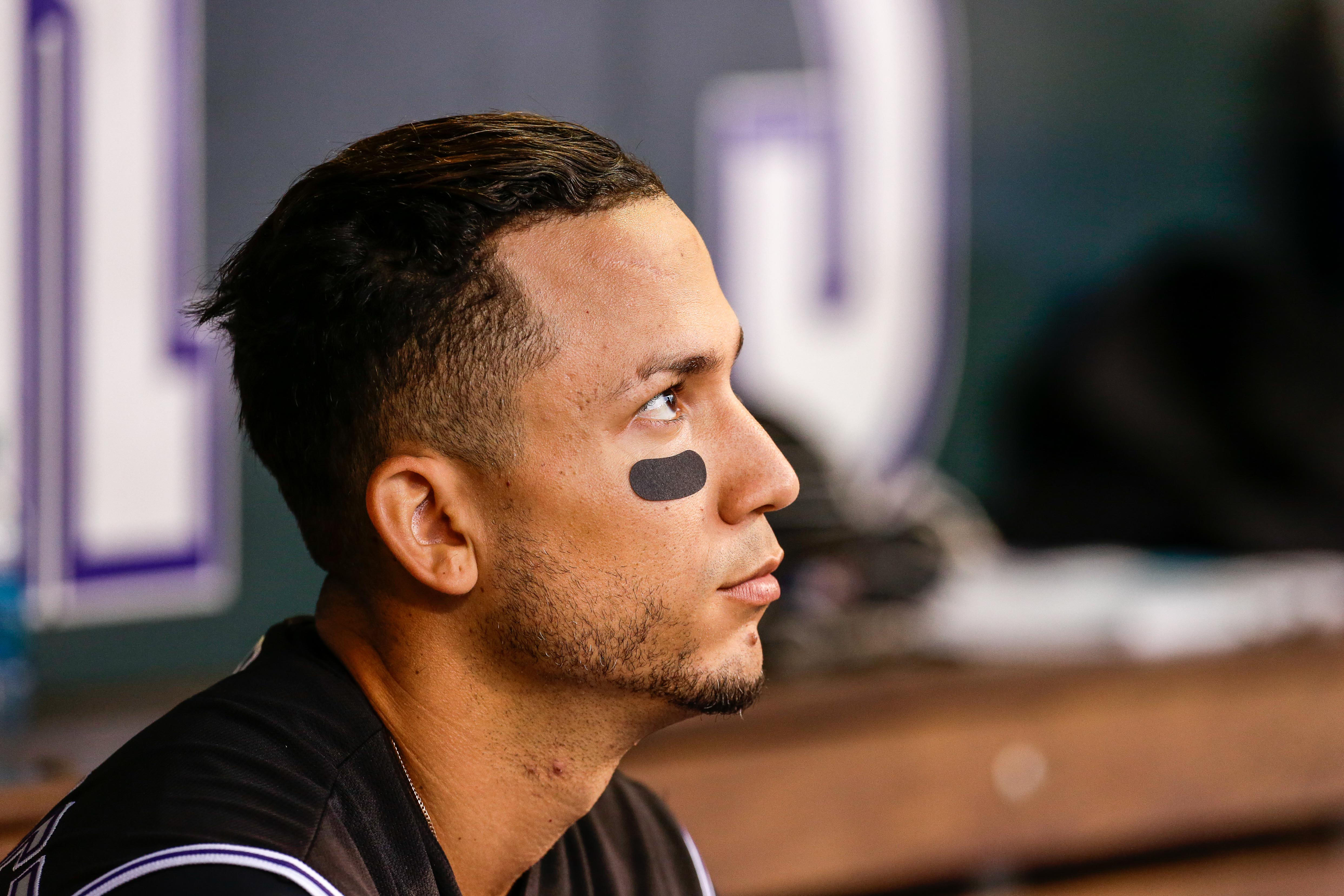 Carlos Gonzalez expressed some frustration to the Denver Post on Wednesday after the Blue Jays series, which had a strong undertone that he is unhappy in Colorado and wouldn't mind wearing another uniform.
"There are some people that want to see me out; there are a lot of people that want to see me in a different uniform," Gonzalez told the Denver Post's Mark Kiszla.
[adrotate banner="112″]
The Rockies are in a dire need for an All-Star type pitcher. The Rockies have arguably five All-Star bats in Carlos Gonzalez, Nolan Arenado, D.J. LeMahieu and Charlie Blackmon, so losing one of those bats for pitching could seriously help the Rockies. Gonzalez is already 31 years old and is due for a new contract at the end of next season. He will be expecting a multi-year deal worth over $100 million.
"Their are people that are suggesting they trade Cargo because they can get a lot for him in return," Les Shapiro said on Afternoon Drive on Mile High Sports AM 1340 | FM 104.7. "Nobody wants to see him leave town because he isn't a good player, or because they can't win with him; people think they have a better chance of winning in the long term by trading him and getting talent in return."

The Rockies have a lot of young promising pitching in both the minors and on the big league club, but it will be three to four years before they are ready to win 15 to 20 games. The Rockies, though, can't wait four or five more years to start winning games; they need a pitcher that can win now.
"The Mets GM could call Jeff Bridich tomorrow and say, 'How about we do this swap, straight up: Noah Syndergaard for Carlos Gonzalez,'" said Eric Goodman. "Then Jeff Bridich can respond with 'What else are you throwing in the deal.'"
The Mets have one of the deepest and best pitching staffs in the league so they could afford to lose one of their best pitchers for a power bat. The Mets are last in the league in team batting average with a wopping .232. They are sitting six games back from the Washington Nationals in the NL East, so if they add Gonzalez, it could give them that final push into first place. Syndergaard is in the top 10 in the NL ERA race and top 15 in the NL in wins. He won nine games in 2015, and this year he has already won eight games, and it's not even the All-Star break. He is well on his way to a 15- to 20-win season.
Another team that could benefit from adding Gonzalez would be the San Fransisco Giants.
"The Giants who need a power bat too, they have plenty of starting pitching," Goodman said.
The Giants will have the best scouting report on Gonzalez because they play the Rockies 19 times a year. The Giants have four veteran arms on their staff. Johnny Cueto and Jeff Samardzija both joined the team this year so they are a long shot, but guys like Matt Cain, Jake Peavy and Madison Bumgarner are pitchers that are the same caliber of player as Gonzalez, specifically Bumgarner. Bumgarner won 18 games last season and had a sub three ERA.
If the Rockies pick up any of those pitchers, it could seriously help them get to playoff form and possibly create another Rocktober.
Catch the rest of the conversation below …
Catch the Afternoon Drive every weekday from 4p-6p on Mile High Sports AM 1340 | FM 104.7 or stream live any time for the best coverage of Colorado sports from Denver's biggest sports talk lineup.