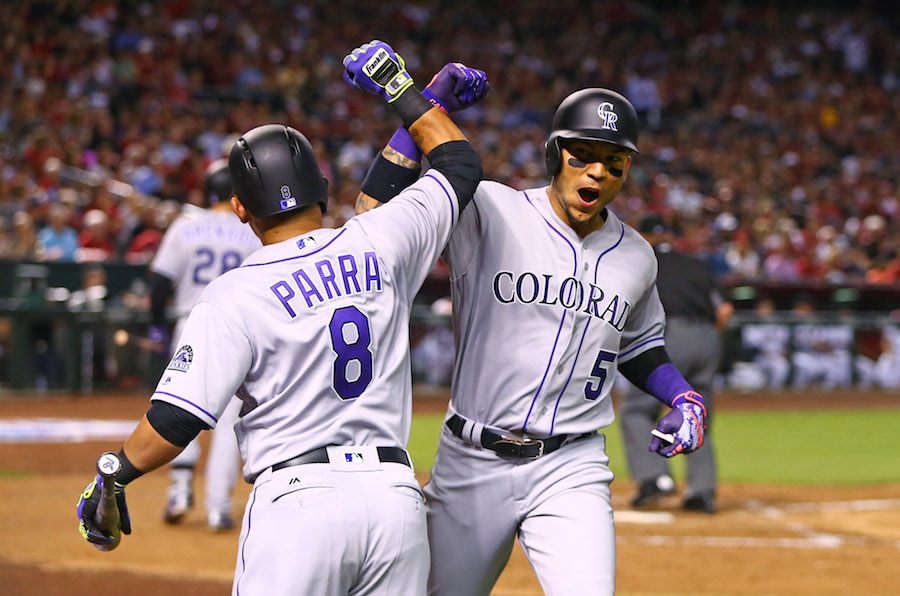 Carlos Gonzalez had a resurgent second half in 2015, earning the NL Player of the Month in July and hitting .285 with 27 home runs over the season's final three months. But a resurgent second half only comes after a disappointing first half.
CarGo hit just four home runs between April and May, batting .200 and .235 respectively in those months.
"Last year, after my 2014 season when I had three surgeries, I started slow. But I never doubted myself," the two-time All-Star told Renaud Notaro and Dee White on Mile High Sports AM 1340.
While it's still early in 2016, Gonzalez says he's feeling better thanks to an offseason full of baseball training, not recovering from surgeries.
"It was fun – way different than it was in the past. I had some issues in the past with surgeries and recovering from injuries, so this offseason was special … just getting after it, hitting the weights, running around and not worrying about getting healthy – just doing the baseball stuff. It was awesome."
That effort was not lost on Notaro, who noted that Gonzalez has bulked up a bit in the offseason. But for Gonzalez, the offseason wasn't about adding muscle – it was about getting himself to a point where he can be there for his team every day and make an impact in the lineup.
"I'm trying to be a complete player," Gonzalez said. "I know that when I'm healthy, I can do a lot of special things on the field. That's my No. 1 goal – just be in the lineup every day.
Now in his ninth year in the majors, Gonzalez has gaining some perspectve and wisdom about how health can impact his game.
"The game can be short, the career can be short. I know what it feels like not to be able to play, not to be able to walk and being injured. So whenever I'm healthy I'm always going to have a smile on my face and play as hard as I can."
Colorado came into Friday's home opener at 2-1, having knocked off the Diamondbacks in Arizona. That confidence may have eroded a bit in their first game at Coors Field, as the Padres put up double-digit runs against the Rockies pitching staff.
Gonzalez is optimistic about what the Rockies can do this year though.
"We started right against a really good team with high expectations. And in the past it's been really hard for us to play in that ball park. That shows everybody's on the same page … So far, I think we've shocked a lot of people and I think if we keep playing hard, we keep playing the same way we played in Arizona we can shock the world."
The key to team success, he says, is much like his own.
"Everybody has to stay healthy. I think right now we have a good group. We have the talent, but sometimes talent doesn't take you far … Right now we have a good chemistry going on and I think that's huge."
Listen to the full interview with Gonzalez, plus his take on how the media has been tough on the Rockies in recent years, in the podcast below.
Catch Notaro & Big Dee every Monday-Thursday from 6p-8p on Mile High Sports AM 1340 or stream live any time for the best local coverage of your favorite Colorado teams from Denver's biggest sports talk lineup.