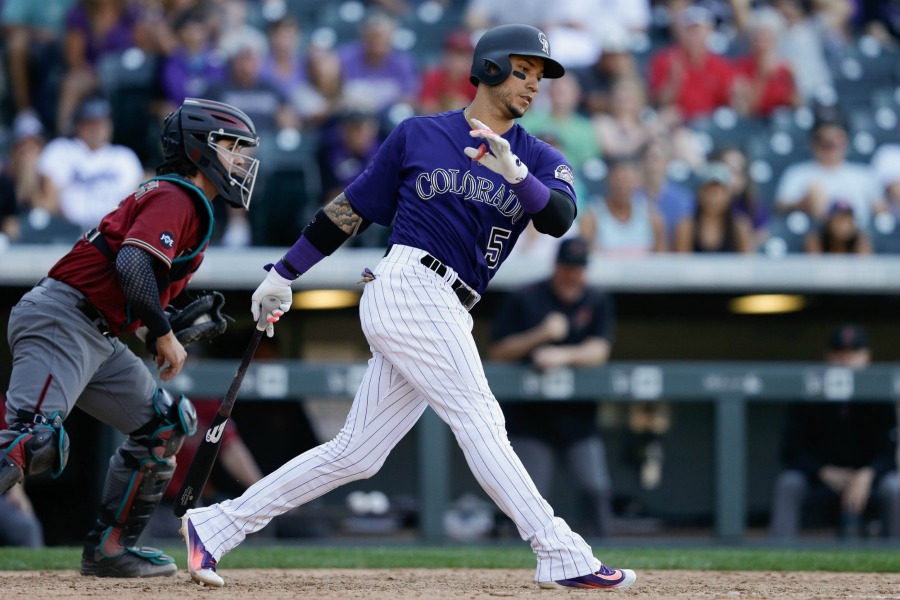 Carlos Gonzalez will always be remembered in Colorado Rockies lore as a clutch-hitting, smooth-swinging and playmaking outfielder. However, that doesn't mean that he'll continue as an outfielder for the rest of his career. Gonzalez spoke with Les Shapiro of Afternoon Drive on Mile High Sports Radio during Spring Training to discuss the possibility of him moving to first base in the future.
"Absolutely. I'm open for it," Gonzalez said. "I know that playing first base is a lot easier than being in the outfield."
Gonzalez had very good reasons for considering the position change. While he's still a remarkable athlete, he's now 31 years old and knows that his athletic ability is diminishing, and that if he wants longevity in his career, a position change might be the smartest way to do it.
"At first base you don't have to worry about running hard, you don't have to worry about any of that stuff," he said. "All you've got to do is just be athletic, catch ground balls, and catch the ball, that's the biggest thing about first base."
While switching to first is something that Gonzalez will eventually be willing to do, he's doing everything in his power to keep himself in the outfield for as long as possible.
"I can still play in the outfield. I prepare myself really well every year to play over 160 games," he said.
Catch the full interview with Carlos Gonzalez, including his thoughts on his upcoming free agency, in the podcast below.
Catch Afternoon Drive with Goodman and Shapiro every weekday from 4p-6p on Mile High Sports AM 1340 | FM 104.7 or stream live any time for the best local coverage of Colorado sports from Denver's biggest sports talk lineup.