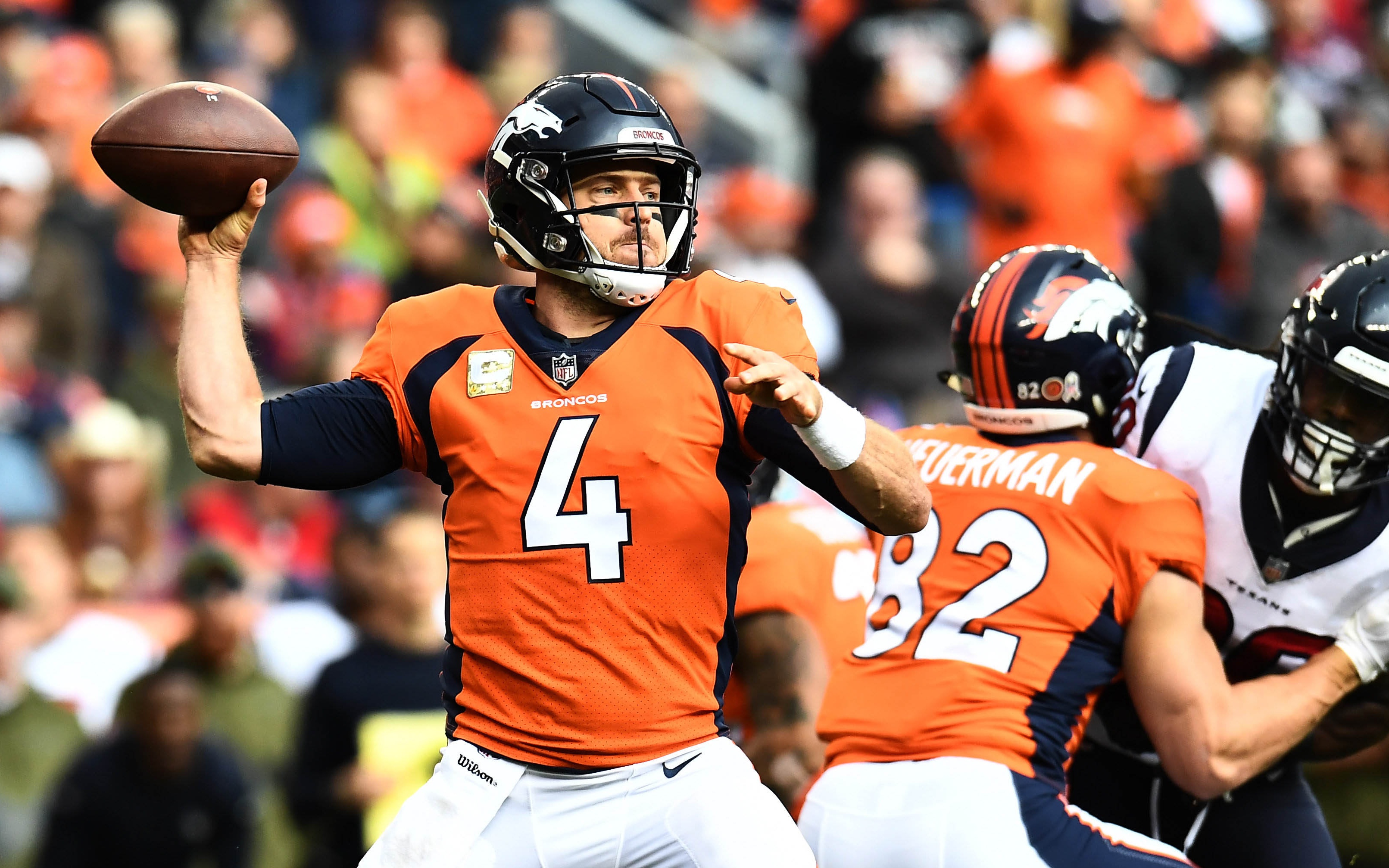 This is the Case Keenum the Broncos thought they were getting when they signed him this offseason.
Keenum has been more a game-manager than a superstar at quarterback, at least, in 2017. And that's fine. What the Broncos have seen for the first half of this 2018 season has been a Keenum who's turned the ball over far too much to be considered a game-manager; he's been busy giving games away.
His 10 interceptions already out-pace his seven in all of 2017, but, are things turning around for the gun-slinger?
According to Pro Football Focus, his 85.0 grade against the Houston Texans was the best of his nine games with Denver this year, by far. In fact, it was his first game being graded in the 80s this year, too.
For Keenum, it was the first time he has not thrown an interception all season long, which is likely part of the reason he was graded so high. Without a doubt, he's able to play at his best when the offensive line protects him, and his 109.3 passer rating from a clean pocket reflects that success. He went 23-31 with 258 passing yards and his one touchdown from a clean pocket, putting further emphasis on the line to keep protecting him well.
Unfortunately for Keenum and the 3-6 Broncos, that offensive line has been more and more banged up as the season has gone on. Jared Veldheer missed four games due to a knee injury, and while he returned last week, his injury is only the tip of the iceberg.
In Week 6, left guard Ronald Leary tore his ACL and was placed on Injured Reserve. Then, last week, center Matt Paradis broke his fibula, meaning his season's done, too. That meant moving Connor McGovern from right guard to center, Max Garcia has played and struggled at left guard, and Elijah Wilkinson came in to play at right guard.
So, can Keenum keep up his success? If it's dependent on a clean pocket, that seems doubtful with all the injuries to an already weak offensive line. But, the good news is the Broncos have this week off with their bye, so Wilkinson can work on his game with needed practice reps before being thrown into the fire of a game again.
The Broncos face the Los Angeles Chargers (6-2) next Sunday, Nov. 18 in LA.