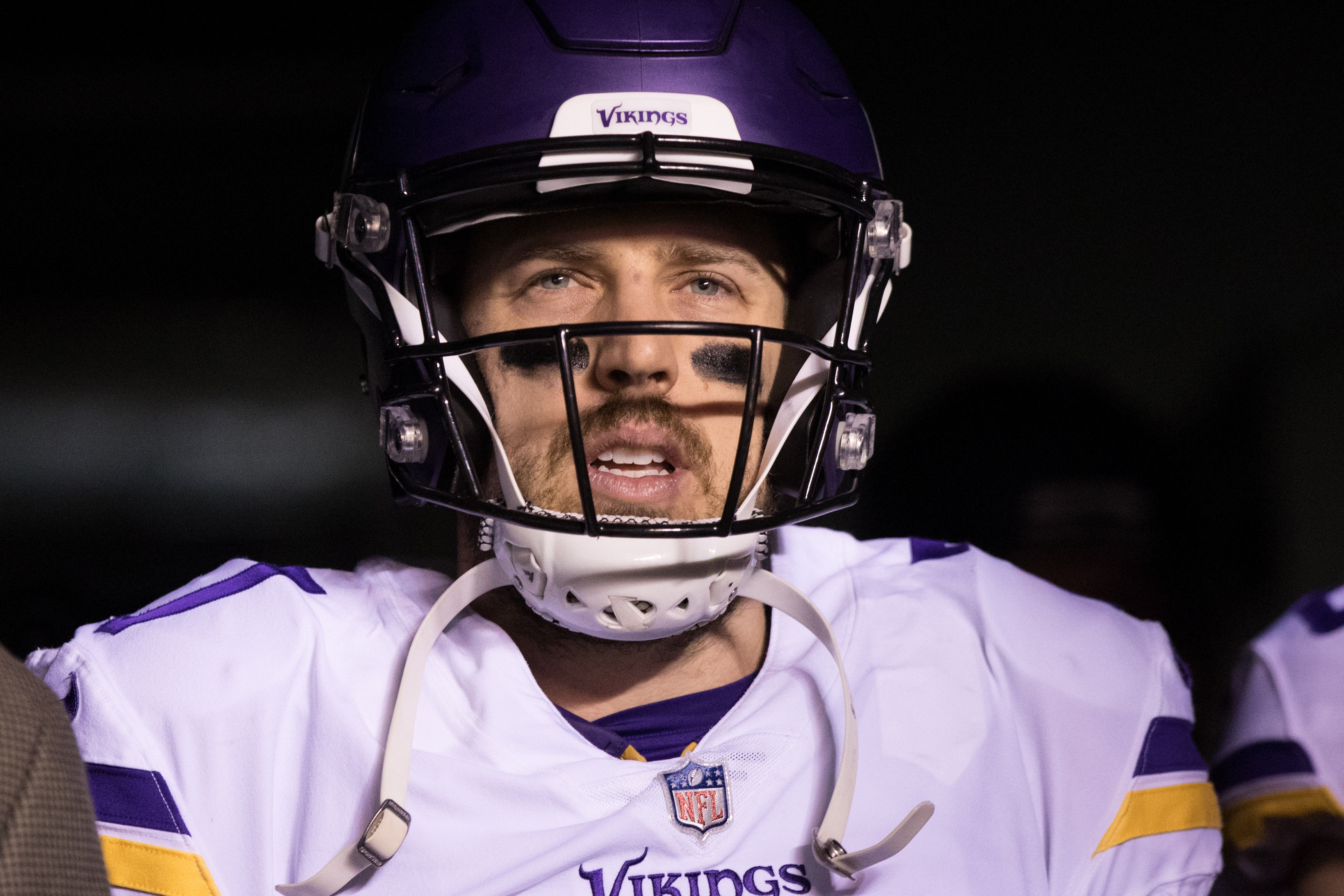 Minnesota Vikings quarterback Case Keenum was the beneficiary of a perfect storm. The 29-year-old quarterback, following an atrocious time with the Rams under coach Jeff Fisher, wasn't the Vikings' first choice to play quarterback. Nor was he the second. But after oft-injured quarterbacks Sam Bradford and Teddy Bridgewater both fell to the seemingly inevitable, the task fell to Keenum.
He took the ball and ran with it — all the way to the NFC Championship game.
Keenum was brilliant for Minnesota, going 11-3 as a starter for the Vikings while completing nearly 68 percent of his passes and possessing a better-than 3-1 touchdown-to-interception ratio. The former undrafted college free agent played his best at the ideal time, and parlayed it into a reported two-year, $36 million dollar contract with the Broncos after the Vikings' brass clearly thought that an upgrade at the position was possible. The Vikings will officially sign former Washington quarterback Kirk Cousins on Wednesday, deciding to give Cousins over $10 million per year more than the man who just led them to the best season in nearly a generation.
It's fair to wonder why, but the answers are obvious. Cousins has been remarkably consistent over the last three seasons, never falling below 4,000 passing yards or 25 touchdowns in a season. In contrast, Keenum threw for 3,547 yards and 22 touchdown in 2017, by far the best season of a career that will see him join Denver as his fourth team in six seasons. The Vikings avoided falling for the trap of recency bias, and didn't count on Keenum's one-hit wonder season to repeat itself.
Trevor Siemian's pro-rated stats, matching Case Keenum's 41 GP:

CMP: 779/781
ATT: 1,258/1,317
CMP%: 61.9/59.3
YDS: 8,771/8,966
AVG: 6.97/6.81
TD: 46/47
INT: 27/38
FUM: 14/11
RAT: 86.0/79.9

As you can see… not much different. The #Broncos improved, but didn't land a superstar.

— Shawn Drotár (@sdrotar) March 13, 2018
The Denver Broncos, however, are most certainly counting on it; believing that now — at age 30 — Keenum simply figured it all out. If they're right, the Broncos might have made the best free-agent move of the offseason… but even if they are, they won't reap the rewards for long.
If the Broncos are right, and Keenum's simply a late bloomer that all of a sudden continues playing MVP-level football, then in two years he'll be a free agent again — and likely far out of the Broncos' budget at the age of 32.
It's not hard to envision Keenum having success with the Broncos, especially if they use some of the money they saved by not paying Cousins into reinforcing the porous offensive line in front of him, but even so, Keenum might still be only the third or fourth-best quarterback — in his own division. San Diego's Philip Rivers and Oakland's Derek Carr (despite his subpar 2017) are established, and while Kansas City's freakishly talented Patrick Mahomes II is raw and will make mistakes this fall, don't be fooled — the Broncos would happily swap Keenum for Mahomes in one hot second.
The Broncos definitely improved their team by signing Keenum, but he's not Peyton Manning, or Tom Brady or Aaron Rodgers — players that can almost ensure a playoff berth by their presence alone. Even Keenum's Vikings thought that Cousins gave them a better chance of that, or he would never have been available to the Broncos in the first place.
On Tuesday, cornerback Chris Harris Jr. suggested as much, saying, "I think everybody should be happy; we got a guy who took his team to the NFC Championship. He showed that he could win and make the throws. Still, when you come here [to Denver], it's a different level of pressure. You're in an organization that expects to win — and expects a lot of the quarterback. So he has a lot of pressure on him, but I think [if] we get some key pieces around him, we'll make his job easier."
To be fair, the Broncos don't expect him to carry the team on his back — that's still a job for Harris, all-world linebacker Von Miller and the highly-paid duo of wide receivers Demaryius Thomas and Emmanuel Sanders. If everything breaks right, the Broncos could find themselves back in the playoffs, where anything can happen — and usually does.
But what if they don't?
What if Keenum regresses towards the mean, and produces a season closer to his career averages; numbers closer to what the Broncos were already getting with Trevor Siemian?
That's where the beauty of the two-year deal comes in, of course. It's a double-edged sword; while it protects the Broncos from a potential drop-off in Keenum's play, as explained earlier, if he plays brilliantly, it all but assures his departure in two seasons for greener pastures. Well… richer ones, at least.
Part of the reason that the Broncos wanted to land their starting quarterback in free agency had to do with their first-round pick in April's draft. Sitting at No. 5 overall in a draft with at least five franchise-altering talents, general manager John Elway didn't want to be locked into drafting a quarterback — even the appearance of flexibility means that Elway has a better hand to play in the NFL's high-stakes poker game; a game that Elway himself has said he enjoys playing.
Now, the Broncos could pick guard Quenton Nelson out of Notre Dame, who would fit very nicely for a decade in front of Denver's new, $36 million man. If he were to slip, who wouldn't want Penn State runner Saquon Barkley, who looks to be the most dynamic athlete at the position since Bo Jackson? The Broncos could tear a page from the Patriots' playbook and trade down, stockpiling assets to fill a roster that has developed an alarming and ever-increasing number of holes following their Super Bowl championship two years ago.
Keenum gives the Broncos an array of options… for now. If he plays at a Pro Bowl level, than the Broncos will need a new starting quarterback in just two seasons — and if he doesn't, the Broncos will want to get a new one, anyway.
So in the end, nothing's really changed on one front — the Broncos need to draft their long-term solution at quarterback, and the best option at their disposal to acquire one is with that fifth-overall pick.
Elway will attend Oklahoma's pro day on Wednesday to further evaluate Baker Mayfield, and on Thursday, he'll be at UCLA to do the same with Josh Rosen. Elway likely won't even be in the building when Keenum arrives on Wednesday to sign his mega-deal.
That's all right, though — it means that Elway knows that despite adding a starting quarterback, he doesn't have any time to waste when it comes to finding the next one. Fortunately, Keenum's $36 million bought him a little extra — but if there's one thing that the Hall-of-Fame-enshrined, two-minute magician understands, it's that the clock is always ticking.