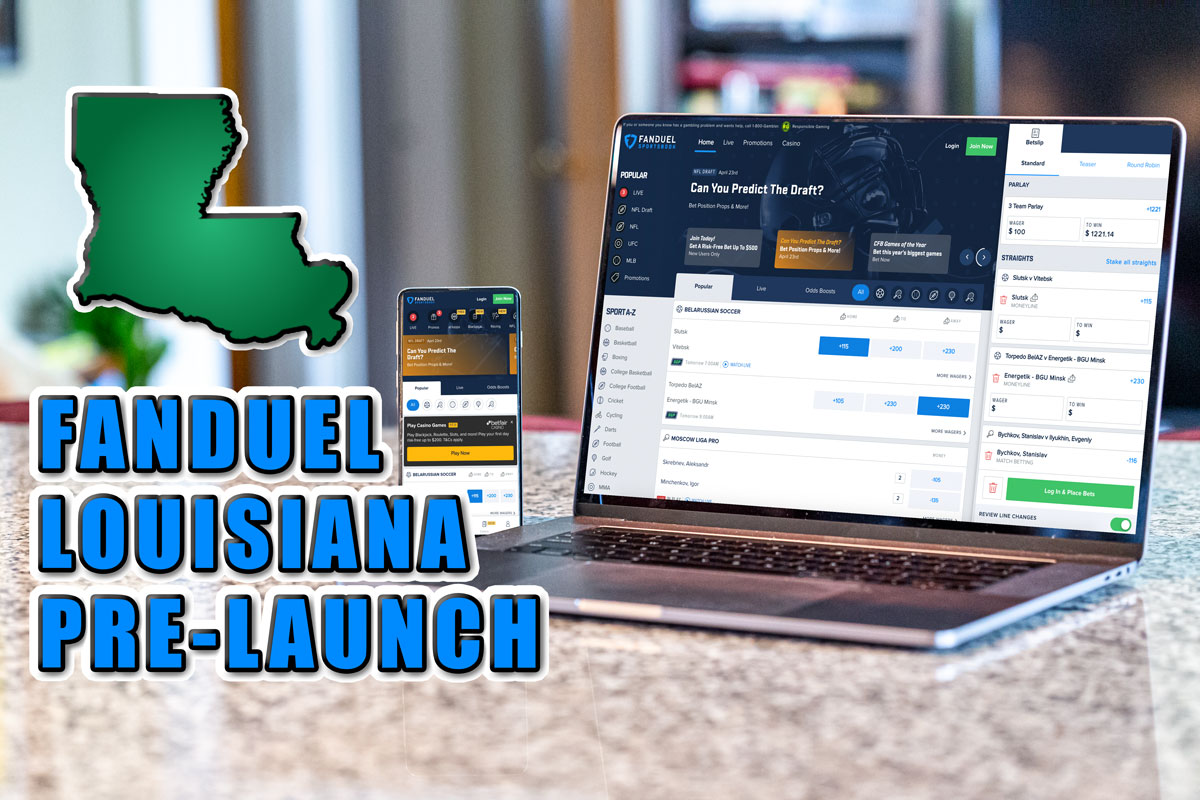 Online sports betting is coming to Louisiana sooner rather than later and now is the perfect time to sign up with sportsbooks. Pre-launch bonuses are out and FanDuel Louisiana Sportsbook is already going big with their offer.
Anyone who signs up with FanDuel Louisiana Sportsbook pre-launch can snag a $100 bonus to use on any available market. This pre-launch bonus will only be here while pre-registrations are open. Once Louisiana flicks the switch and launches online sports betting, this $100 bonus will be long gone.
Louisiana sports fans are in luck. The Pelicans are off to a horrific start, but the Saints are in the thick of the playoff hunt. With sports betting likely launching in the coming weeks, local fans can bet on both teams plus all the local colleges as well.
Louisiana will become the 13th state where FanDuel Sportsbook is available. Louisiana bettors can be sure that they will bring the top-notch experience that they have become known for around the country.
Click here to grab this $100 pre-launch bonus on FanDuel Louisiana Sportsbook before the state officially goes live with online sports betting.
FanDuel Louisiana Sportsbook is Coming Soon
When will FanDuel Louisiana Sportsbook launch? Unfortunately, we don't have an exact answer, but there are positive signs. First things first, the fact that sportsbooks are accepting pre-registrations shows that we must be getting close.
It's also obvious that Louisiana will try and launch before the football season is over. The NFL is the most popular sport when it comes to gambling. The earlier launch happens, the better it is for everyone.
However, at the very least we expect to see FanDuel Louisiana Sportsbook go live before the Super Bowl. That's the biggest day of the year for sports betting.
Claiming This $100 Pre-Launch Bonus on FanDuel Louisiana Sportsbook
There is no need to take a deep dive into the process for pre-registering with FanDuel Louisiana Sportsbook. It only takes a few minutes to get started:
Begin the registration process by clicking here or on any of the links on this page.
Input some basic information like your name, email address, physical address, and date of birth to create your account on FanDuel Louisiana Sportsbook.
You will be credited with a $100 pre-launch bonus to use on any available market when sports betting launches.
The 2021 NFL Season Continues
The 2021 NFL season has had its fair share of ups and downs. That's been especially true for the New Orleans Saints. After replacing Drew Brees with Jameis Winston in the offseason, they have had to deal with a number of injuries at the quarterback position.
But with all the adversity coming at the Saints, they are currently in the playoff picture as the sixth seed in the NFC. There is a strong chance sports betting launches in time for Louisiana sports fans to place wagers on their Saints in the playoffs.
Until then, we are forced to play the waiting game.
Click here to grab this $100 pre-launch bonus on FanDuel Louisiana Sportsbook before the state officially goes live with online sports betting.