Jared Bednar doesn't mind saying he now is a better coach than he was a year ago.
But the Avalanche's second-year coach adds the caveat: That's because he has a better team.
Amazing how that works, isn't it?
I caught up with Bednar Thursday morning after the Avalanche' off-ice workouts at Family Sports Center.
"I'm more comfortable, for sure," he said. "I learned a lot last year. To me, we're still trying to play the same way. We made some minor adjustments that have helped us. I think the hunger of our team is better.
"Part of the reason I'm more comfortable is because of the way our guys are playing and in a lot of areas, we have more depth. It's an easier job to play for our team this year and it's an easier job to coach for our team this year because of some of the depth we have and some of the options we have. I think this team is starting to grab a little bit of identity."
The Avalanche is 12-9-2 going into Friday night's home game against the New Jersey Devils. That's an improvement on its 23-game pace of a year ago, when the Avalanche was 9-13-1 after going 0-4-1 on a homestand that got the complete collapse started. Eventually, the Avalanche finished with the lowest point total (48) of the shootout era and the lowest, period, since the expansion Atlanta Thrashers in 1999-2000.
This team also is passing the eye test, too. It would be premature to call the reboot and remaking of the Avalanche — a project that got started down the stretch last season — a success, but this much is clear: Joe Sakic, somewhat embattled as the GM and head of the hockey operation, had a coherent plan, implemented it and has watched as this franchise ceased being an embarrassment.
That is progress. And it comes after Sakic in 2016-17 repeatedly absolved his first-year coach of major blame for fiasco of last season, saying Bednar had walked into a difficult situation following the surprise resignation of Patrick Roy a month before training camp and because of that now is best described as a transitional roster — one that scraped the top of the salary cap and was the worst bang-for-the-buck team in NHL history.
Essentially, Sakic labeled the possibility of firing a first-time, first-year head coach preposterous — and it didn't turn out to be phony rhetoric.
So Bednar, the journeyman minor-leaguer as a player, assistant coach and head coach, remained on the job — and is overseeing a vastly improved roster. He slightly shuffled his inherited staff, with Ray Bennett replacing Tim Army and Jussi Parkkela taking over as goalie coach from Francois Allaire.
The Matt Duchene trade — in which Colorado acquired four players (including the rights to Boston University freshman center Shane Bowers) and three draft choices — has shaken things up.
With Vladislav Kamenev, acquired from Nashville, suffering a broken arm in his first game with Colorado, the only part of the deal on display with the Avalanche now is 19-year-old defenseman Samuel Girard, playing in the top pair at even strength with Erik Johnson.
But with Duchene and the Senators struggling since the deal, and with the Colorado top line of Nathan MacKinnon centering Mikko Rantanen and Gabe Landeskog (at least until his four-game NHL suspension) having gotten hot, the Avs seem a better team since the trade.
"I think it's a good hockey trade because we needed help on our D, and we needed a little more puck-moving ability there," Bednar said. "We got a real good player in Girard, he's a young guy who's going to grow with us. He has some potential to be special back there. And I think one of the big parts of it is that Dutchy was unhappy, so probably not playing his best hockey over the last however long you want to call it, 18 months. So we get a guy who wants to be here, who wants to be part of us, who wants to help us win, as opposed to a guy who wants out, who wants to do something different. That's no knock on Dutchy, it's just that I think in order to be the team you want to be, you have to be going in the same direction."
Now one of the tests is how well the Avalanche, coming off an overtime win over Winnipeg Wednesday, can do without its captain in the lineup in the remaining three games of the homestand. The suspension for a cross-check on Matthew Tkachuk of Calgary was Landeskog's third in three seasons, and Bednar said that hasn't shaken his faith in Landeskog as his captain — or otherwise as a player.
"I know he's hard on himself," Bednar said. "I read his quotes and I see what he said. But you have to play the game with emotion, you have to play with passion and especially certain players we need them to be physical guys and be hard to play against, and that's what Gabe is with and without the puck. He catches (Tkachuk) high, he catches him with a crosscheck, there's no question. But to me, it's unintentional, he's playing hard, he's looking over his shoulder at the puck and he hits him once and the next one rides out and gets him in the face. To me, that's an accidental play. It's not like he went out there and did something that was uncalled for or stupid or however you want to put it. It's just where he catches him with the stick and he's doing everything he can to help our team at that point in time in the game."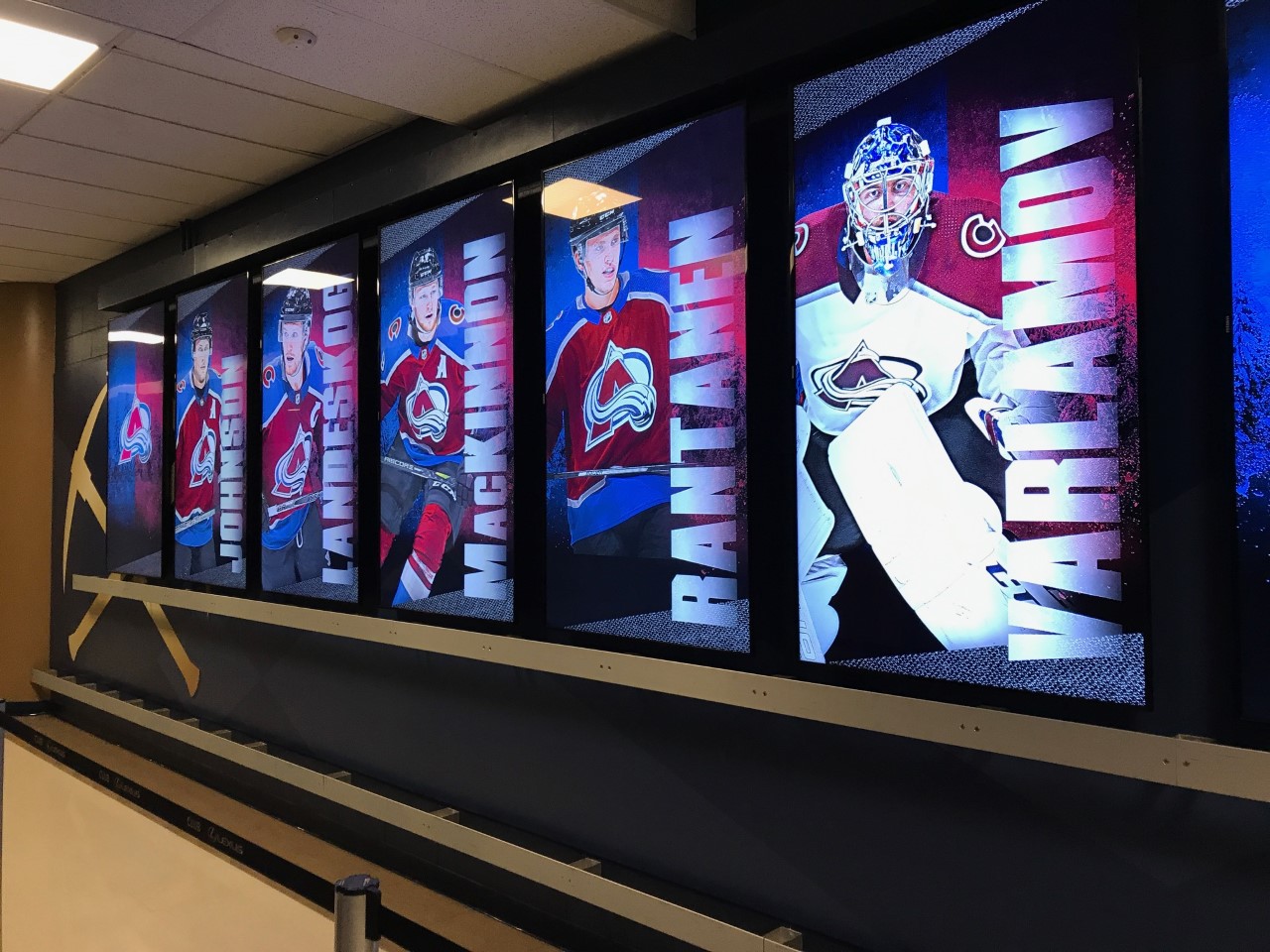 Another issue is whether — or for how long — the Avalanche can get away with having both Girard and Tyson Barrie in its top six on the blueline. They're both undersized, puck-moving defensemen, and it's not so much an intolerable duplication of type as much as it can be a problem in the defensive end. Curiously, Barrie's picture no longer is among those in the lighted digital display in the Pepsi Center ice-level hallway. Before the trade, it was the Avalanche's much-cited six-man "core." Now Rantanen has replaced Duchene and Barrie's likeness is gone.
Barrie now is playing with Anton Lindholm, who is no giant, either.
"Depending on the type of team and who you're playing, I think every player has strengths or weaknesses, right?" Bednar asked of Girard and Barrie. "So I think those guys' strengths are their puck-moving ability, their ability to skate, help us offensively. They give up a little bit of size and heaviness down low . . . When you play a team like Winnipeg, big heavy bodies, you may some trouble closing plays out in the D-zone and make up for it on the other side by moving the puck efficiently, get it up the ice and put some pressure on them.
"Both those players are really good players and they're playing the right amount of minutes for our group."
Bednar said Barrie, who is in the second season of a four-year, $22-million contract, "is playing fine. You look at him, he's productive, and I think on the power play, he's more dangerous. We're seeing him shoot more and and with the point shot, he's kind of missing the next a little bit right now, but I think he's more of a threat to shoot it up there and he's distributing well and getting on the scoresheet every night. On the defensive side of things, he's like everyone else, there are better days than others sometimes. He's a work in progress and he's still going to strive to get better."
Maybe he'll even get back in the picture.
*   *   *
Denver-based journalist Terry Frei writes two commentaries a week about the Avalanche for Mile High Sports. He has been named a state's sports writer of the year seven times, four times in Colorado (including for 2016) and three times in Oregon. He's the author of seven books, including the fact-based novel "Olympic Affair" about Colorado's Glenn Morris, the 1936 Olympic decathlon champion; and "Third Down and a War to Go," about the 1942 football national champion Wisconsin Badgers and the players' subsequent World War II heroism. His web site is terryfrei.com and his additional "On the Colorado Scene" commentaries are at terryfrei/oncolorado. 
E-mail: [email protected]
Twitter: @tfrei
MHS Commentary Archive:
Gabe Landeskog has to be smarter, and he's the first to say so
For Avalanche, winning back fans isn't easy, either
Horseman/defenseman Erik Johnson up to playing marathon minutes
Ring of Famer Red Miller, Part One: Coal Miner's son
Ring of Famer Red Miller, Part Two: About those %$#@ Raiders… 
This time a year ago, the wheels fell off 
Post-trade: On Girard and Kamenev
Stockholm is a Homecoming for Landeskog
Why Can't MacKinnon do that every night?
At the Pepsi Center, you'll think you're in Chicago
Is Zadorov ready to be – and stay – a top-pairing "D"?
For this is to work, Bernier has to be better
This isn't just Jared Bednar's second season. It's his second chance.
Sven (The Reindeer) Andrighetto speedily skating into Avalanche forefront
With Avalanche off to another 3-1 start, leadership is a "core" issue