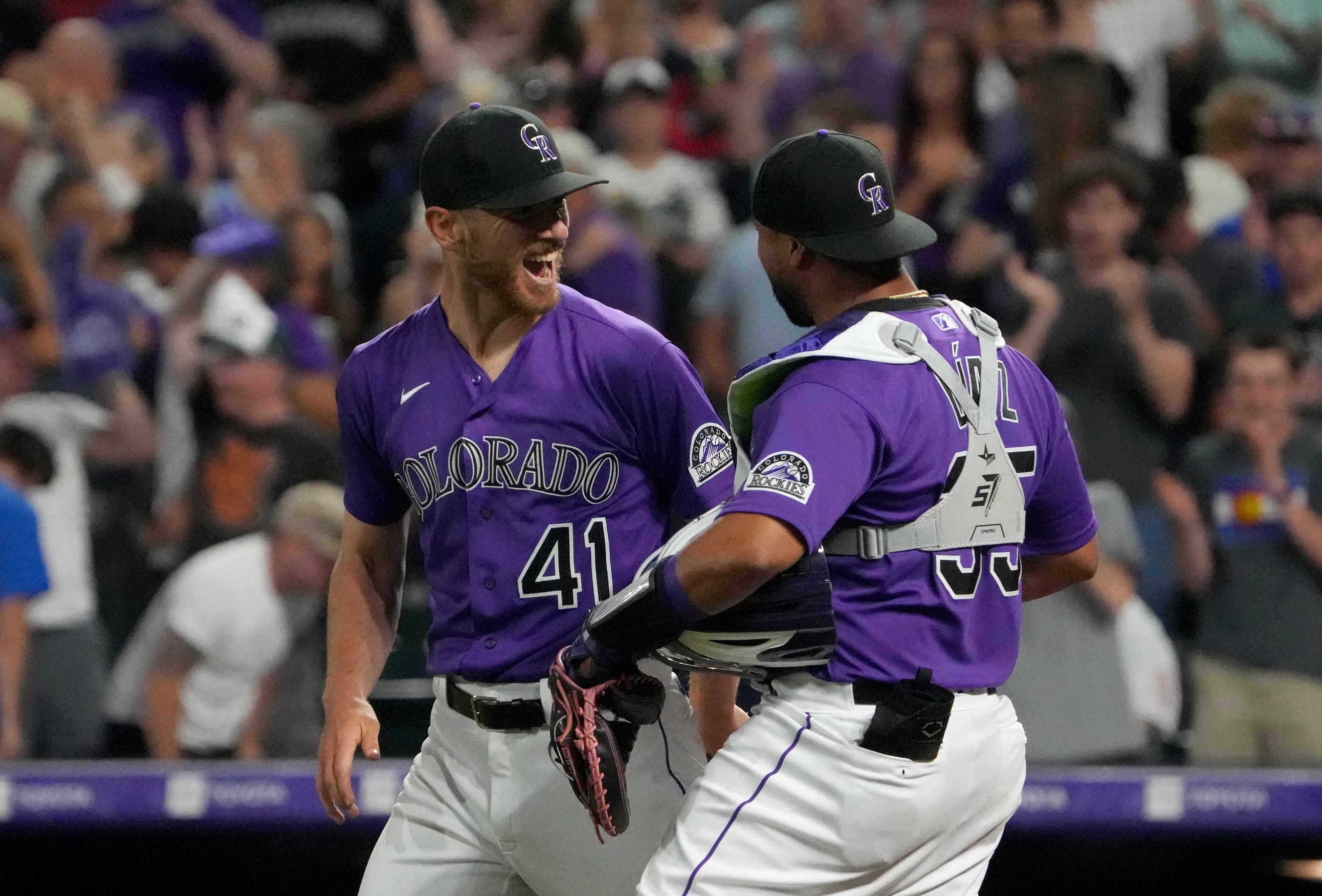 Something funny happened at Coors Field last night.
Chad Kuhl threw a complete game shutout.
That's impressive at the MLB level given no context but not particularly funny. It gets even more impressive when you note that it was against the Los Angeles Dodgers who essentially boast a lineup of All-Stars. But, again, you may still be searching for the humor in such an event.
It starts to creep in a bit when you look at the season that both teams are having and the truly frustrating baseball the Rockies have been playing lately. This is a ballclub that just got swept in Miami by a mediocre-at-best Marlins team. Suddenly, they can best the bullies of the division 4-0, allowing just three hits on the night?
That might inspire a bit of a chuckle.
But when we look even deeper, specifically to the pitching match-up, the levels of incongruity really start to spike.
LA sent southpaw Tyler Anderson to the bump. Anderson is in the midst of a career year, or so the narrative would have you believe, after having escaped the horrors of the Colorado coaching staff and the general mess of the organization. He is posting the best ERA of his career (3.23) and nearly threw a no-hitter earlier in the season.
He came up through the Rockies system and showed quite a bit of promise throughout his minor league career, despite oftentimes being overshadowed by guys like Jon Gray and Kyle Freeland.
And he was excellent his rookie season in 2016. In fact, he was even better that year according to the advanced metrics than he has been this year. His 3.54 ERA is, naturally, a bit higher but when adjusted for ballpark his 137 ERA+ that year over 114.1 IP bests his current 131 ERA+ over 78 innings.
Anderson remained above average but barely the next two seasons, pitching especially well down the stretch in 2018, earning a start in the NLDS. The notion that he was never good in Colorado is simply untrue.
It is, however, the case that injuries plagued him throughout much of his tenure and it clearly began to impact his effectiveness in 2019. After putting up a 44 ERA+ in 22 innings, the Rockies let him go and the Giants picked him up in 2020 where he pitched 59 innings to a 98 ERA+.
He continued to flounder under the league average in Pittsburgh and Seattle before getting back to the best version of himself this season, even garnering some All-Star attention.
Chad Kuhl… on the other hand… has arguably been better in a far tougher situation with less previous evidence that he could be and is getting a fraction of the praise and attention.
While Anderson was being reminded that Denver is a tough town to pitch in, surrendering four runs in six innings, Kuhl was bettering his season numbers to an ERA of 3.49 and an ERA+ of 135. Yup, better than Anderson's.
These advanced metrics are supposed to account for the variance in ballparks, but they can't account for the mental toll that pitching half your games in this environment can take. Kuhl is dealing with this dynamic for the first time and, again unlike his counterpart on Monday night, had topped out at a 106 ERA+ previously.
This puts Kuhl in a very rare class, if it holds up, of starting pitchers who have largely struggled elsewhere but come to find themselves in Colorado. Jorge de la Rosa remains the king of this class.
Let's not get the overall message twisted here, though. Nobody reasonable would disagree that the Dodgers have a much better coaching staff and overall organization than the Rockies. They have a better overall organization than everyone, but still sure, the point is worth being made about how wide the gap is between the quality of how that franchise runs things and how the local one does.
But it's also important to keep full context in mind and give credit where it's due.
One of these guys moved to a far more favorable situation in nearly every respect and rediscovered himself while the other moved to a far less favorable situation and discovered himself maybe for the first time.
Anderson is having a nice year and it's great to see him finding himself again but Chad Kuhl is having his own personal renaissance right in the middle of the dark ages. 
Because of the uniform he wears, he will likely continue to be overlooked, but on nights like last night, he's the one who gets to have the last laugh.