To Broncos fans, Champ Bailey was an easy choice for the Pro Football Hall of Fame
The following article is from the July issue of Mile High Sports Magazine.
Every great Bronco has a signature play.
Champ Bailey's is one of the most famous in team history.
Yes, "The Helicopter" by John Elway in Super Bowl XXXII is probably the leader in the clubhouse, but what Bailey did on Jan. 14, 2006 isn't far behind.
With Denver nursing a 10-6 lead late in the third quarter against the New England Patriots, it appeared Tom Brady and Co. were about to cap off a signature drive to take a 13-10 lead.
It was the Divisional Round of that year's playoffs, and despite winning two Super Bowls in the late 1990's the Denver fanbase was once again starving for playoff success.
It wasn't going to be easy, as Brady and the Pats came to town with their (at the time) three Super Bowl rings jammed on their fingers.
Third-and-goal at the five-yard line and Brady almost assuredly throws a touchdown.
Unless he doesn't.
There was a popular saying in Denver at the time: "Two-thirds of the Earth was covered by water and the other third was covered by Champ Bailey."
That proved to be the case.
As Brady was rolling to his right, he flicked the ball toward streaking Patriot wideout Troy Brown. But Bailey was able to jump Brown's route and pick the ball off inside the end zone. What transpired next was one of those most magical – and confusing – sequences in Denver Broncos history.
Bailey sprinted down the sideline and it appeared he was going to have 100-plus yard pick-six. Even Jim Nantz, who was calling the game that day, remarked, "He gets away from the one man who had a shot at him!" as Bailey sprinted past a would-be Patriots' tackler near midfield.
As Bailey was about to score the touchdown, out of nowhere New England tight end Ben Watson entered the picture and blew up Bailey at about the one-yard line. The ball violently exited the cornerback's hands; naturally, Denver wanted a touchdown and New England wanted a touchback. It's that quirky NFL rule where if a player about to score loses the ball out of the back of the end zone, possession flips and the opposing team gets the ball at the 20-yard line.
Neither side got their way, but Denver got the better end of the deal.
The officials eventually marked the ball out at the one-yard line, and after an unsuccessful challenge by Bill Belichick, running back Mike Anderson punched it in on the very next play.
A 14-point swing thanks to Champ Bailey.
Instead of being down 13-10, Denver took a 17-6 lead, and then rode that momentum to another quick score and an insurmountable 24-6 margin. Eventually Bailey and the boys would win 27-13 and advance to their first AFC Championship game in seven years.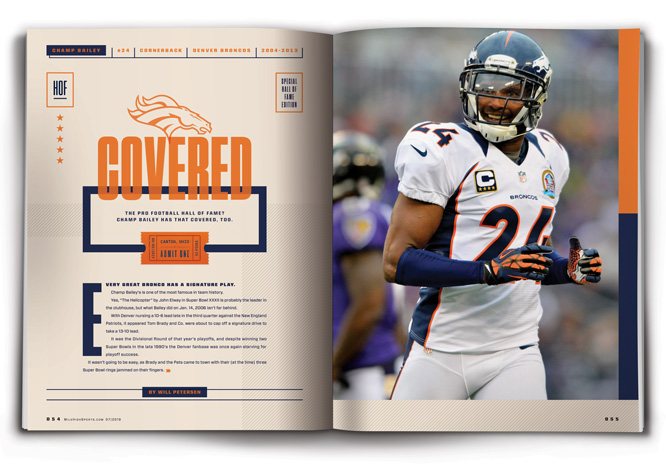 "It was a great play by me," Bailey would say that night after the game. "I never saw the guy coming, but I was going as hard as I could."
After the game, a clearly upset Belichick didn't want to say the officials missed the call, instead grumbling, "Go ask them," when asked if the ball did indeed go out of the back of the end zone.
At the time, there's no way a fiery competitor like Bailey would ever admit what he saw, but long removed from the situation he opened up about it.
In an interview with Mike Klis for his book Mile High Magic: The 25 Greatest Moments in Denver Broncos History, Bailey said he understands why Belichick was upset and lobbied heavily for cameras on the goal line.
"Because I thought it was a touchback," Bailey told Klis. "When I was on the sideline, I was saying, 'Did the ball cross? Did I get in? Did I get in?' Everybody on our bench of course was optimistic: 'Yeah, you got in.' I was like, 'I don't think I got in.' And then when they put it at the 1, I thought, 'Wow, that's great.'"
A great moment in Broncos' history that every fan will remember the rest of their lives.
But Bailey was more than just one play. He made a career out of lockdown coverage and dazzling interceptions. It's why in August, he'll be enshrined as a first-ballot Hall-of-Famer and become the first ever Broncos defender to be enshrined in Canton.
"It's amazing to think about that – and also to be the first defensive player for the Broncos to make it," Bailey said shortly after getting 'The Knock' from the NFL telling him he had gotten in. "I don't realize these things while I play, I don't necessarily focus on that," Bailey said. "I take care of my job. But now when I reflect on my career, and you can say things like that, it really means something."
And to think had it not been for one of the biggest trades in NFL history, none of this would have been the case.
***
No one could have seen coming what happened on March 4, 2004.
Blockbuster trades just don't happen in the NFL.
They especially don't with rising stars.
Clinton Portis was Mike Shanahan's shiny new toy. The Pro Bowl running back had just rushed for 1,591 yards and 14 touchdowns in just 13 games in his second year with Denver. Desperately seeking a replacement for Terrell Davis, it appeared Shanahan had found one.
Most thought the Broncos would be talking about a contract extension with Portis, locking up their young star for years to come. Instead, Shanahan, who famously churned out good running back after good running back, had a different idea. Use Portis' rising stock to land a game changing defender. And so he did.
In a move that sent shockwaves throughout the league, the Broncos and Washington Redskins swapped Portis for Champ Bailey and forever changed the direction of each franchise.
"They wanted me there and they did what they took to get me there. It's not like they drafted me," Bailey said of the trade. "It's rare to pick up a corner the way they did. They made the most of it."
Portis had a five-touchdown game for the Broncos just four months before against the Chiefs. He's only one of five players in NFL history to ever achieve that. Portis thinks that's what did the trick.
"How could I forget that game? It was the game that got me traded," Portis told The Undefeated in 2018, hinting that it was his decision to sport a gold "heavyweight" belt on the sidelines – and not his 218 rushing yards and five touchdowns – that gave then head coach Mike Shanahan the idea to trade him.
While Portis would go on to play in Washington for seven more years and have four seasons over 1,000 rushing yards, it's abundantly clear Denver won the trade. There's a reason Bailey's bust will be on display in Canton next month while Portis has never sniffed the Hall of Fame.
Bailey's career accomplishments are astounding.
After five seasons and four Pro Bowls in Washington, Bailey would go on to play 10 years for Denver and proceed to make eight more Pro Bowls. He was a First Team All-Pro selection in each of his first three seasons with the Broncos.
Bailey had 52 career interceptions including a ridiculous 10 total in 2006 after picking off eight passes in 2005. That's 18 interceptions over two seasons. For a reference point, Chris Harris Jr., who many believe could be headed for Canton himself someday, has 19 career interceptions in his eight years with the Broncos thus far.
Harris, arguably the best current cornerback in the league, is grateful for his time spent as teammates with Bailey.
"Just coming in the league as a rookie, Champ—he helped a lot in preparation of getting ready for the games for me, and technique," Harris said. "I watched him and learned a lot from him, and I was blessed to be able to play with a Hall of Famer, him and Dawkins in my first year, and also play with Champ for three years. So that really helped bring along my game a lot faster."
But it wasn't just his ability to help younger players learn the game. Harris did a good job of explaining just who Bailey was as a competitor and the work ethic he possessed.
"One thing about Champ, he used to talk about he could see guys missing work and taking days off or something, or if they're sick, they didn't show up. Champ was like, 'Man, if I'm sick or anything, I haven't missed a day of work in 15 years,' and that's something that's stuck with me a lot with Champ that he came to work every day," Harris said.
Bailey would add four touchdowns in his illustrious NFL career, also forcing five fumbles, recovering four more and racking up 471 career tackles. It was a no brainer to induct him into the Pro Football Hall of Fame the first chance the voters had.
And Bailey of course isn't the only member of Broncos Country who will be enshrined forever come August.
The last time Champ Bailey spoke with the media, the late and great Pat Bowlen was still alive.
Mr. B, the longtime Broncos' owner, passed away surrounded by his family at his home on June 13. It really is a shame that Bowlen wasn't inducted into the Hall of Fame while he was still alive, but that's a different story for a different day.
Bailey understands how special it is that he and Bowlen will go in together.
"I always believe that things just come full circle," Bailey said. "To go in with Pat Bowlen, to go in at home – this is what made me who I am. My state. Representing Georgia with a lot of pride. And then to be able to do it with the Broncos, to go in with the owner – you couldn't ask for a better story," Bailey said.
And the Hall of Fame isn't the only ceremony Bailey will be part of this year. The Broncos also announced he will go into the team's Ring of Fame in 2019, officially honoring him on October 13 when Denver hosts the Titans.
"To be able to do it where I played for 10 years, I'm looking forward to it, man. It's going to be surreal," Bailey said. "I have to be honest, I expected it at some point, maybe. But at the same time, it's out of my hands. I never dwell on things I can't control or worry about them. It's like, when it happens, it still catches me off guard. I'm just so grateful that the Broncos consider me part of the family and [are] willing to put my name all over the stadium. It means the world to me, and it makes me feel good inside."
And even though he's been on an NFL field hundreds of times, the former No. 24 who dominated the league for so long will still get chills being back out there on the day of the Ring of Fame induction.
"You know the first thing I thought about was I've got to stand in front of that crowd in the stadium, and the last time I actually did something like that…was when I played," Bailey said.
"It's going to be a little surreal. I think the Hall of Fame will get me warmed up for it, but I believe being in front of those fans means more than anything."
Joining Bailey in the Hall of Fame someday will undoubtedly be two of the best quarterbacks to ever play the game in Peyton Manning, and of course, Tom Brady who Bailey had that famous pick off of so many years ago.
"Can't get run down by a tight end, I have no idea, but he did," Brady said jokingly after finding out Bailey made it to Canton. "He made a great play in that game and that was a big turning point in that game. He was a phenomenal player, I loved playing against him. He's one of the very best to play in that position and he was a great Bronco. I have a lot of respect for the way that he approached the game, his attitude. He was a great competitor."
Manning, who was Bailey's teammate for two years in Denver, offered similar praise.
"You saw that throughout his career in the NFL and playing against him was always a challenge—unbelievable ball skills, probably as good of hands as any top-flight receiver in the NFL and then the ability to be a shut-down corner and there are so few of them," Manning said when asked about Bailey's Hall of Fame selection.
Manning himself had many signature plays in a Broncos uniform, his bootleg touchdown in Dallas against the Cowboys comes to mind, but it probably took him as long on that one-yard touchdown run as it took Bailey to sprint 100 yards against Brady and the Patriots.
One great play doesn't define a career, Bailey had hundreds of them.
But he'll always have that interception off Tom Terrific.
And now he's got a bust in Canton to go with it.
***
*For more from Mile High Sports Magazine, subscribe here!