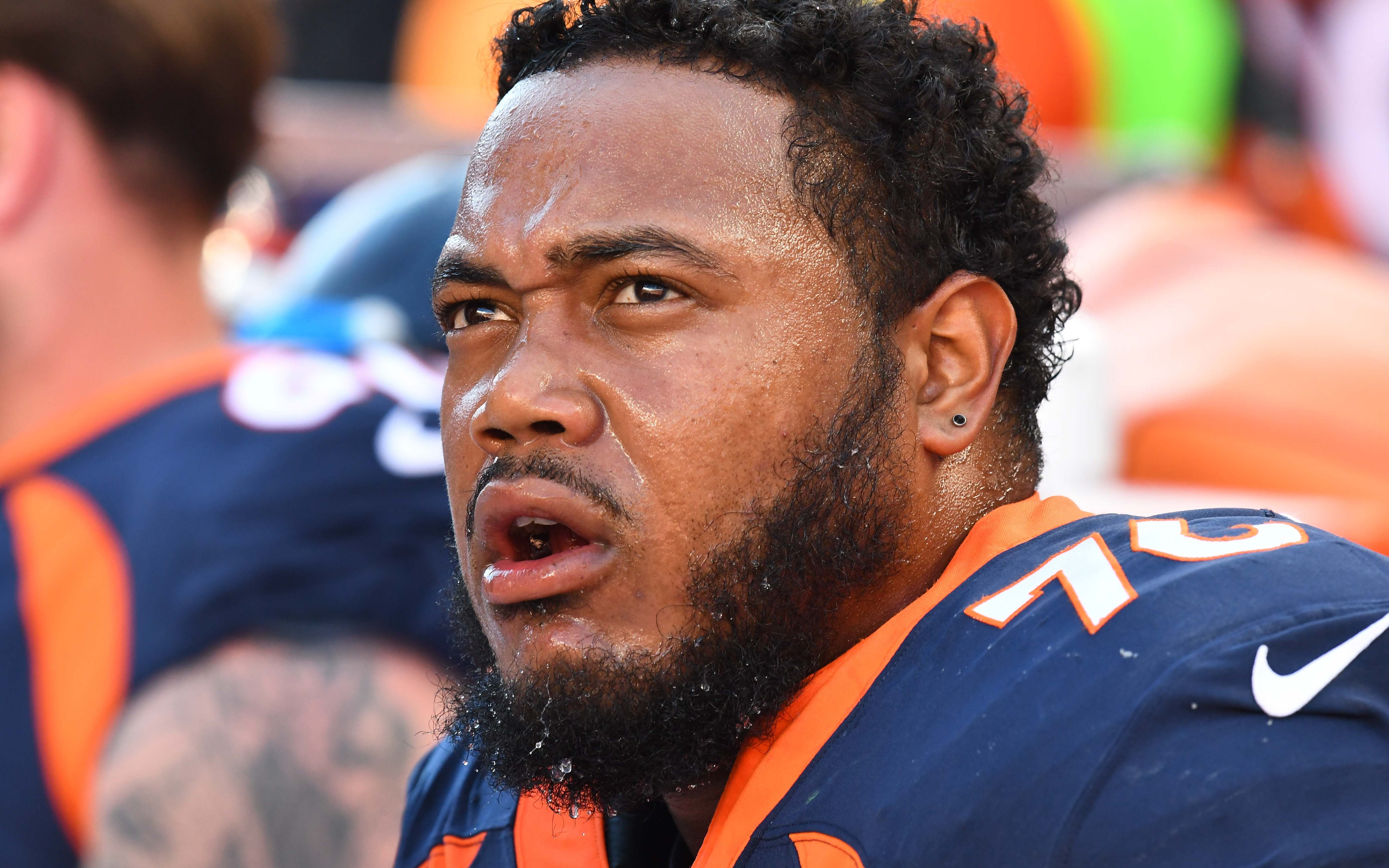 The Denver Broncos have a problem so important, it's offensive if they don't finally get it figured out.
That problem is with their offense in general — which was 27th in scoring last year — and the main issue stems from their lack of consistency in the trenches. Nearly three weeks through OTAs, the Broncos seem to have four-fifths of their offensive line figured out, but that still leaves one position up for grabs; at right guard.
Last season, Ronald Leary played right guard, but he'll likely be moved back over to the left side of the center — Matt Paradis — where Leary played most of his time with the Dallas Cowboys from 2013-16. Garett Bolles is undoubtedly the starter at left tackle, and Denver also brought in Jared Veldheer to start at right tackle.
That leaves us all wondering, who will it be at right guard?
Currently, there are multiple men competing for the job. One is Connor McGovern, who John Elway and the Broncos took in the fifth round of the 2016 draft. Another Broncos draft pick, Max Garcia (2015, 4th round) will battle for reps at right guard, while even former starter at right tackle Menelik Watson fights for playing time inside, too.
"We'll see," head coach Vance Joseph said on May 22 when asked about Watson continuing to play at guard into the season. "OTAs, especially with the O-Line, are to allow guys to kind of play different positions. We want guys to play left guard and right guard. We want guys to play tackle and guard.
"He's played tackle his entire career, so we're going to see how he plays guard. It just makes us better and makes him a better player. It helps us win. We'll see."
For Joseph, having players who are versatile enough to play multiple positions would be a huge plus. But, what Denver needs first, are solid starters all along that offensive front five.
Watson, at 6'5" and 315 pounds, is the perfect size to be a guard or tackle, but he showed great inconsistency at the tackle spot in 2017. While he only committed two penalties in seven games, his injured calf and then foot sent him to the Injured Reserve. Even when healthy, his foot speed was lacking when facing those speedy edge rushers outside, so a move to guard could be beneficial to the four-year veteran.
While Watson was simply an addition last offseason, McGovern and Garcia have stuck around partially because they were Elway draft picks.
After starting five games in his rookie, 2015 campaign, Garcia has started all 16 games the last two years for the Broncos, taking a great deal more snaps in the second half of 2017 than the first half. Even with all the experience, according to Pro Football Focus, Garcia graded out at only a 41.2 last year, after enjoying a career-best season in 2016, with a 70.8 grade that year.
Garcia's horrible 41.2 grade last season made him the 59th-best guard in the NFL, and right behind him is Connor McGovern, at No. 63, with a terrible 40.2 grade. After playing sparingly most of the season, McGovern was a full-time starter the last five games, but didn't exactly win the position with those poor marks.
In comparison, Leary was the ninth-best guard in the NFL, with a superb 81.2 grade, while Bolles and Paradis each graded out in the 70s. Those three are solid, and Bolles has a chance to continue to improve after his rookie season.
Meanwhile, Veldheer graded out at a 54.3 in 2017, his worst season since his rookie campaign in 2010. So, unless he bounces back this year, right tackle isn't a lock, either.
What it all means is, while the left side and center are ready to go, Denver first must find a right guard. Will one of these three men — Garcia, McGovern or Watson — make the grade? These OTAs and training camp will go a long way in determining just that.
And then, the Broncos have to hope Veldheer can be a consistent starter at RT, because if they want to improve on offense, the line must be ready to protect Case Keenum and allow him to find those talented receivers.