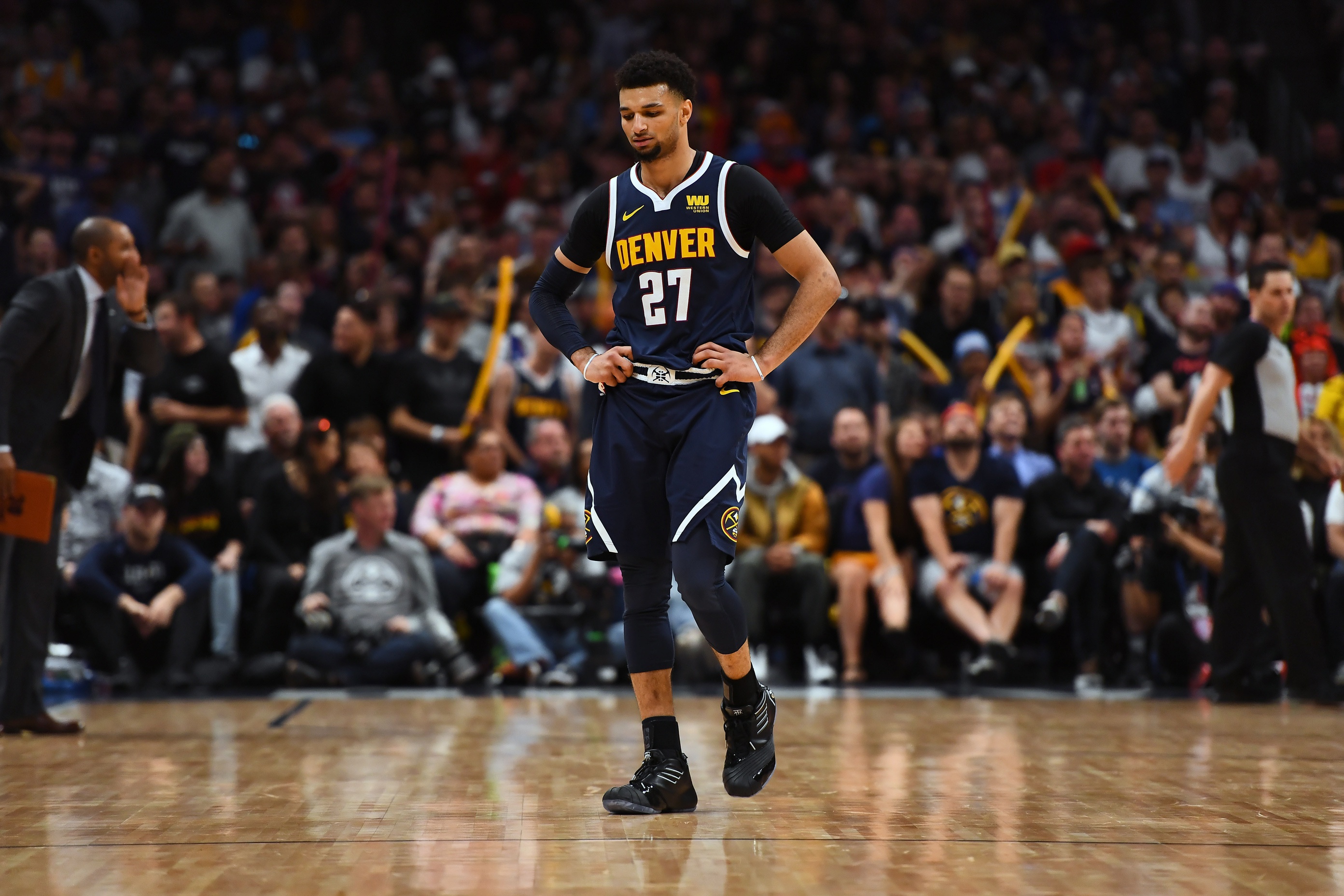 The common refrain out of Denver and perhaps beyond, will be that the NBA's Western Conference is about to experience a changing of the guard.
The Denver Nuggets, it will be said, are in position to make a legitimate run at an NBA title. Golden State won't be the same team; they'll be ripe for the taking. The Nuggets, who narrowly missed a shot at the Warriors in this season's Western Conference Finals, will be back and better than ever. They're young, talented and deep, but now they also feature a roster that has true postseason experience. The young Nuggets got a taste, and next spring, they'll have an understanding of what it takes. They've got a bona fide superstar in Nikola Jokic; simply put, he was dynamic in the Nuggets' two playoff series. Denver can bring back as much of this year's roster as they so choose and they'll have an added bonus when Michael Porter, Jr. makes his highly-anticipated NBA debut.
That will be the story.
And it's not entirely off. It's a fair to conclude that the Nuggets are on the rise. They very well may be ready to take the next step.
But that story is also a dangerous one. It's too easy to assume that 14 playoff games, another year of experience and the addition of a talented – but unknown – 21-year old swingman is (or was) all that was required to finish the job.
Instead of buying into the theory that "experience" and "motivation" are the key ingredients for next season, the Nuggets must ask themselves: Is that all?
If the answer is "no", then other questions should follow.
Where is the roster deficient? Who can be added? Who's in the way? Which young players still have untapped potential and which ones have already reached their ceiling? What do the teams playing in the conference finals have that Denver does not?
Food for thought: The Nuggets unquestionably had the better frontcourt against the Trailblazers. Center Nikola Jokic and power forward Paul Millsap were both key; each was better than their counterpart – by a lot, in fact. Yet, that wasn't enough.
Portland, on the contrary, had the better backcourt. While Jamal Murray and Gary Harris played very well for the most part, nobody would argue that Denver's guard tandem was better than Portland's combination of Damian Lillard and C.J. McCollum.
As it turns out, that was the difference in the series.
Take that a step further; look across the conference finals. What do all four teams have in common? Dynamic guard play.
Portland features aforementioned duo.
Golden State has Steph Curry and Klay Thompson, arguably the best pair of guards who can shoot in the history of the NBA.
Toronto's backcourt of Danny Green and Kyle Lowry is serviceable; but the reality is that small forward Kawhi Leonard is a ball-dominant, slashing, shooting player who plays "outside-in." Whether he's technically a guard or not is semantics; the ball finds him and he's able to play (and shoot) from the perimeter.
In Milwaukee, Eric Bledsoe is one of the Association's better true point guards.
It takes five (at least) to win a game, but it appears that guard play might be essential in winning a championship in the modern NBA.
If the Nuggets brass buys into that theory, the question must be asked: Can Jamal Murray and Gary Harris become as good or better than Curry and Thompson or Lillard and McCollum?
Age and free agency might help, but windows in the NBA open and close quickly. Denver does – and should – like its backcourt. But if Curry, Thompson, Lillard or McCollum was swapped with either Harris or Murray, where would the Nuggets be?
That's completely hypothetical, of course, but the objective onlooker would conclude that by making such a swap, the Nuggets would be playing in the Western Conference Finals this year. McCollum's solo 37 bested the 32 points Murray and Harris combined for.
It's a bit of a dilemma – after all, most teams in the NBA would very much like having the duo of Murray and Harris. Plus, they're young – 22 and 24 respectively. The average age of the aforementioned Western Conference guards is 28.75; that's more than five years of experience over Murray and Harris.
But with one more year of experience, will they be good enough to best the others?
They will be better, that's a given. But how much?
In the case of Murray, it might be his defense that ultimately comes into question. While he gave a legitimate defensive effort for most of the postseason, his role might have even been slightly diminished because so many minutes were gobbled up by Torrey Craig, a small forward who was asked to stop Lillard.
Another question: How does Malik Beasley factor in? In his second season, where he was given ample chances to showcase his game, he had flashes of brilliance. He's just 22, as well. Does Beasley maintain a role on the bench? Does he provide a valuable trade piece? Does his presence make Tim Connelly pick up the phone when there's an inquiry about Harris on the other line?
In the mighty Western Conference, will a changing of the guard require a changing of the guards – in Denver?
The Denver Nuggets are young and good. And now they've had a taste of the postseason. But this offseason, the Nuggets must ask themselves if they've checked all the boxes. Is the roster as it's currently built good enough to simply "grow" and then win?
These opportunities, as Nuggets fans know, don't come around too often.