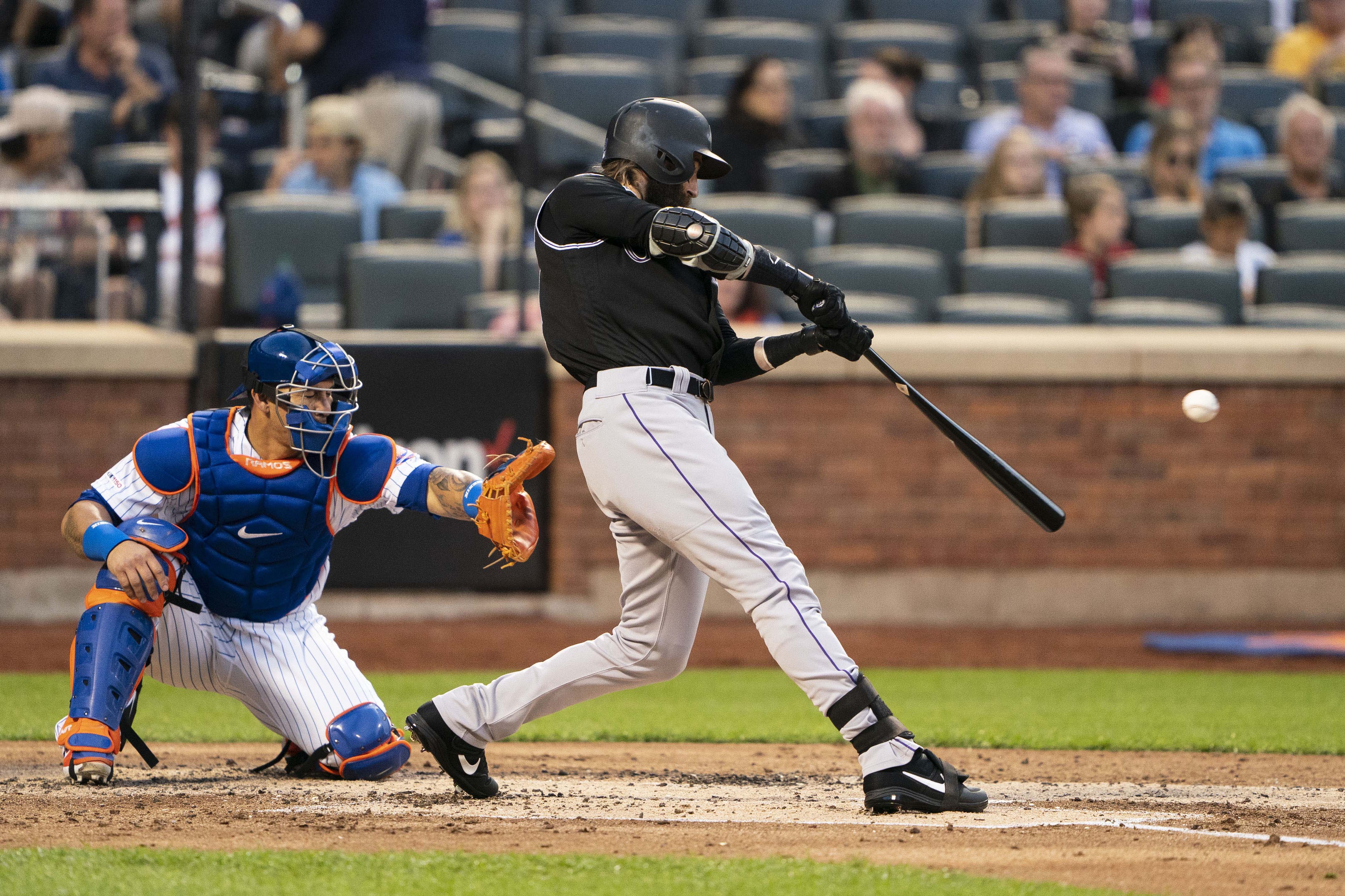 In the second game of the Colorado Rockies series in Queens against the New York Mets, the Rockies were looking to continue their winning ways after coming away victories in nine of their last 11 games,
On the mound, the Rockies — who are 33-29 on the year — had Jon Gray, who has been struggling for much of the season. His counterpart was Steven Matz, who has been solid in 2019 for the Mets, who are 30-33.
The Rockies were hoping for a good outing from Gray, but the same issues that have plagued him for most of his career reared their ugly head once again which helped the Mets bats come alive late in the game. That led to the Mets evening the series with a 5-3 win over Colorado on Saturday night.
With that being said, here are five takeaways from the Rockies loss to the Mets.
Charlie Blackmon returns to the lineup
After dealing with a right calf issue, Charlie Blackmon was activated from the 10-day injured list on Friday night, but he did not play the first day he was available with the Rockies. Blackmon played in Omaha the two days before arriving in New York the morning of the first game of the series against the Mets. Because of that, the Rockies waited a day before being inserting him back into the lineup, but on Saturday, Blackmon was back in his leadoff spot.
In his first at bat, Blackmon only saw three pitches before rolling over a curveball leading to a groundout, but in his second appearance at the plate, Blackmon caught a slider and slapped it to left field to score Tony Wolters, who was moved over to second base by a Gray sacrifice bunt. Before the inning had ended, Nolan Arenado managed to push a single into right field to bring Blackmon home for the second run of the game for Colorado. With his single, Blackmon also extended his on-base streak to 19 games.
That is a perfect example Blackmon taking advantage of Bud Black's National League small-ball mentality, which has become part of their identity, and it also served as an ideal 'welcome back to the bigs' moment for Blackmon.
Blackmon finished up the rest of his night with one hit, one run scored and one run batted in while also getting hit by a pitch in five at-bats.
Jon Gray's lack of a consistent fastball hurt him once again
All season long, Gray has had a show-stopping slider that devastated batters, but all season long, Gray has lacked the consistency to consistently set up his strike-out pitch by using his fastball.
His fastball command has been shaky at best and beyond that four-seam heater and his slider, Gray only has a curveball and changeup in his repertoire which are both pitches he rarely throws. Without being able to confidently spot his fastball or locate his curveball, Gray ends up being forced to use his slider just to get back into the strike zone after falling behind in counts. That then leads to opponents gaining the advantage of confidently sitting on his slider.
Still, despite falling behind in counts, Gray's slider continued to be dominant for most of the night night. He ended up with eight strikeouts and seven of them came on his slider, including a stretch of five-straight strikeouts.
Still, once the sixth inning arrived, the Mets were sitting on his slider knowing that it was the only pitch that he had confidence in. That is why Gray ended up allowing a double to Wilson Ramos on a slider to start the inning before another one of his sliders led to a double-play ball that scored a run to give the Mets a 4-3 lead. Then, Carlos Gomez hit a single off yet another one of Gray's sliders in the sixth inning prior to J.D. Davis ripping a double off of — you guessed it — a slider. That double led to the forced conclusion of Gray's night as he left runners on second and third with two outs in the sixth.
Jake McGee forced a fly-out to end the sixth inning which kept Gray's night from turning abysmal. Gray finished after pitching 5 2/3 innings and giving up eight hits and three walks which led to four earned runs. Gray also added eight strikeouts, but was on the hook for the loss when he left the game.
Rockies were patient at the plate all night
In the first inning, Matz was really hurting Colorado with his curveball, but that did not last long as the Rockies made one big adjustment on the fly; they altered their approach at the plate to be much more patient.
From that point forward, the Rockies turned Matz's night into one brutal grind. His pitch count just continued to climb higher and higher as the Rockies pushed their at-bats longer and longer. By the time the sixth inning arrived, Matz was given the inning despite being all the way up to 100 pitches. Once Matz he exited the game, his pitch count climbed all the way up to 120, but he escaped the sixth inning unscathed.
In six innings, Matz had 12 at-bats that resulted in five pitches or more. Even with his 10 strikeouts on the night, the Rockies made everything difficult.
Matz ended up pitching six innings, gave up six hits and two walks which led to three runs — two of which were earned —  to go with his 10 strikeouts. It was a good night, but the Rockies making Matz work so hard for his six innings is also a positive for Colorado.
Jon Gray reaches a milestone
As an added bonus for Gray on Saturday night, his strikeout of Jeff McNeil was the 600th strikeout of his career. The 27-year-old, who now has 603 strikeouts, is now just 19 strikeouts behind Jason Jennings for the fifth-most in Rockies franchise history.
The pitch that has allowed Gray to thrive getting opposing batters to whiff is his slider, which has been dominant for the past few years. There was no batter example of how dominant Gray's slider is than his performance against the Mets. Despite Gray's struggles locating his fastball and curveball, he threw 32 sliders and 25 of them were strikes — 22 swinging — which led 7 strikeouts.
It took Gray 102 starts to reach 603 home runs, which is roughly six strikeouts per game. That means it would take Gray just over 63 more starts in a Rockies uniform to pass Jorge De La Rosa (985) for first in all-time strikeouts for the Rockies organization if he stays on his current trajectory, which could likely be accomplished in the next three seasons.
Battle of the bullpens, Vol. 2
Just as it was in the first game of the series, the Rockies and Mets were within one run of each other heading into the seventh inning which meant that the outcome of the game was going to come down to the bullpens.
If the Mets bullpen holds strong, the Mets would win. If not, Colorado had a chance; only if their own bullpen remained strong.
By the time the seventh, eighth, and ninth innings had ended, the Rockies bullpen gave up one run on one hit and one walk. Inversely, the Mets allowed only one hit against no runs or walks, but had five strikeouts. Because of that, the Rockies were unable to fight back and secure the come-from-behind victory.