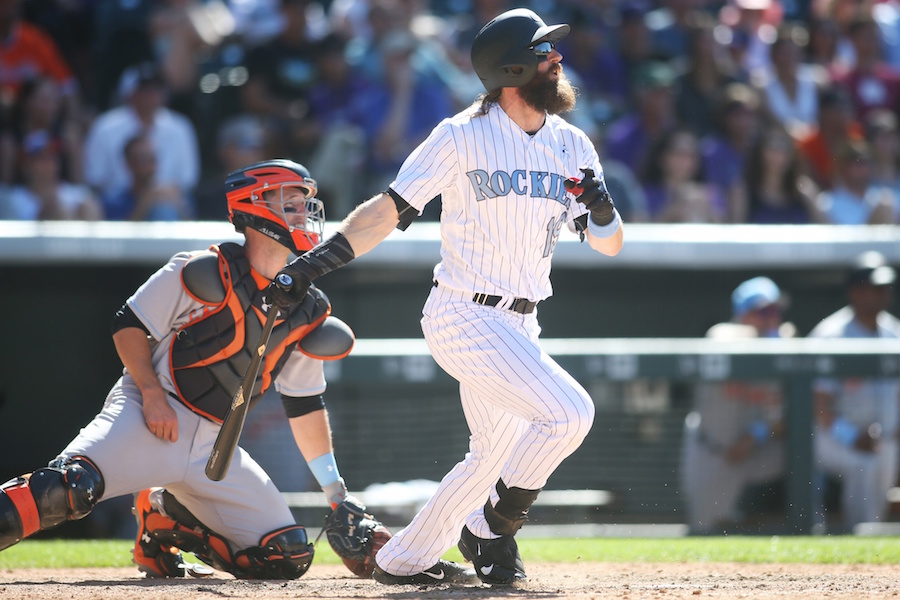 Charlie Blackmon has all but locked up a starting spot in the 2017 All-Star Game. Nolan Arenado needs a big final 10 days if he's going to catch and pass Kris Bryant for the starting spot at third base.
Rockies fans have until 9:59 p.m. MDT on Thursday, June 29 to help Arenado gain more than 300,000 votes on Bryant for the starting spot at third base. It's a long shot, but then again, so was the walk-off home run Arenado hit on Sunday to complete the cycle.
Arenado had a huge week at the plate, hitting .394 while driving in nine runs. Bryant, meanwhile, hit just .200 over the past week. On the season, Arenado is tied with San Francisco's Eduardo Nunez at .299 for the top average among third basemen. Arenado and Bryant are tied with 15 home runs for second in the league, one behind Arizona's Jake Lamb.
Here's how the voting stacks up among third basemen…
THIRD BASE (As of June 19)
1. Kris Bryant, Cubs: 1,603,326
2. Nolan Arenado, Rockies: 1,300,612
3. Justin Turner, Dodgers: 747,659
4. Anthony Rendon, Nationals: 635,838
5. Jake Lamb, D-backs: 564,447
Blakmon, meanwhile, is a virtual lock for one of the starting outfield positions, along with overall MLB vote-leader Bryce Harper.
Colorado's centerfielder third second in all NL voting with 2,259,867 total votes. Blackmon has more than twice the total votes than third place outfielder Jason Heyward.
Blackmon leads all centerfielders with a .328 average, 15 home runs and 54 RBIs. He's on pace for career bests in each of those areas, and already has a career-best 10 triples this season, which leads baseball. His 95 hits are also the most in MLB.
Here's where the top five NL outfielders stack up…
OUTFIELD (As of June 19)
1. Bryce Harper, Nationals: 2,827,330
2. Charlie Blackmon, Rockies: 2,259,867
3. Jason Heyward, Cubs: 973,333
4. Ben Zobrist, Cubs: 887,804
5. Marcell Ozuna, Marlins: 871,393
DJ LeMahieu is the only other Rockies position player who appears in the top-five at his position. However, LeMahieu trails leader Daniel Murphy by almost 2 million votes.
SECOND BASE (As of June 19)
1. Daniel Murphy, Nationals: 2,365,180
2. Javier Baez, Cubs: 1,328,917
3. DJ LeMahieu, Rockies: 401,768
4. Brandon Phillips, Braves: 350,150
5. Kolten Wong, Cardinals: 285,496