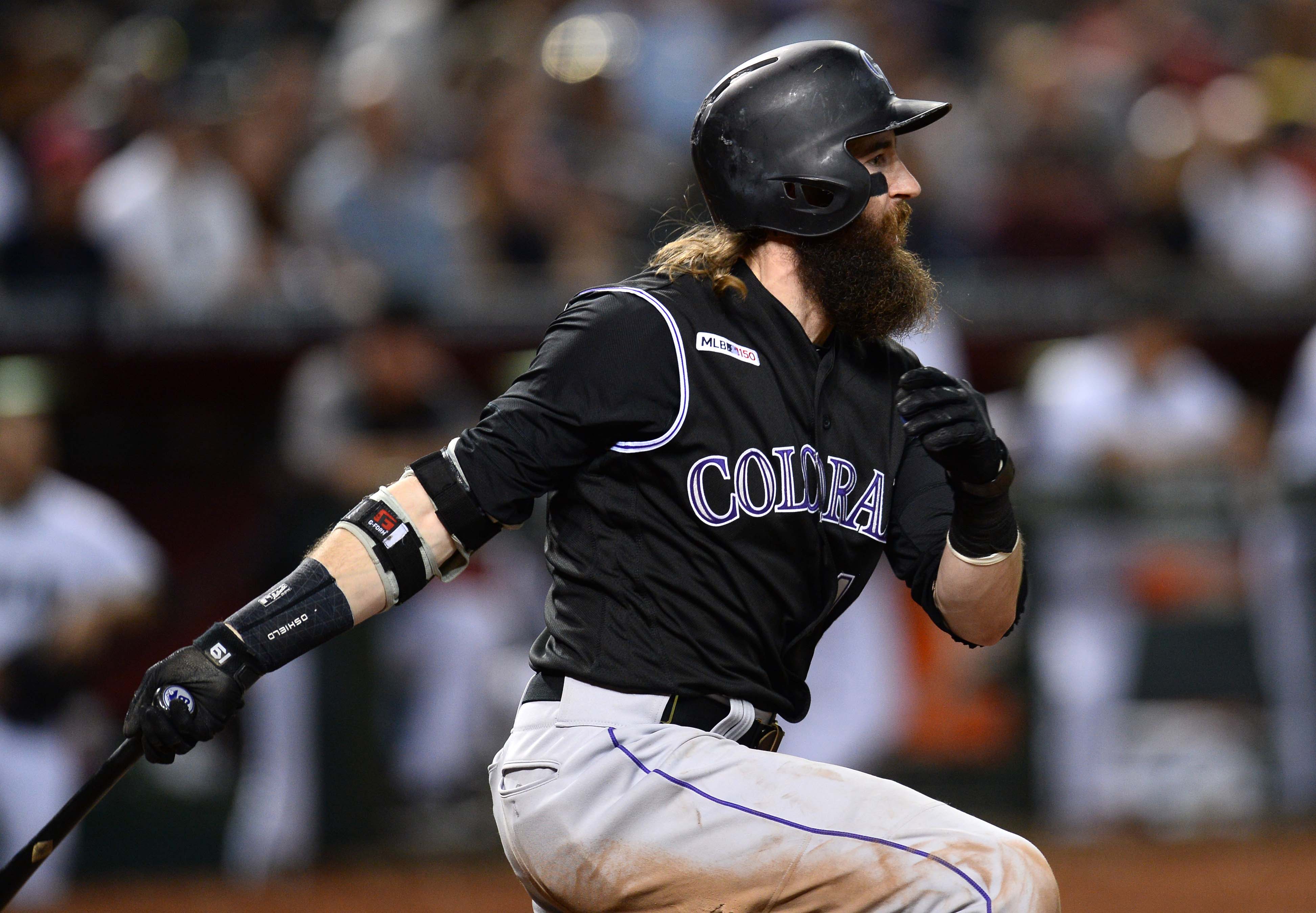 Charlie Blackmon has been one of the best all-around hitters in baseball for the last half-decade, winning a batting title and sitting towards the top of the leaderboards for runs batted in and batting average each season.
"Chuck Nazty" burst onto the scene during the 2014 season where he was named to his first All-Star team, hitting .288/.335/.440 with 19 home runs and 72 RBIs. While his age-27 season was sound, Blackmon, unlike most players, has become better with age.
Blackmon had a nice season in 2015 and hit an impressive .324 with just under 30 home runs the following year in 2016.
The signature season came in 2017 where he had one of the best performances ever for a leadoff hitter. Blackmon hit a rambunctious .331 while clanking 37 home runs, recording a league-leading 14 triples and driving in 104 RBIs, a new league record from the first spot.
2017 appeared to be Blackmon's apex.
The veteran made his third All-Star team in 2018 and finished with a productive .291 batting average while seeing his home run total dip to 29 and RBIs to 70. It was a splendid year for Blackmon, but the drop in production raised concerns about his future outlook as a leadoff hitter.
Rumors swirled throughout the offseason that the Rockies were going to consider dropping Blackmon a few spots in the lineup to provide him with more opportunities to drive in runs. The club had already decided to shift him from center field to right field due to his age and abilities, so a shift within the lineup seemed practical.
By the time Opening Day rolled around, the Rockies had decided to stick with Blackmon as their leadoff hitter, a decision that has proved to be worthwhile so far in 2019.
Blackmon has been exceptional this season and looks closer to his 2017 self. He's hitting .341 with 16 home runs and 47 RBIs. His batting average ranks second to only Cody Bellinger in the big leagues.
What's been even more impressive, is the revitalization of Blackmon since he returned from a stint on the injured list. The 32-year-old was sidelined at the end of May until June 8th with a strain in his right calf. He has been red-hot since returning to the Rockies' lineup, batting .510 with six home runs and 16 RBIs in 10 games.
"Hitting's really hard," Blackmon told Thomas Harding of MLB.com. "For me, it seems like my feel for the game really leads to me feeling like a good baseball player. So, if I'm rusty or haven't been playing for two weeks, usually that would limit my feel for the game."
Blackmon is currently riding a five-game streak in which he's collected three or more hits per contest. He is the first person to post such a streak since Jose Altuve did it in 2017. Blackmon's latest feat has placed him in rare air as he is only the 12th player to record three hits in five consecutive games since 1901, per the Elias Sports Bureau.
"I feel like I'm doing a good job of not trying to do too much," Blackmon said. "I think sometimes I get into trouble, as do most guys, when they try and hit the ball really, really hard. I just feel like I'm not trying to do that right now."
Blackmon's latest stretch of play is nothing new. He has proven the past few seasons to be one of the most effective and dynamic leadoff hitters in the sport today.
"There are times when I just watch and admire," Manager Bud Black said. "I think we all do when players do these things. I can't help but repeat this: It's because of hard work and preparation and talent. This is not happening by a fluke."
Considering how dedicated Blackmon is to his craft, his increased production should not come as a surprise to anyone. While there was speculation that Blackmon could start to decline entering the latter stage of his career, he has debunked any thoughts surrounding his deterioration and is on a path to have yet another lofty year for a leadoff hitter in 2019.