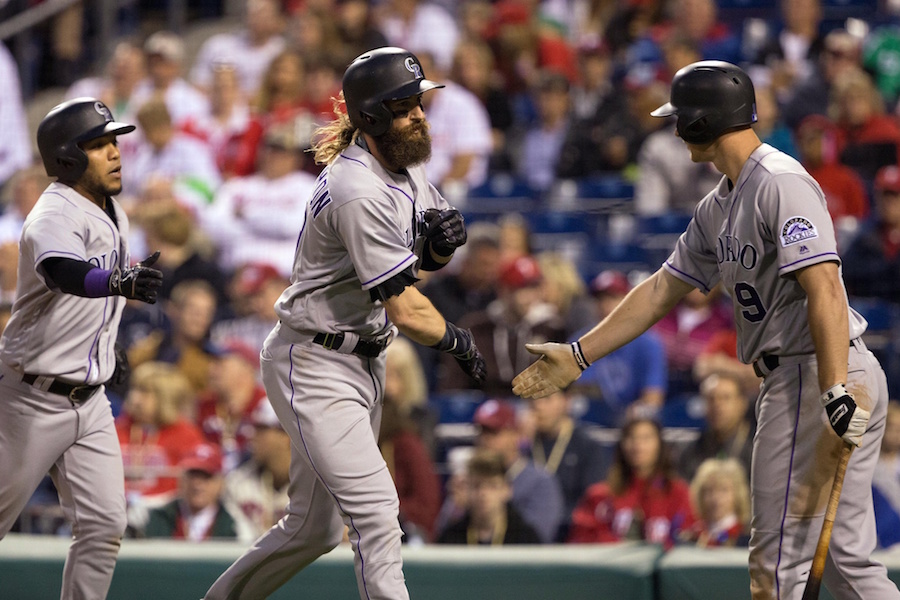 For the second night in a row, the Colorado Rockies beat the Philadelphia Phillies by scoring eight runs, but on Tuesday they used a very different formula than they did the night prior. On Monday, Colorado rallied for four runs in the ninth inning to outpace the Phils in what was a closer than comfortable game through eight. On Tuesday, there was little doubt all night that the Rockies were taking their second game of the four-game series. They did so with a final score of 8-2.
Charlie Blackmon's name is becoming synonymous with big games against the Phillies, and he delivered in big fashion again on Tuesday. Blackmon hit a pair of two-run home runs, both monster shots off the second-deck facade at Citizens Bank Park. Blackmon was the driving force in a two-run third inning and a five-run fourth. Gerardo Parra hit a solo shot as part of a two-hit, two-RBI, two-runs-scored night. Carlos Gonzalez had a pair of hits and scored a run. He's now hit in six consecutive games and 11 of his last 12 games.
German Marquez had to work out of trouble in both the second and third inning, but managed to limit Philadelphia to one run on seven hits and three walks. One of those walks permitted the only run he allowed to score. Marquez struck out six over six innings to earn his third win of the season and improve his ERA to 3.86 on the year. Chris Rusin and Jordan Lyles each pitched a perfect inning in relief. Rusin struck out two. Chad Qualls surrendered a leadoff home run to Andrew Knapp, but retired the next three he faced in the ninth.
Colorado extends its franchise-best start to 30-17. It is the first time Colorado has owned 30 wins in the month of May. At the time of the final out, the Rockies were 2.5 games ahead of Arizona in the National League West. Tyler Chatwood will look to extend Colorado's winning ways on Wednesday in game three of the series.