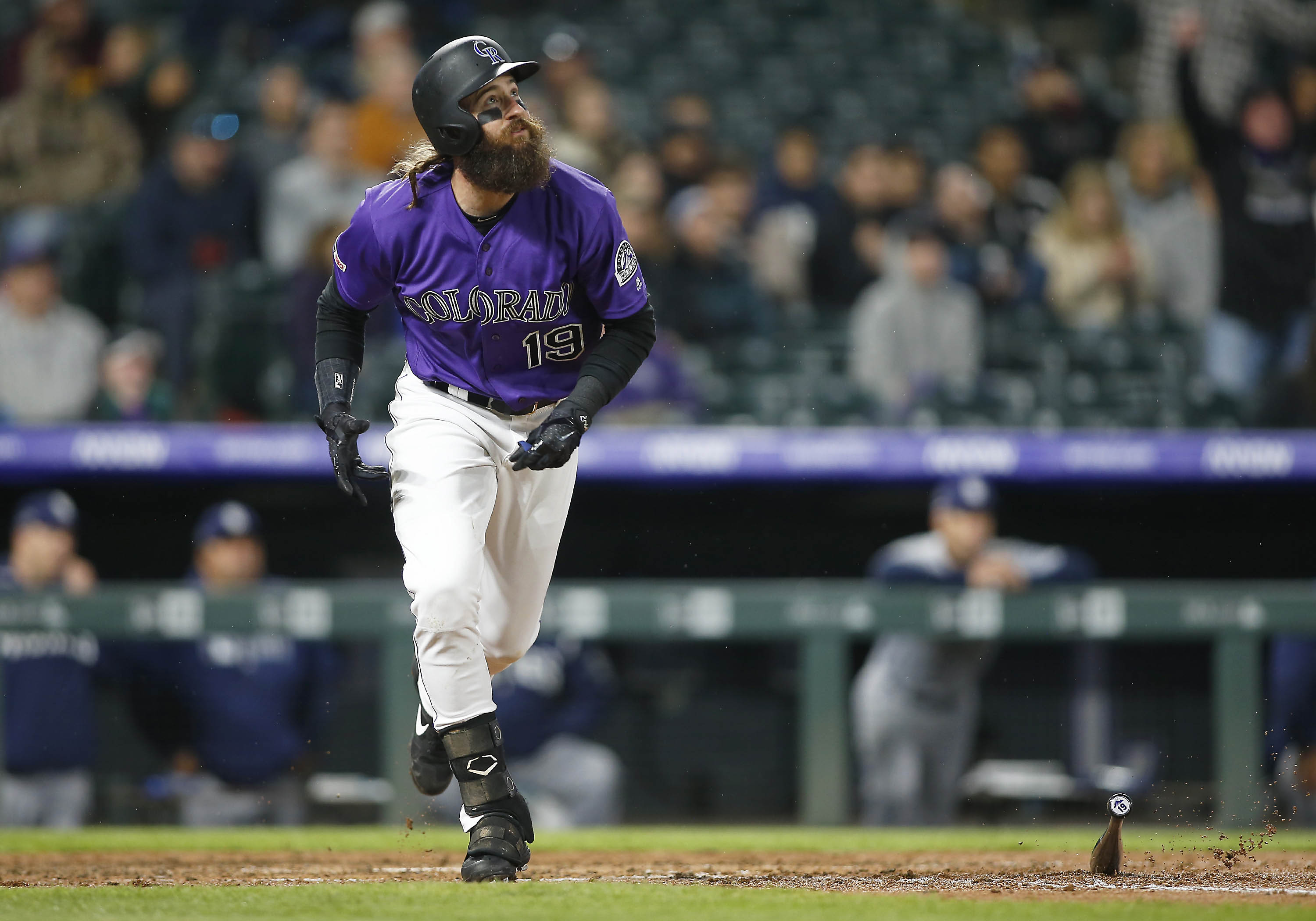 Back, quad and hamstring ailments all limited Charlie Blackmon from reaching his full potential last year. Looking to rebound, the Colorado Rockies' leadoff dynamo is on pace to replicate the best season of his eight-plus-year career.
In 2017, Blackmon hit the third-most home runs by a leadoff hitter in league history (37), drove in the most runs for a leadoff hitter (104) and captured the only National League batting title of his career behind a .331 average.
On Mother's Day, Blackmon invoked memories of that fateful season with a pair of home runs in the club's 10-7 win, highlighted by a 464-foot shot to right field:
Making mom proud 😊 pic.twitter.com/1Tauh37vyY

— Colorado Rockies (@Rockies) May 12, 2019
The home run was the eighth for Blackmon after starting the season without one for 81 consecutive at-bats, the longest streak to begin a season of his career. His long ball on Sunday also extended his current hitting streak to 10 games, marking the 16th double-digit game hit streak of his career, a mark that is third in franchise history.
"I hit those balls pretty hard," Blackmon said. "Seeing the sun for the first time in a while certainly helps."
Coincidentally, the 2017 season also started slow.
Across the first 16 games of the year, Blackmon was sitting at three home runs and a .238 average. In the most recent season's first 16, his average was at .234, though his aforementioned power draught kept his homer efforts muted. Both years started slow, giving way to an explosion the remainder of the year.
Taking it a step further, the month of May appears to be a proverbial turning point for Blackmon. In 2017, he hit .359 in the season's second month, an average that has risen to .381 so far this year. He's also on pace to eclipse his home run, doubles and runs batted in marks. 
Backed by a torrid streak, the two season's stack up eerily similar:

Among the numbers that propelled Blackmon to a top-five National League Most Valuable Player finish, only his average and runs appear unattainably above his current numbers. The latter was affected by both a slow start from both the outfielder and the entire lineup around him. 
"Everybody's been good, everybody's struggled, everybody's made some adjustments," Blackmon said. "Now we're kind of settling in as a squad… I think we're in a good position."
Expecting Blackmon to hit nearly .400 the rest of the year is foolhardy. But, the underlying numbers of the 2019 campaign suggest he could fare much better the rest of the way than he did in the season's early going.
Blackmon's batting average on balls in play (BABIP) this year is .328, his lowest since 2015. The middling mark suggests that more hits are on the way for the slugger. With his hard-hit percentage at it's highest since 2017 (38.2), a bevy of those hits figure to be for extra bases.
The barrel percentage for Blackmon in 2019, which is also a measure of well-hit balls, is a career-high so far (11 percent). A key to his success has been hitting breaking balls.
On the year, Blackmon has been thrown breaking balls on 27 percent of the pitches he's seen. Amongst those offerings, he has a .633 slugging percentage and an 88.5 mile per hour average exit velocity.
When Blackmon has succeeded, so too have the Rockies.
After the club's early slump, they've accrued their five highest-scoring games as a team in the last two weeks. In those contests, Blackmon has combined to hit 9-for-21 (.429).
The lineup behind him as often been in flux. Daniel Murphy has moved all throughout the three spots behind him, while Nolan Arenado has moved as well. The one constant has been Blackmon.
For a club searching to overcome their starting pitching woes en route to another postseason appearance, the performance of the club's newly-minted right fielder will be paramount.