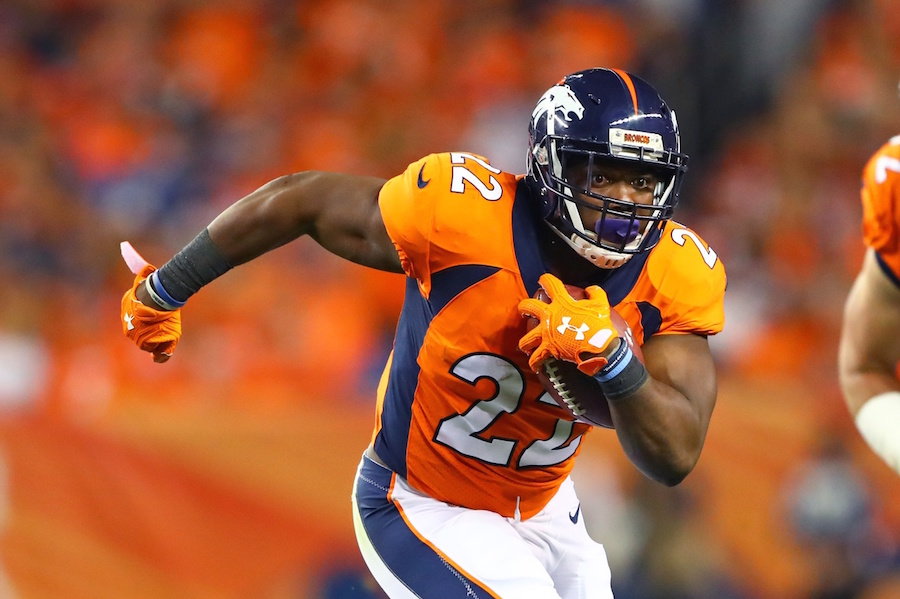 Despite a season of offensive struggles, the Denver Broncos head to Washington this week to face the Redskins without any playoff implications on the line. Instead, the Broncos have a chance to help one of their own accomplish a special milestone. C.J. Anderson is rapidly closing in on 1,000 rushing yards for the season, something no Bronco has done since Knowshon Moreno rushed for 1,038 yards in 2013.
Anderson enters week 16 at 858 rushing yards on the season, needing only 142 more to reach his first 1,000-yard rushing season of his career, and become only the Broncos' third running back to accomplish this in more than a decade — the only other running back to rush for 1,000 yards in a Broncos uniform over the last ten years was Willis McGahee, who rushed for 1,199 yards in 2011.
Should Anderson finish the season with 1,000 yards, he would be the 15th running back in Broncos history to do so.
What makes Anderson's (potential) feat so impressive is that he has been one of the lone bright spots for a woeful Broncos' offense. Unlike Moreno, who played on an offense that would go on to break NFL records in touchdowns scored, passing yards thrown and passing touchdowns scored behind Peyton Manning, Anderson has played on a struggling offense led by three quarterbacks, none of which have distinguished themselves as starting-caliber.
Coming off a career game against the Indianapolis Colts, where Anderson rushed for 158 yards on 30 carries, Anderson's confidence has never been higher. Speaking to the media after practice this week, Anderson mentioned how special the achievement would be for him and his teammates: "It just feels good with a full, healthy year put together, and of course the right things going for you. Myself and the O-Line, we can put something special together. We have two weeks left and we're trying to do something really special. The goal is definitely over 1,000 [yards], but we're trying to be super special with that. We'll see how the cards lay out at the end of the year, and hopefully the O-Line and myself can brag about some things."
While collecting 142 yards in one game isn't easy, the Redskins' defense has struggled against the run all season, making this a fantastic opportunity for Anderson and the Broncos' offense as a whole.
The Redskins are currently ranked 28th in the NFL in total rush defense, allowing 123.4 yards per game. They've also allowed more than 100 rushing yards in nine different games this season. Last week, they allowed 141 yards (one yard shy of Anderson's goal of 142) to the Arizona Cardinals, who were missing two of their best running backs thanks to injury.
Plus, like the Broncos, they have nothing left to play for — so it's easy to see why this is a enticing matchup for Anderson, the offensive line, and the rest of the Broncos' offense.
2017 marks Anderson's fourth season as the Broncos' starting running back. He's been a solid performer in those four seasons, but a litany of injuries have cut into his playing time, limiting his performance and statistical success.
This season was different, though, as Anderson has started and played in all 14 games thus far. In a season filled with crushing disappointment for the 5-9 Broncos, seeing Anderson reach 1,000 rushing yards on the season would be an accomplishment that the Broncos can take away from what would otherwise be a wasted season.
The focus all week has been on the Broncos facing off against Washington quarterback Kirk Cousins, a Pro Bowl-caliber free-agent-to-be who may very well be in the Broncos' sights in a looming, bidding war for his service, but that's for another time.
On Sunday, Anderson has a chance to indelibly write his name in Denver Broncos history.