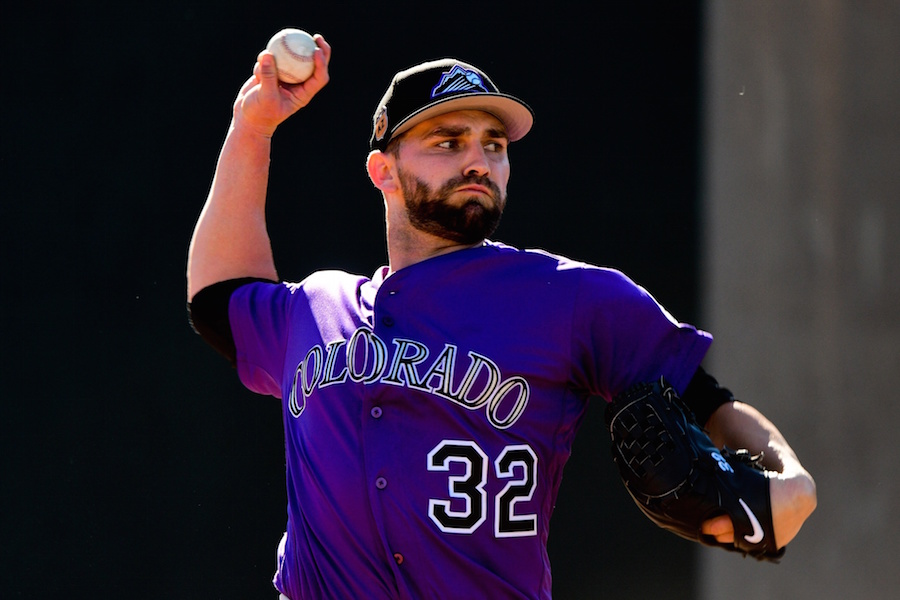 The final score would suggest the game belonged to the sluggers, but Bud Black had a close eye on what he saw from his starting pitcher. Tyler Chatwood went 3.0 innings in his second start of the spring, a 10-9 Rockies victory over the Dodgers at Salt River Fields at Talking Stick on Monday.
"His stuff was good," Black said about Chatwood. "It really was. I liked the fastball. You know, good movement to it at times and located it. There's a couple misfires, but overall I thought he threw the ball very well."
Chatwood allowed one run, a home run, on three hits over his three innings. The righthander walked one and struck out one to earn his first win of Spring Training. Overall, Chatwood was pleased with the outing.
"I felt really good," Chatwood said in the locker room postgame. "I felt like I was a lot better than the last time I was out. You know, obviously the run I gave up was a homer, but I still feel like I made my pitch and his bat just got there a little late."
Dodgers centerfielder Joc Pederson drove a high, 1-0 fastball over the left field fence to give Los Angeles an early one-run lead in the second inning. The Rockies' Gerardo Parra and Pat Valaika both answered in the bottom of the frame, however, with a pair of home runs to put Colorado in front. Valaika homered again in the bottom of the fourth inning to extend Colorado's lead.
The remainder of the game became a battle of bullpen attrition, with the Rockies hanging on to win by one, despite the Dodgers scoring seven runs over the final two innings. Miguel Castro allowed four of those runs in 0.2 innings pitched, walking three. Shane Carle surrendered the other three runs.
Despite the breakdown on the back end, Black was pleased with the effort from his starter.
"It was a good outing from him. Built his pitch count. So, this time of year it's a good sign," Black said of Chatwood.
The Rockies face the Rangers on Tuesday before an off day on Wednesday.