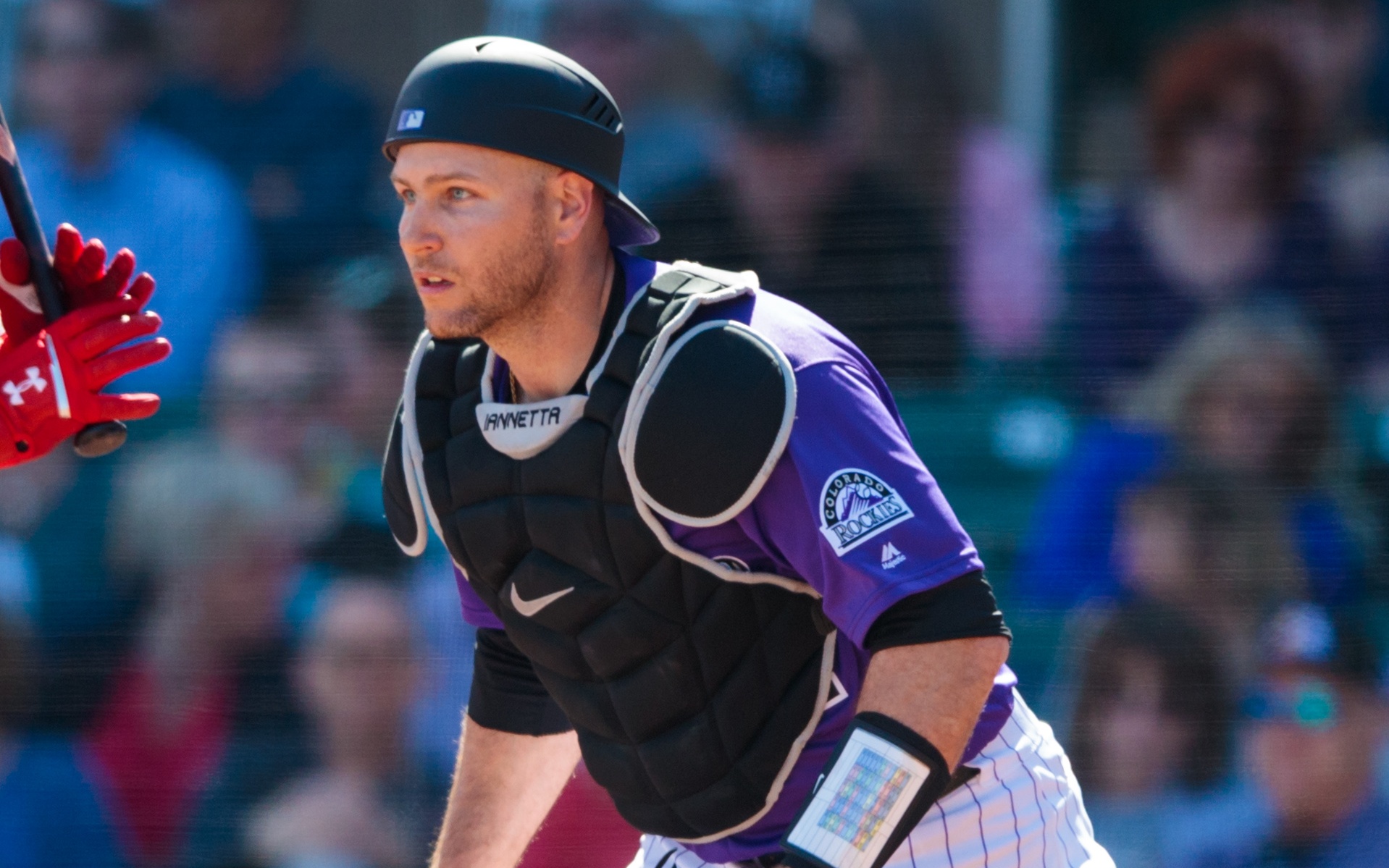 by Rich Kurtzman (@RichKurtzman)
Chris Iannetta started his career with the Rockies back in 2006, spent six years with the team before bouncing around with the Angels, Mariners and Diamondbacks before coming back to Colorado last year.
The veteran catcher has struggled at times to keep his average above the Mendoza Line, batting .224 last season, but he's held onto his power, with 11 bombs in 2018.
However, the most important thing a catcher brings to the team is how he works with pitchers and gets them to throw strikes, earn outs and win games.
The veteran Iannetta sat down with Les Shapiro and Eric Goodman of Afternoon Drive on Mile High Sports AM 1340 | FM 104.7 during Spring Training to talk about the upcoming season, working with ace Kyle Freeland, Jon Gray and even his past with Jeff Francis.
"Freeland is probably the most competitive pitcher I've ever caught," Iannetta explained. "He just finds a way to dial up the intensity past what you would expect. The game rises and he rises higher. The game picks more and he somehow just keeps rising to that challenge.
"He's going to have a long career, barring injury," Iannetta continued about Freeland, the homegrown talent. "He's going to go through some tough times, but knowing the way he competes and knowing how cerebral he is, and how much he prepares, and how hard he works, he's going to have a very good future."
Freeland, originally from Denver and Thomas Jefferson High School, is a fan favorite already because of where he's from. But, he's not just a hometown favorite, he's also the best pitcher on the team.
Last year, Freeland's second in the MLB, he enjoyed his best season by far, with a 2.85 ERA, a 17-7 record and a career-high 173 strikeouts. He played so well, he should have been a participant in the All-Star Game, but was a big-time snub.
That left people wondering why batters are usually hurt because they play in the hitter-friendly Coors Field, but it didn't work in a reverse role to show just how dominant Freeland has been.
This year, Freeland and Co. have one of the best rotations in the history of the Rockies. It's so good, Jon Gray has been moved down to the fourth starting pitcher, which Iannetta says has taken some pressure off.
"He's pitched really well this year," Iannetta said about Jon Gray. "For Jon it wasn't a terrible year, but it wasn't a 'Jon Gray year.'.. I think you see him being a lot more loose. It almost looks like he's having fun out there…It's hard to stay focused when you're having fun…But it looks like he's having fun out there, which is great."
Gray struggled mightily in 2018, but it's a good sign he's loose and enjoying the game again so far this year. If he can retain his magic on the mound, it will be massive for Colorado.
And Iannetta even shared a story about one of the greatest Rockies pitchers of all-time, Jeff Francis.
"Jeff Francis never liked to talk about mechanics," Iannetta said. "Yeah, we'd talk about physics. I'd go out there and talk about physics with him…It was a time when the game was speeding up and he needed to slow down. And that was his way to slow down was to think about something else."
Listen to "Friday Mar 8: Hour 1-Chris Iannetta, David Dahl, Broncos NFL Free Agency plans." on Spreaker.
Catch Afternoon Drive with Goodman and Shapiro every weekday from 4p-6p on Mile High Sports AM 1340 | FM 104.7 or stream live any time for the best local coverage of Colorado sports from Denver's biggest sports talk lineup. Download the all-new free Mile High Sports Radio mobile app for Apple or Android.