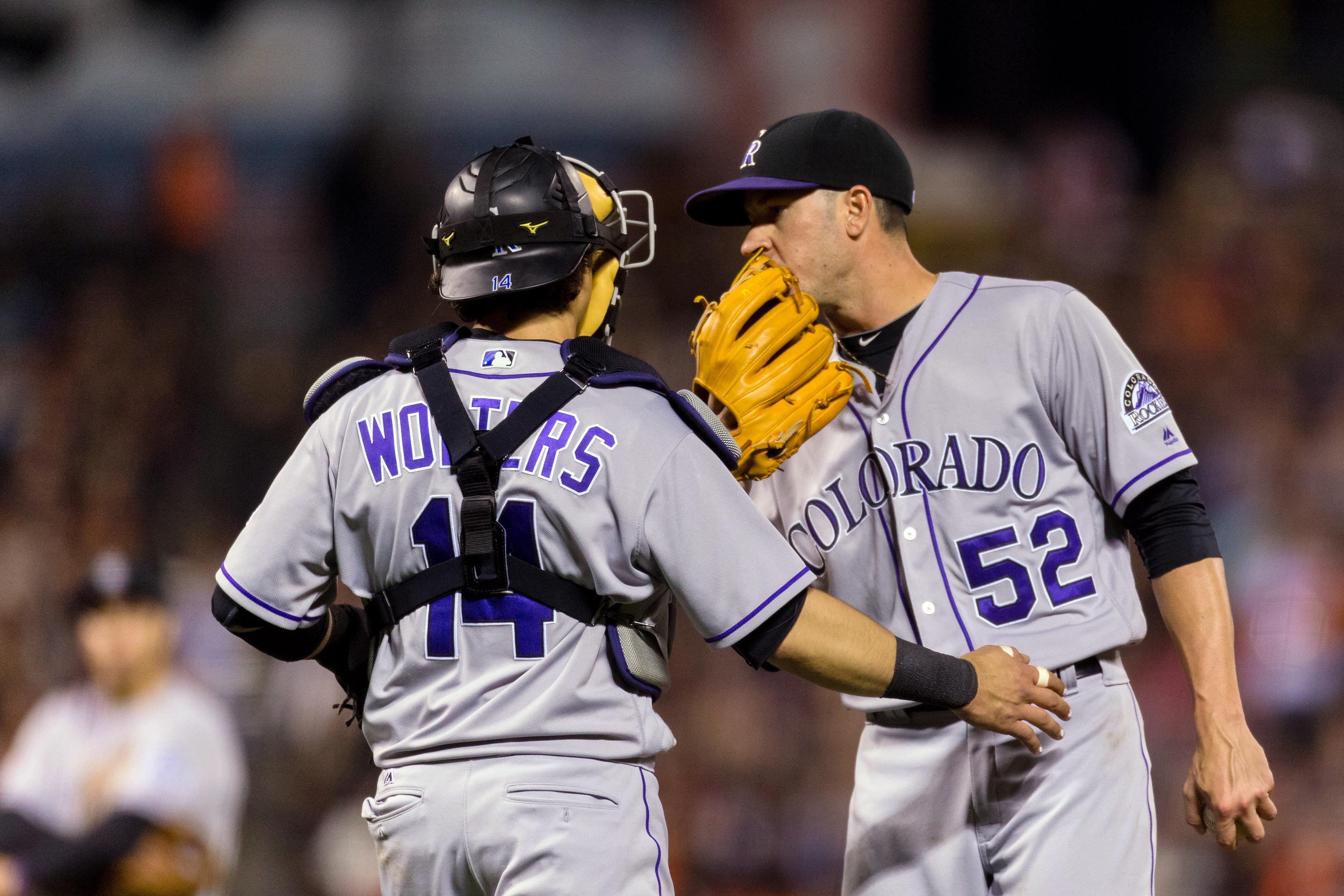 Chris Rusin wasn't able to reverse the Rockies' home-field disadvantage. Even though he pitched well for the majority of his outing, for the second straight night, one inning turned out to be the downfall for the Rockies.
"I was just trying to stay in line and keep the ball low. When I leave the ball up, that's when I get hurt, as you could see today," Rusin said. "I felt good and got quick outs while I was attacking the zone. Better than I did last time."
Like with Tyler Chatwood the day before, all it took was one inning, and a night of hard work went down the drain.
"In the sixth inning I let the leadoff man get aboard with a double and that was kind of the start of things," Rusin said. "I wasn't able to get that third out, which is frustrating because things were going good, especially after a tough previous outing. I just couldn't get out of the inning. Just too many mistakes."
Manager Walt Weiss said he thought Rusin was throwing the ball very well, even into the sixth inning. And Tony Wolters, Rusin's catcher for the night, believed he was making good pitches; the Diamondbacks were simply making better plays.
There were some positives, though. Unlike his last start in San Francisco, Rusin and Wolters seemed to be on the same page.
"All the catchers that we have do a good job talking amongst each other all the time," Rusin said. "It's just a comforting feeling to know that all the catchers have the same idea when working with the pitchers."
But apparently, none of that is fixing the Rockies' struggles at home. With the loss last night, their home record now stands at 4-10 and includes a seven-game losing streak. And while fans are looking for answers, the Rockies are left as flummoxed as anyone.
"I don't know. I wish I could answer that," DJ LeMahieu said when asked what was wrong. "I don't like to make excuses. [D'Backs starting pitcher Rubby De La Rosa] just pitched well. I know we're excited to be back home, but we haven't played well at home, which is sort of the opposite of how we usually play."
It's almost as if the Bizarro Rockies have come to play in 2016, and no one seems to know what to do about it. For Weiss, though, it's just a matter of time, circumstance and a little bit of luck.
"You want early momentum. We just stalled here the last few days offensively. We were a little gassed from the [scheduled] 19 games straight and a tough road trip," Weiss said. "The win-loss record at home is concerning and it's strange but I do believe we will start winning games again. This is the same team that scored thirteen in one inning."
The best thing about baseball is that you don't have to wait a week to redeem a loss. The Rockies need to wake up the bats and salvage the series in the final game against the D'backs before a dominating Mets pitching staff comes to town.