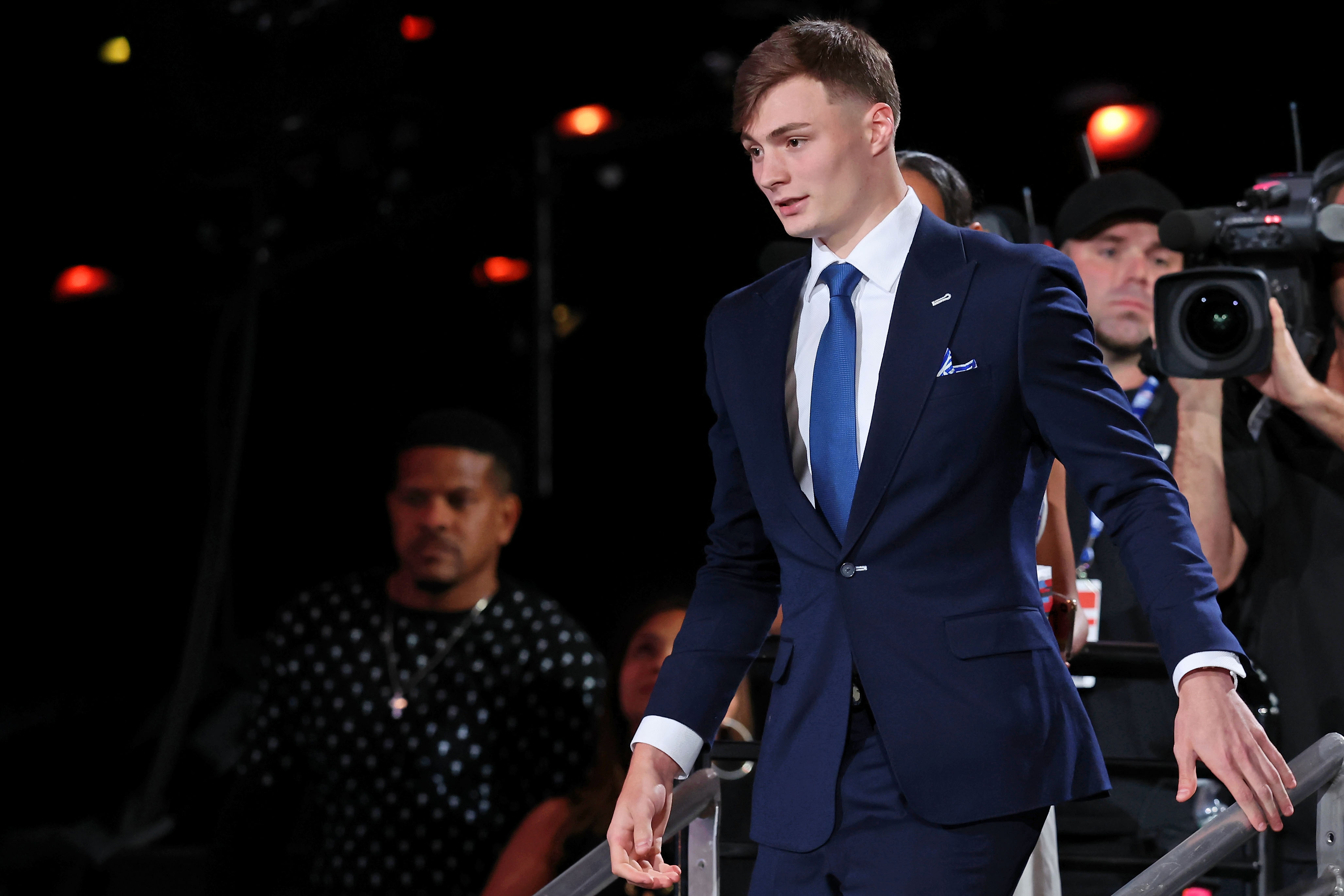 As the Denver Nuggets work their way through Summer League in Las Vegas, it's important to remember that the 2022-23 NBA season doesn't begin for another three months. The playoffs don't begin for another nine months either. There is so much time between now and then, and the majority of this time is often used for familiarity and development between NBA prospects and their prospective teams.
For the Nuggets, expectations are of course sky high. After two underwhelming finishes due to injuries and roster flaws, the Nuggets have gone to great lengths to revamp their entire wing rotation with long, athletic, and versatile players. Gone are Will Barton, Austin Rivers, Bryn Forbes, and an injured PJ Dozier. Incoming are Kentavious Caldwell-Pope, Bruce Brown, and Davon Reed as veterans that will give the Nuggets some additional stoutness on both ends of the floor.
Also included in the new wing rotation are Denver's newest additions, rookies Christian Braun and Peyton Watson. Braun is coming off a long string of competitive seasons with Kansas, including a national title run last season. Watson is coming off a one-and-done season at UCLA. Both are capable defensively right now and have some layers to their offensive games that will be unlocked over time.
For Watson, that process will likely take some time. His athletic gifts, physical frame, and playmaking vision are all the picture of a starting caliber small forward in the modern NBA. He's tall, versatile, and defensive-minded, all things that will stick in the NBA if nurtured properly.
For Braun though, the process appears to be beginning now for how he's approaching Summer League.
As the first scoring option on Denver's summer squad, it wouldn't have been surprising for Braun to press the issue as a ball handler, a playmaker for himself and others that most star wings must eventually undergo as a rite of passage. For role players, it's rarely about the playmaking creation, but rather the playmaking accentuation. That's how Christian Braun has approached his minutes thus far offensively, which should excite Nuggets fans.

Right off the bat, it's clear that Braun has a nose for transition. Whether he's the one generating a turnover for the opposing team or leaking out into open space, the Nuggets have a player that wants to make the highlight dunk, and it's easiest to do so if the runway is clear. Braun's leaping ability is going to make for some highlight plays and some crowd engagement moments. Nuggets fans are going to love watching the alley-oops.

Similarly, Braun leaks out in transition once the ball is secured by a Nuggets defender, pushing the tempo of the game and finding easier opportunities than in the halfcourt. It's been awhile since Denver's wings pushed the pace in this way, but with Nikola Jokić as an outlet passer, there's no doubt that Braun will be on the receiving end of some long distance dunks after cherrypicking.

Even when the outlet pass comes in the backcourt, Braun pushes the tempo, finding a seam in the transition defense and generating an And-1 opportunity.
While it's clear that Denver's starting lineup will be an elite unit offensively, the bench unit still has a lot of questions. Bones Hyland is growing into a high level ball handler, and Bruce Brown should present some high level utility, but the rest of the spots in the rotation are mostly question marks, especially on the offensive end. If Braun continues to find ways to generate an easy basket now and again by pushing the pace and avoiding halfcourt offense, he may become a value add for the Nuggets bench unit as soon as this year.
That isn't to say that Braun's offense is entirely transition dependent.
In halfcourt settings, Braun is often looking for the open seams to the rim. There are certain situations where cutting makes more sense than staying put, and Braun seems to have a knack for finding the correct time to keep defenses honest. At 6'7″ with a 40-inch vertical, Braun is often liable to catch a backdoor alley-oop or simply finish strong at the rim whenever the defense overplays him.
Playoff defenses often account for backdoor cuts, but the simple fact that it's in the opposition's game plan as an extra little tidbit to think about every time is the biggest key. It provides space for other actions as a result.
When defenses don't keep an eye on him, it often yields an easy basket. Jokić and Jamal Murray read these types of plays well, but Hyland also keeps his head up and has shown some serious ability to read the floor. All three would hit Braun on the above backdoor cut, and any time an easy basket like that can be generated, it increases an offense's margin for error.
In addition to backdoor cutting, Braun makes use of his athleticism by slashing to the rim. The contest on the shot wasn't great, but the play showed some good understanding by Braun of how certain actions would leverage the opposing defense, giving him an opportunity to attack. Braun has shown the ability to make passing reads in these situations as well, but the more important factor is his ability to be a scoring threat first and foremost. That threat is often what makes defenses react the strongest.
---
There are other elements of Braun's game to go over, but the transition and cutting elements are what I believe are his strongest offensive traits at the moment. He showed some stuff as a passer and has accumulated eight assists compared to just two turnovers in the first two games. That's a strong ratio. Most of the passes are pretty standard at the moment, but that's not a concern when Denver's likely offensive role for him in Year 1 is "shoot the ball or keep it moving." He's doing exactly what's asked of him in that regard.
The defense is pretty nuanced, and that will need another breakdown entirely. There are small, nuanced things that Braun does that can make scoring a bit more difficult for his personal assignment. He slides his feet well and makes good rotations. It hasn't stood out as much since he hasn't had a first option type to guard through the first two games. Perhaps that changes against the Los Angeles Clippers on Wednesday if Brandon Boston Jr. plays.
The shooting has been horrendous through two games. Braun is shooting 1-of-15 from three-point range and 3-of-8 from the free throw line, and it's felt that bad at times. He hit one pretty incredible stepback three in the first quarter of the first game and hasn't hit anything since.
Fortunately for Braun, there's pretty strong evidence that outside shooting numbers don't really matter that much in Summer League. Zeke Nnaji shot an absolutely horrible percentage on outside shots last summer and proceeded to hit 46.9% of his threes during the 2021-22 regular season. Role changes and comfort levels will shift drastically from a summer setting to a professional setting, and as Braun continues to find his niche, it's possible that the three-pointer also comes back into focus a bit. I'd wager it's likely.
Summer League is of course overreaction hour, but with Braun, it's difficult to overreact about much. What he's shown to this point should give Nuggets fans some optimism about his ability to play rotation minutes sooner than later. Most of his minutes will be tied to how he impacts the defensive end, but there's no doubt that he can impact the game in transition now while using his cutting and slashing to hold his offense above water.
Is it enough to guarantee he plays playoff minutes? It's of course way too early for that.
But it sure is fun to think about Braun's next April, May, and June when we're still in July.