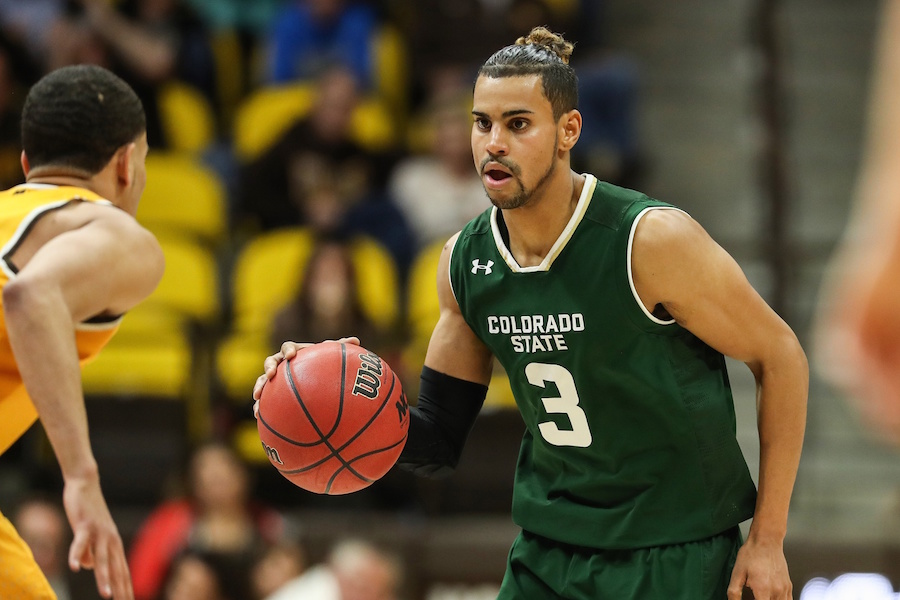 Former Colorado State guard Gian Clavell's journey to the NBA made its latest stop in Denver as he was one of six players invited to attend the Nuggets' first pre-draft workout on Monday. Clavell previously had interviews with Minnesota, Cleveland and San Antonio.
Following the workout, Clavell spoke with Les Shapiro of Afternoon Drive on Mile High Sports Radio AM 1340 | FM 104.7 about his transition to the different style of basketball the NBA features. Although he recognized that the game has changed a bit, Clavell also feels confident in his ability to adjust.
"It is [different], it is," Clavell said. "Things translate though. It's not as hard as you'd think. It's just spacing, the [3-point] line is farther, the lane is bigger, everything is tougher. It's different, but you just have to adapt to it."
In his time as a Ram, Clavell certainly took his fair share of difficult shots. For a college player, the frequency of those shots was abnormal. At the same time, his ability to make difficult shots contributed largely to his conference-leading 20.4 points per game and recognition as Mountain West Player of the Year.
Clavell believes his experience taking and making tough shots bodes well for a possible future in the NBA.
"I was just a scorer, man," Clavell said of his time at Colorado State. "Any type of way I could score, I would do it. It's hard, but in college games I was shooting from the NBA [3-point] line. Not as much, but I was doing it."
What Clavell doesn't receive as much recognition for is his strength on the defensive end. He was named to the MW All-Defensive team and prided himself in his defense throughout the season. Despite his shot not falling as frequently as Clavell hoped for during the workout, he was able to prove his defensive abilities.
"Defense, rebounding, toughness," Clavell said are some of his strengths. "My shooting wasn't as good as I wanted it to be, but they know I can shoot. I'm just trying to show that I'm a tough guy playing defense and all that. Defense is all about toughness."
Other notable members of the Nuggets' first workout of the year included Colorado's George King and Georgia's Yante Maten. Along with King and former Colorado State-Pueblo forward Nelson Kahler, Clavell's familiarity with the altitude gives him an advantage in training throughout the pre-draft process. While other players may struggle to reach conditioning levels they are used to, Clavell and other Coloradoans can use this to separate themselves in workouts.
"It's helpful, it has benefited me a lot because I'm from here and I'm used to the altitude so I can breathe and adapt to it," Clavell said. "When I go to Houston and all the other places, I'll be fine."
Listen to the full discussion with Clavell, including some of the areas he believes he can improve on, in the podcast below.
Catch Afternoon Drive every weekday from 4p-6p on Mile High Sports AM 1340 | FM 104.7 or stream live any time for the best local coverage of Colorado sports from Denver's biggest sports talk lineup.