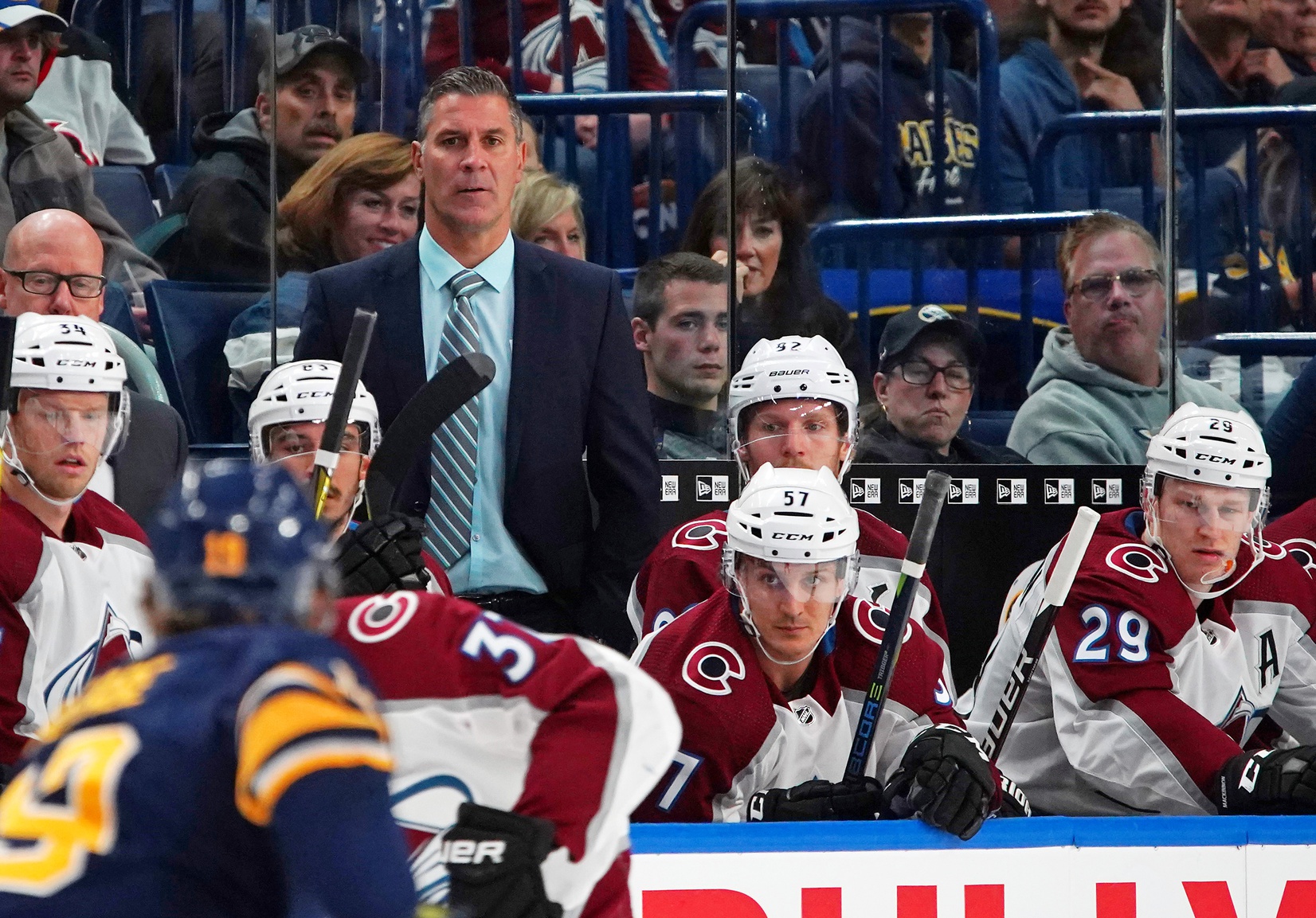 A round of golf with Avalanche Head Coach Jared Bednar reveals a lot about the 2018-19 season
Altitude Television's Lauren Gardner spent an afternoon with Jared Bednar at Fossil Trace Golf Club. Here's the conversation in Bednar's words.
The following article is from the October issue of Mile High Sports Magazine. Subscribe here!
I like the beach. Our family likes the beach. The beach is fun. My son Kruz and I started trying to surf a few years ago. It's not bad, we enjoy it — and now my daughter Savega is doing it too. So the three of us will head out some mornings when it's nice and quiet and get wet for a little bit. South Carolina's not known for great surf, but you know, some days you get some nice waves and we're not that far — couple blocks from the ocean — so we can just rip down there, and if it's not very good, we'll come home.
I got an opportunity to get up to Humboldt a couple times (after the tragedy). The first time I got invited, they had the Country Thunder Humboldt Bronco tribute concert. That was really good; it was [St. Louis Blues' broadcaster] Kelly Chase's group with Country Thunder put that on, [Toronto Maple Leafs' assistant director of player development] Hayley Wickenheiser was involved. They brought in a bunch of NHL alumni, current and former players, coaches. We had the opportunity to meet with the families at a banquet the night before the concert and talk with them and some billet families, and try to help them as best we could — and let them know that the league and NHL alumni and NHLPA were there that were all in support of them.
The next day, we went to the concert and sat with the families and first-responders. That was a real nice night. I started talking with Kelly Chase, who does a lot of work like that, and Hayley Wickenheiser, and I wanted to try to do something, Humboldt being my hometown. We decided on setting up a golf tournament and trying to help the Broncos out and raise some money. One of the key things we wanted to do was make it a memorial golf tournament. We had pictures of the players and coaches and staff that they had lost on every hole and we had sponsors. We had great support from our sponsors; most of them were local from Humboldt or just nearby Saskatchewan. They all played in it. We had some family members play. It filled up so quickly we felt bad we had to turn a bunch of people away.
It was a huge success. I think the families had a good time and there were some emotional moments during the day, but we raised a lot of money for the Broncos. Hopefully, we can help get them back on track.
[Heading into last season], we refined a couple things and studied how the season went my first year, some of our strengths and weaknesses. But we had such a different group coming in, I think it ended up being nine new players and 12 guys leaving — that type of turnaround is not normal in the NHL — and that obviously led to a little bit of a sped-up process for us to get back into the playoffs.
A lot of the credit — or all the credit — really goes to the players and their buy-in.
We were a close-knit group last year. The young guys coming in, I think our veteran guys and our leaders really enjoyed that injection of youth, the way they got along off the ice carried over onto the ice and good chemistry.
Hopefully, we can continue to grow. We have pretty much the same group coming back, just adding a few players here this year with Ian Cole, Matt Calvert, and Philipp Grubauer. The rest of our team is very similar.
There were a lot of positives to the season, starting with our star players having career years and Nathan MacKinnon having an MVP-worthy season. Everyone kind of followed his lead, and with the injection of youth, it's an exciting time to be part of the organization, for sure.
There's no question [there's a] big difference between when I first came two years ago to now. One of the most impressive things to me is the depth of the organization now. For a coaching staff, the options that you have become greater and the depth leads to overall success, more sustainable success.
We just got back from Vegas rookie camp and we've got some talented guys there. And that's what you need. The Eagles, and bringing them a little bit closer to home, will be nice, too. We can keep a closer watch on [our young players].
This is a team that's kind of hitting the upswing… it's the hard work that we had from our players. It was reflected in our record and being able to win some big games down the stretch and get [into the playoffs]. I felt like there was games in that Nashville series where we played our best hockey. We're able to win a couple playoff games, and just shows you how close it is.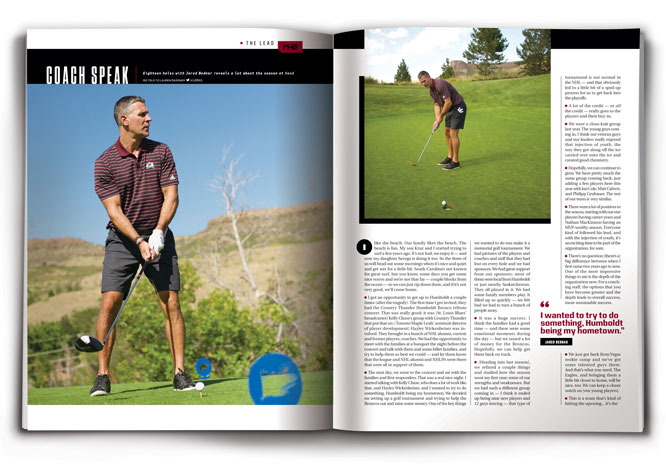 It's a contending team.
As long as we come back with that same hunger again, I think there's still more room for our team to grow as we sort of mature as individuals and then also as a team. We have a high ceiling; we just have to keep working to try to get there.
Game No. 82 (stands out), for sure. To me, the game has to be played with passion and emotion, and certainly you have to control it, but in that game at home — we were a confident team at home all year, our record at home certainly showed that — and that our guys enjoyed playing in front of our fans. It was the emotion when we scored; you see [Sam] Girard's goal from the point and his celebration. He's a really reserved, young guy, and he goes crazy after he scores.
The picture that stands out in my head is the guys dog-piling on top of 'Landy' [Gabriel Landeskog], 'Mac' jumping up and Mikko [Rantanen] jumping on the big pile there after we scored the empty-netter. It's good seeing our guys feel good about themselves and getting a chance to play in the playoffs after what I considered to be a really, really strong season from our guys.
It was fun building our fan base back after the year before. I know that they would have been as frustrated as we were.
There are worries as a coach, like being a parent; you worry that guys will come back and that they'd be complacent or feel like we've arrived. But I've already talked to a number of our guys who are already in skating, and our leadership group, it seems like we're hungry for more — like that was a taste of it last year, and now we want to continue to build off that. It has to be a conscious decision everyday by our players that this is the way we're going to do things. Our goal now? How do we go from being a 95-point team that just got in [on] the last day to being a 100-point team — and a team that can win some rounds in the playoffs — and give ourselves a good chance?
If you're not playing well, then you're going to lose some ice time — and other players will step up and take it. That's where we're getting to now. It's exciting for a coach, and should be exciting for the players, too. Players want to be at their best every night, and some motivation and a little bit of uneasiness in where they stand on our team — and continually trying to prove themselves — I think is a good thing.
[Goaltending] is just another one of those depth situations. You have Varly [Semyon Varlamov], who we feel really good about the way he played for us last year coming off that injury. And unfortunately, he had that tough break at the end of the season where he gets collided with and blows his MCL and has to miss the little bit at the end of the season and the playoffs, right? So that's why the depth is important; you have to have top goaltending every night. I don't even think average goaltending gets it done anymore. They've got to be elite guys, and we feel like we have two guys that can be that. Certainly, there will be times where we ride the hot goalie a little bit, but you know, injuries are a part of the game, and the depth that [general manager] Joe [Sakic] and his staff have created within our organization can only help us. If someone gets hurt, someone else has to be ready to step in and help you win. And that's, for sure, what we feel like we have in those two guys in net.
You've got to be ready to go day one — day one of training camp — so you're firing on all cylinders when opening night comes.
I've got a lot of faith in our guys after what they did last year.
***
*For more from Mile High Sports Magazine, subscribe here!