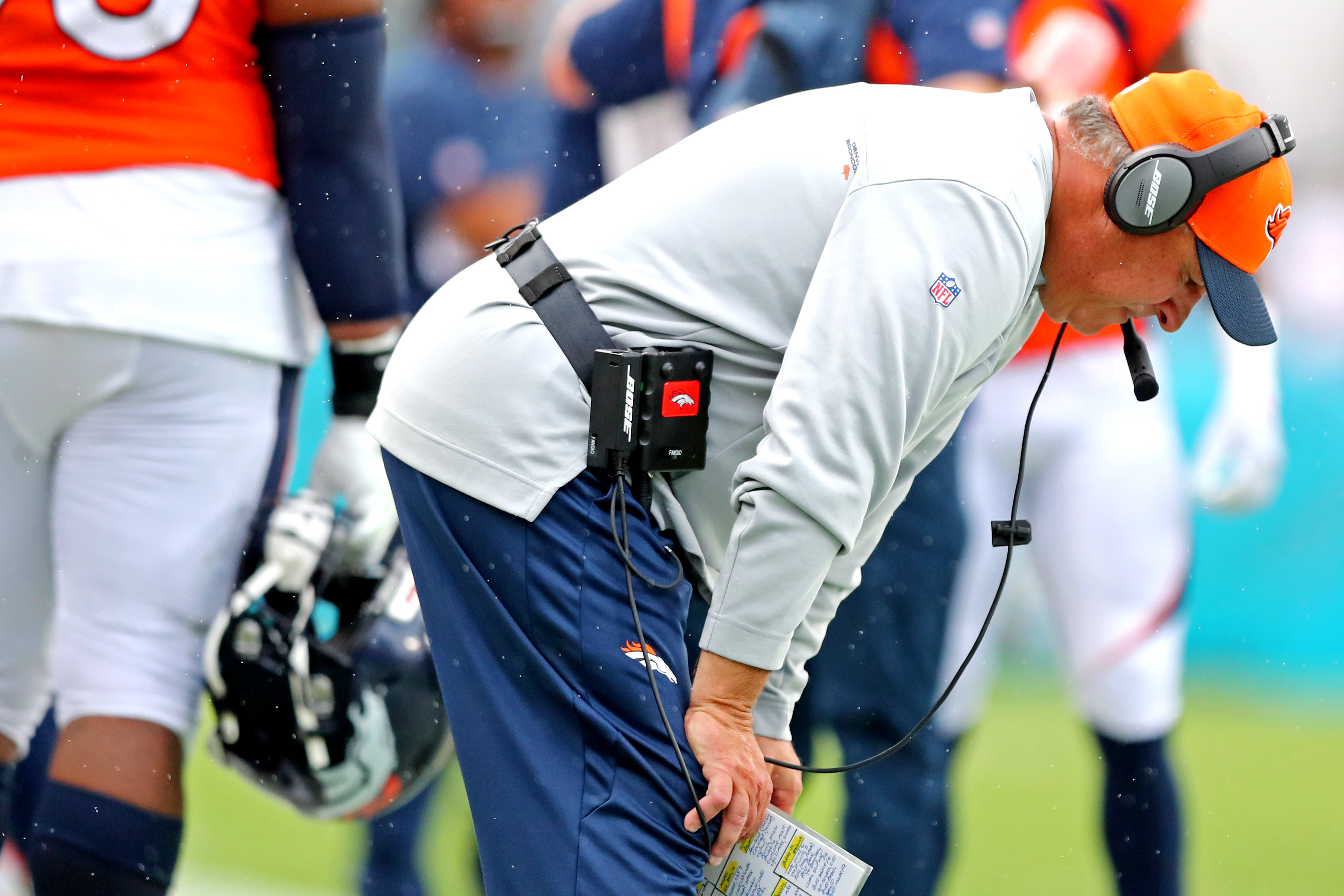 Grade the Broncos coaching staff in games No. 4 and 5 this season.
How does it look?
If one were to hand out grades – and the tests were Baltimore and Pittsburgh – the Broncos coaching staff fails miserably.
Special teams? Well, Tom McMahon is essentially Brian Madison – who might throw a party every time Billy passes another grade – only Tom's kids never seem to graduate. He gets an "F" going into (and usually going out of) every game until he proves otherwise.
In all seriousness, it's not even worth evaluating the Broncos special teams. They're so bad, that the entire schedule can be marked by at least one major blunder per game. The Broncos loss against the Steelers was no different, as a "Leverage" penalty on Dre'Mont Jones took a Pittsburgh field goal and turned it into a touchdown. The Broncos ultimately lost by 8 points, but the 4-point swing was critical, considering that it turned a two-possession game into a three-possession game for most of the second half. When it comes to Broncos special teams, if it's not one thing it's another. They're special alright.
But special teams are just one phase of the game – the smallest phase. No team in the history of the NFL has won a Super Bowl with a bad offense, bad defense but great special teams. That's just not how it works.
The Broncos offense isn't bad.
In the second half.
Forget about Teddy versus Drew. What about Pat Shurmur? After watching the Broncos against the Ravens and Steelers, it feels like Shurmur could screw things up if he had Patrick Mahomes running his unimaginative offense.
Against the Ravens, Shurmur bailed on the run. As Melvin Gordon and Javonte Williams looked to be the weapon of choice, especially when Teddy Bridgewater departed with a concussion, Shurmur went three wide and stopped running the ball.
Against the Steelers – as if he was reading all the criticism of his gameplan against the Ravens – Shurmur, early on, stubbornly stuck with the run. A solid defense to be sure, Pittsburgh stuffed the box from the get go. No matter, Shurmur insisted on run play after run play. When he finally opened things up, Teddy and Co. were decent, but it was too late.
"Our whole office was in no rhythm," said head coach Vic Fangio after the game. "Only had a couple first downs the first half."
Three to be exact. But who's counting?
If one thing is for certain, Pat Shurmur's "scripted" first series – if there's even such a thing – is nothing to write home about. The Broncos are becoming notorious for their painfully slow starts; if anyone is to blame, it's got to be Shurmur. If you believe Bridgewater is a reasonable solution at quarterback – and most of you do – then it's fair to ask: What gives?
Shurmur was downright terrible on third down (has been all season, really), going a drive-killing 2-for-12 on third down against the Steelers, too.
The Broncos look like the most underprepared, first-half offensive football team in the league. They've got talent (including Bridgewater, who's capable of both game management and big plays alike), they're just poorly coached. If you're looking for evidence of a lack of preparation, look no further than the Broncos very first possession – a delay of game penalty before a single play was run. How does that happen?
"We didn't move the ball very well at all until late there, so obviously it's a concern," added Fangio during the postgame – just to reiterate the point that his offensive coordinator has tools, just not the wherewithal to use them for four quarters.
But Uncle Vic, as good as he might be at throwing everyone else under the bus, has been about as bad as Shurmur. The defensive "mastermind," who was handed a personnel package that has been compared to the Broncos 2015, Super-Bowl-winning defense, has been downright awful against anyone but the league's bottom feeders (unless, of course, you want to consider a banged-up, aging-Roethlisberger, Steeler's team to be included in that group).
Quick: Name the Broncos defensive coordinator…
If you're paying close enough attention to have said "Ed Donatell," well, you're right.
And wrong.
If there's a single reason to hire (or keep) Fangio as a head coach, it's because he's known within NFL circles as one of the best defensive minds in football. With all due respect to Donatell, this is Fangio's defense, regardless of title.
"We didn't play well enough on defense," said Fangio after the game. "You go on the road and give up 27 points you're not going to win many games."
Astute observation, coach. Where, exactly, does that buck stop?
Remember how the Broncos offense was 2-of-12 on 3rd down? The Steelers, and 'ol Ben Roethlisberger who was allegedly knocking on football's death's door, went a respectable 7-of-12. Fangio's defense simply couldn't get the Steelers off the field when it mattered.
It's not just third down, either.
"It's been five games now, and in [three] of them, on the first drive, we pretty much [gave] up a touchdown," said safety captain Justin Simmons, shouldering the blame but, at the same time, reiterating the Broncos general lack of preparedness. "The urgency defensively—especially on a road game—you've got to be able to pack your defense. The offense relies on stuff like that—energy. We've got to be able to be better at starting the game off. That's what we want to do, and we've got to be able to execute."
Remember why Bridgewater was going to be such a great fit? He was the game manager that didn't make mistakes, the kind of quarterback who would get just enough done to let his defense do the rest.
And you know what? Bridgewater has done exactly what he's been asked. Nothing Herculean, but enough. He's only thrown one interception on the season, and it just so happened to be the last play of the Steelers game – a desperation play in hopes of keeping the Broncos alive.
If Bridgewater has done his part, then what's gone wrong? Well, that falls on Fangio's defense, a unit that made the Steelers look like Chip Kelly's Eagles or Bill Walsh's 49ers. If there was ever an insinuation that this Broncos secondary was on par with the famed "No Fly Zone," it's a pipedream long gone by now.
Speaking of secondary, since when is Von Miller a member of it? The now healthy Miller has had a stellar season thus far, but he's incapable of covering Chase Claypool, Pittsburgh's best receiver.
"What? How? Why?" you might ask, had you not seen the game.
Good question, yielding an answer that only Vic Fangio can provide.
When it matters, Fangio can't manage a game, a clock and now – apparently – a defense. And for that, he must be given an "F" for the past two weeks, as well.
The Broncos are not a Super Bowl contender. But on second thought, their roster is loaded with talent. Simply put, they're poorly coached in every phase of the game.
With failing grades across the board, Vic and Co. must go. It's never been more obvious.