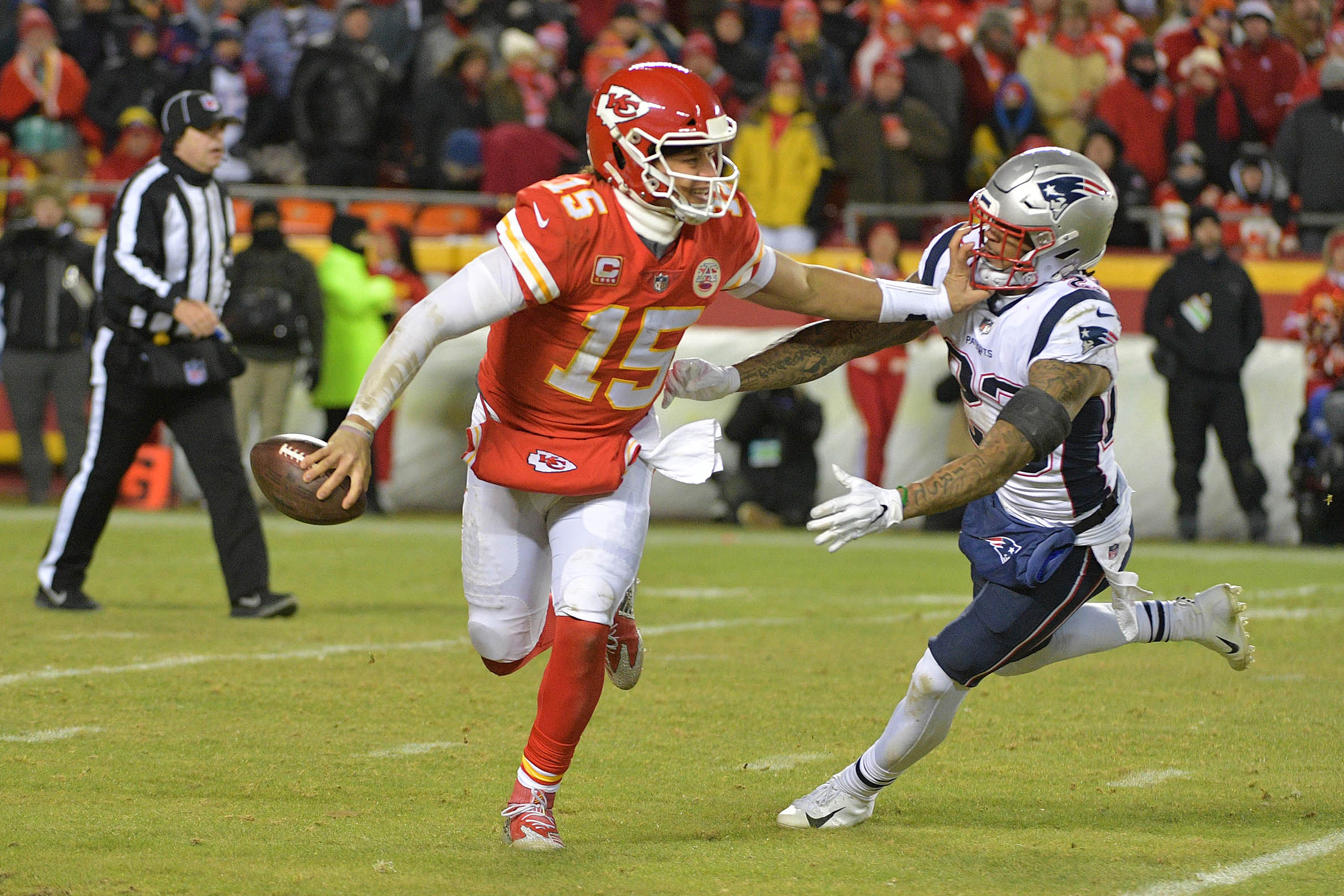 Settle in, Broncos fans. It's going to be a long, cold winter.
And you can forget about the temperatures.
The next two weeks will be bitter enough, sitting around waiting for that damn Tom Brady – and his hooded coach and hated coordinator – to go play in yet another Super Bowl. That alone could bring on the flu.
But that's just the tip of the iceberg.
Long cold winter? Think 10, maybe 15, years.
That's how long one must go through Kansas City – and not Denver – in order to win the AFC. Tom Brady might be the greatest of all time, but the neighbor next door, Patrick Mahomes, is the next in line.
From any couch in Denver, Colorado, No. 15 looked an awful lot like No. 7. Ironically, perhaps coincidentally, the only other AFC Championship to be won in overtime was Elway's "The Drive" back in 1986. If Tom Brady was Bernie Kosar on Sunday, we'd be talking about Mahomes' remake some 33 years later. Mahomes coolly led the Chiefs to a game-tying field goal with all of 39 seconds remaining in regulation. The entire second half, Mahomes was making monster plays, gunslinging it like Houdini in a helmet. Had New England not won the coin flip in overtime, the Kansas City Kid would have gotten his chance.
Would anyone have bet against him?
After "The (original) Drive", the AFC West most typically went right through John Elway until the day he retired. In the 13 seasons following the "The Drive", Elway went to five Super Bowls and lost in one AFC Championship game. No matter the team around him, the Broncos had a shot in any given season. That's how it works when a team has a quarterback of Elway's caliber.
And now, the Chiefs have Mahomes, a passer, it seems, cut from the very same cloth. And for everyone else, winning the division while this new sheriff's in town will require a little luck. Like Denver behind Elway or Peyton Manning, free agents will line up to play in KC. In the modern NFL, having a top-tier quarterback is – at least – half the battle in winning a Super Bowl.
Speaking of the modern NFL, yesterday's conference championship games told us everything we need to know about today's game: Good teams must have a great quarterback; all four teams did. A decent defense is required, but a highly-productive offense is a must. None of the defenses were great – just good enough – but four of the league's top offenses were on full display. Good coaching is mandatory, too.
Quick: Of the aforementioned requirements, which do the Broncos currently possess?
With all due respect to the newly hired Vic Fangio, none that we know of.
The quickest way to compete with the Chiefs is to somehow find an elite quarterback to match Mahomes. But every team in the NFL is trying to do that. The years in which Elway's Broncos didn't fare well in the division usually occurred when someone named Montana or Gannon was involved.
Case Keenum, even with Von Miller, ain't gonna cut it. Thank goodness the Broncos have moved on from Vance Joseph and have at least gazed beyond Gary Kubiak's archaic offense.
If anyone knows how to beat the next John Elway, it should be the original John Elway. You fight fire with fire – or at least firepower. Elway must find a quarterback, something that's easier said than done. If he can't, the Chiefs will be leaving the Broncos out in the cold for a long, long time.
Might as well bundle up.