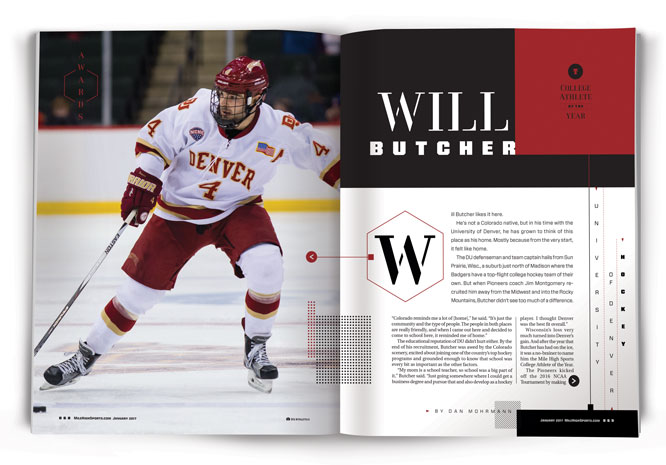 This story originally appeared in Mile High Sports Magazine. Read the full digital edition.
Will Butcher likes it here.
He's not a Colorado native, but in his time with the University of Denver he has grown to think of this place as his home. Mostly because from the very start, it felt like home.
The DU defenseman and team captain hails from Sun Prairie, Wisc., a suburb just north of Madison where the Badgers have a top-flight college hockey team of their own. But when former Pioneers associate head coach Steve Miller and former head coach George Gwozdecky recruited him away from the Midwest and into the Rocky Mountains, Butcher didn't see too much of a difference.
"Colorado reminds me a lot of [home]," he said. "It's just the community and the type of people. The people in both places are really friendly, and when I came out here and decided to come to school here, it reminded me of home."
The educational reputation of DU didn't hurt either. By the end of his recruitment, Butcher was awed by the Colorado scenery, excited about joining one of the country's top hockey programs and grounded enough to know that school was every bit as important as the other factors.
"My mom is a school teacher, so school was a big part of it," Butcher said. "Just going somewhere where I could get a business degree and pursue that and also develop as a hockey player. I thought Denver was the best fit overall."
Wisconsin's loss very much turned into Denver's gain. And after the year that Butcher has had on the ice, it was a no-brainer to name him the Mile High Sports College Athlete of the Year.
The Pioneers kicked off the 2016 NCAA Tournament by making a statement against Boston University. Denver won handily, 7-2, and Butcher led the scoring effort with two goals.
He finished with three on the tournament, as Denver made a run to the Frozen Four only to fall 4-2 to North Dakota in the national semifinal.
The Pioneers' season came to an end two wins short of the ultimate goal. So, it was no secret that Butcher and his teammates had championship ambitions coming into the 2016-17 season.
"I personally came to Denver because it was a very prestigious program," Butcher said back in October. "In my mind, they're always in the running for a national championship, no matter what year it is."
But with this being his senior year, now would be a good time to make another run. So far, he has yet to disappoint.
Through the biggest series of the season to-date, a showdown at Magness Arena between No. 2 Denver and No. 1 Minnesota-Duluth, Butcher led the Pioneers with 17 points.
It's not a selfish act as he had only scored three goals to that point. Which brings up another quality that the Pioneers love about their captain: He's all about his teammates.
It started when he and his class came in at the same time as head coach Jim Montgomery. Almost a decade had passed since the Pioneers had won a national title, so this group wanted to do everything it could to end that drought. And it was important that they did it together.
"It started when Monty came in, developing a better culture within the locker room," Butcher said. "Once we got that mindset down, I think we got it really nailed in last year with the leadership group. They nailed down the kind of culture we wanted to have this year."
That culture will play an important role once Butcher's time with Denver is up. He's been tabbed as an NHL prospect since 2013 when the Colorado Avalanche used a fifth-round pick on him. He loosely talks about continuing his hockey career once he graduates, but he knows exactly what it is that he will remember most about his college career.
"The most memorable part is definitely just the guys," Butcher said. "My class in general is a huge senior class. I think there's 10 or 11 in this class. Every guy that comes in here is a great guy. Each guy on my team is a best friend to me and I'd do anything for him."
The only way he can show that to the masses is on the ice. Through the second weekend of December, he led the Pioneers in assists and blocked shots. He gets the puck to guys who can score and he puts his own body on the line to prevent opponents from lighting the lamp.
It's that kind of play that made him a second-team All-American. He was up for the National Collegiate Hockey Conference defenseman of the year and offensive defenseman of the year. He's the top player on a team that is a legitimate contender for a national title.
Throughout the entire the process, he has grown to adopt Colorado as a place that he can make his permanent home someday.
That day might be well down the line, as there's still plenty of hockey to be played, but staying in Colorado is something that he has no problem considering right now.
"I've already talked about it with my parents," Butcher said. "I've said some things just about how great it is and how much I love it out here. I've had so many great experiences out here. It's a great place to be and it would be a great place to spend your life."
He's spent enough of it here in his time with the Pioneers that he has enjoyed all that Colorado has to offer.
But as an athlete, he has a chance to give back. If Butcher continues the level of play that garnered him College Athlete of the Year honors, he might be able to give his potential adopted home another championship.
When it comes to winning titles, the fans don't care where their athletes come from. They'll forever claim those athletes as a product of Colorado.
Born in Wisconsin, fine-tuned in Denver.
Colorado is proud to be claim Butcher as one of its own.