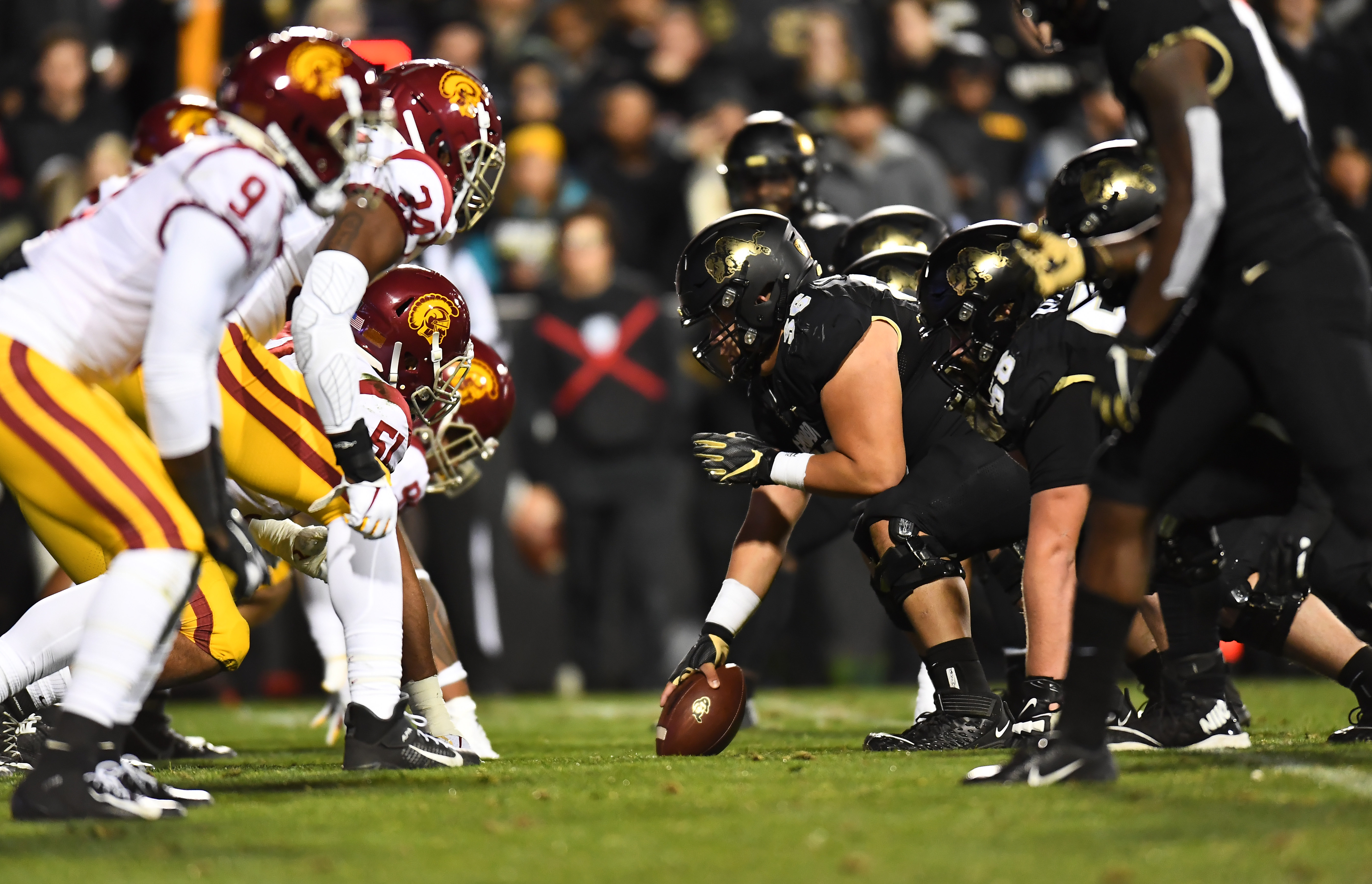 Friday night was a huge home test for the Buffaloes after two straight road losses. Colorado (3-5, 1-4) now sits at 0-14 all time against USC (5-3, 4-1) after losing 35-31 Friday night in Boulder.
Mel Tucker had the defense ready to defend the home field and the offense was firing on all cylinders, but the Trojans still earned their first road victory of the year.
The Colorado defense stepped up in a major way, especially with junior defensive lineman Mustafa Johnson back on the field. Johnson was critical in pass rush situations, and K.J. Trujillo was a playmaking machine as well. The Colorado freshman cornerback Trujillo had the only CU interception of the night and also a key sack and pass breakup on consecutive Trojan drives.
Despite the improvement over the last two weeks for the Colorado defense, Kedon Slovis and the Trojans' offense were even better. The freshman Slovis threw for 406 yards and 4 touchdowns on 30-of-44 attempts. Michael Pittman Jr. continued his stellar season with 7 catches for 156 yards and 2 touchdowns, including this one to seal the game for S.C.
The Clincher.#FightOn | @MikePitt_Jr pic.twitter.com/xMeD1PEKzL

— USC Trojans (@USC_Athletics) October 26, 2019
The Buffs didn't only have trouble with Pittman, as they also allowed 104 receiving yards and a touchdown for Tyler Vaughns.
The Colorado offense did almost everything right, too. Laviska Shenault Jr. played to his potential with 9 catches for 172 yards and a touchdown. Shenault was also effective in the wildcat. K.D. Nixon and Tony Brown each made plenty of contributions, as well. Brown had some catches in key situations and Nixon hauled in two touchdowns, but it wasn't enough for the Buffs.
Colorado had their best performance in weeks, but were unable to hold onto the lead late as USC seemed unfazed by the altitude and home crowd at Folsom Field. Steven Montez took a hard hit late in the third quarter and was never quite the same after returning from the locker room. Montez played admirably all game, rushing for a touchdown and 45 yards while passing for 324 yards and three touchdowns. This hit changed the course of the evening for the Colorado offense.
Not sure how this wasn't called a late hit. Defender takes 2 steps after ball was released. #CUBuffs #Denver7 pic.twitter.com/czRBtBFC21

— Troy Renck (@TroyRenck) October 26, 2019
A valiant effort by the Buffaloes left them just short of victory on Friday night. Penalties continue to be an issue for Colorado with a far too many 13 for 109 yards. USC gained their first road win of the season in dramatic fashion. A true Pac-12 after dark game.
Colorado travels to California next week to play UCLA (2-5, 2-2).