As the team and fans brace for the upcoming season, the Colorado Mammoth has announced the release of its complete 2017 schedule.
The Mammoth will host the Vancouver Stealth – a team it defeated by one goal in each of its two home meetings last year – in the home-opener on Saturday, Jan. 7 at 7:00pm MT. It's the first of five Saturday games that will be held at Pepsi Center.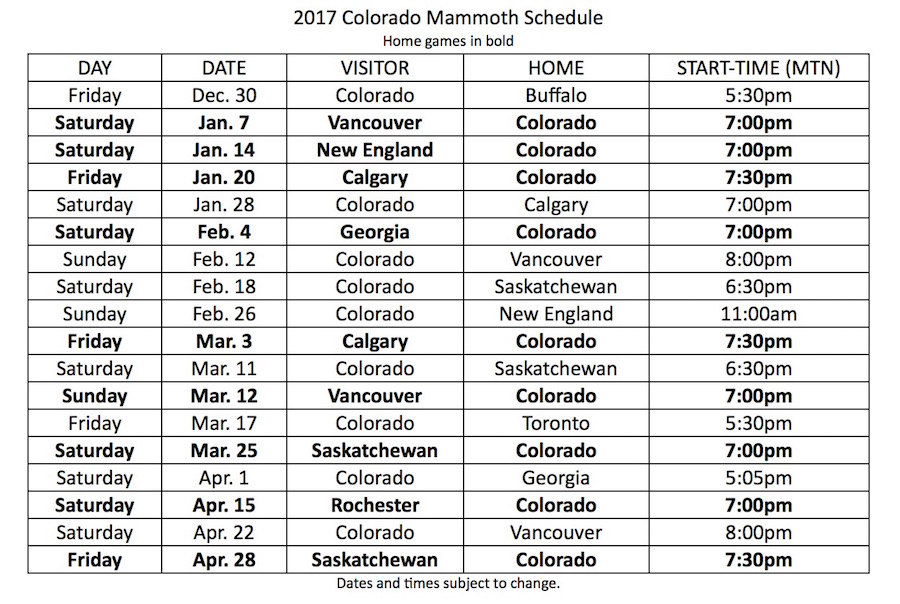 Colorado will play three Friday home games in 2017, the first against the arch-rival Calgary Roughnecks on Jan. 20 at 7:30pm.
"We still have a chip on our shoulders from last year's playoff game against the Roughnecks," said Mammoth president & general manager Steve Govett, referencing a West Division Semifinal loss that was the longest game in NLL postseason history.
The two-time defending champion Saskatchewan Rush pays two visits to Pepsi Center – one on Saturday, Mar. 25, the other in the regular-season finale on Friday, Apr. 28.
Colorado set a team record in 2016 with eight regular-season home wins.
Tickets are available at ColoradoMammoth.com.