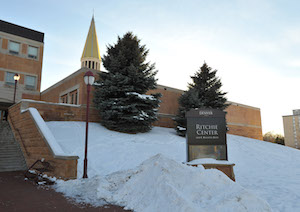 When the Denver Pioneers have added Arvada native Jared Resseguie to the active roster, it brought their total of homegrown players to five.
"I had the ultimate goal of playing division one college hockey. Obviously my main dream was to play at a great school like DU," Resseguie said. "I was able to come to games when I was younger, so it was definitely a school that I really wanted to go to, and I finally got the opportunity. I am really happy to be here, and I am excited."
Born in Arvada, Resseguie developed his talents through the Rocky Mountain RoughRiders club hockey program, and then was able to advance his hockey career by making the jump to the North American Hockey League with the Bismarck Bobcats.
"I really liked my time there [with Bismarck], and there are really good people in North Dakota. They had great host families, great teammates, and really good coaches up there. They taught the right stuff, and it was a really good time up there," Resseguie said. "For getting me prepared for here [DU], they taught all of the right stuff. Work ethic, things that you can control like being on time, attitude — things like that which really help you in the long run."
Naturally, when growing up in the same state, there is always the chance of running into a familiar face in the future — and this has been the case for Resseguie and fellow Colorado native Troy Terry.
"I played roller hockey against him when I was six or seven years old, and just playing against him — we were never on the same team. So I have known him from that side of it," Terry said. "We have always been pretty competitive between the two of us, and just playing against each other."
Always playing against each other tends to breed some animosity, especially between these two competitive individuals.
"I never liked him [Troy Terry] growing up because we always played against each other. We always had a good little rivalry going," Resseguie said. "It's cool being on the same team with him now. He is a good player, and everyone gets better around him, and I am just trying to learn from him as well."
Coming in late is never as easy thing to do, especially when transitioning from the NAHL to the NCAA, and doing so with Denver, the defending national champions.
"I give him full props. He came into kind of a tough situation — coming in here in the middle of the year — and I think that it speaks a lot to just how good of a culture in the locker room that we have," Terry said. "Everyone has just been so welcoming to him, and he has already opened up really well, and he is fitting into our team like he has been here for three years."
Naturally, every player has their own type of skill set and role that they have to fill on every successful team. Coming in late into the season, Resseguie will look to establish himself early in his own personal way.
Resseguie knows what he's capable of, and he knows his role. "I'm a gritty player. I don't really have a lot of hands or anything, but sometimes," he explained. "Hitting a lot, blocking shots and just being a team guy."