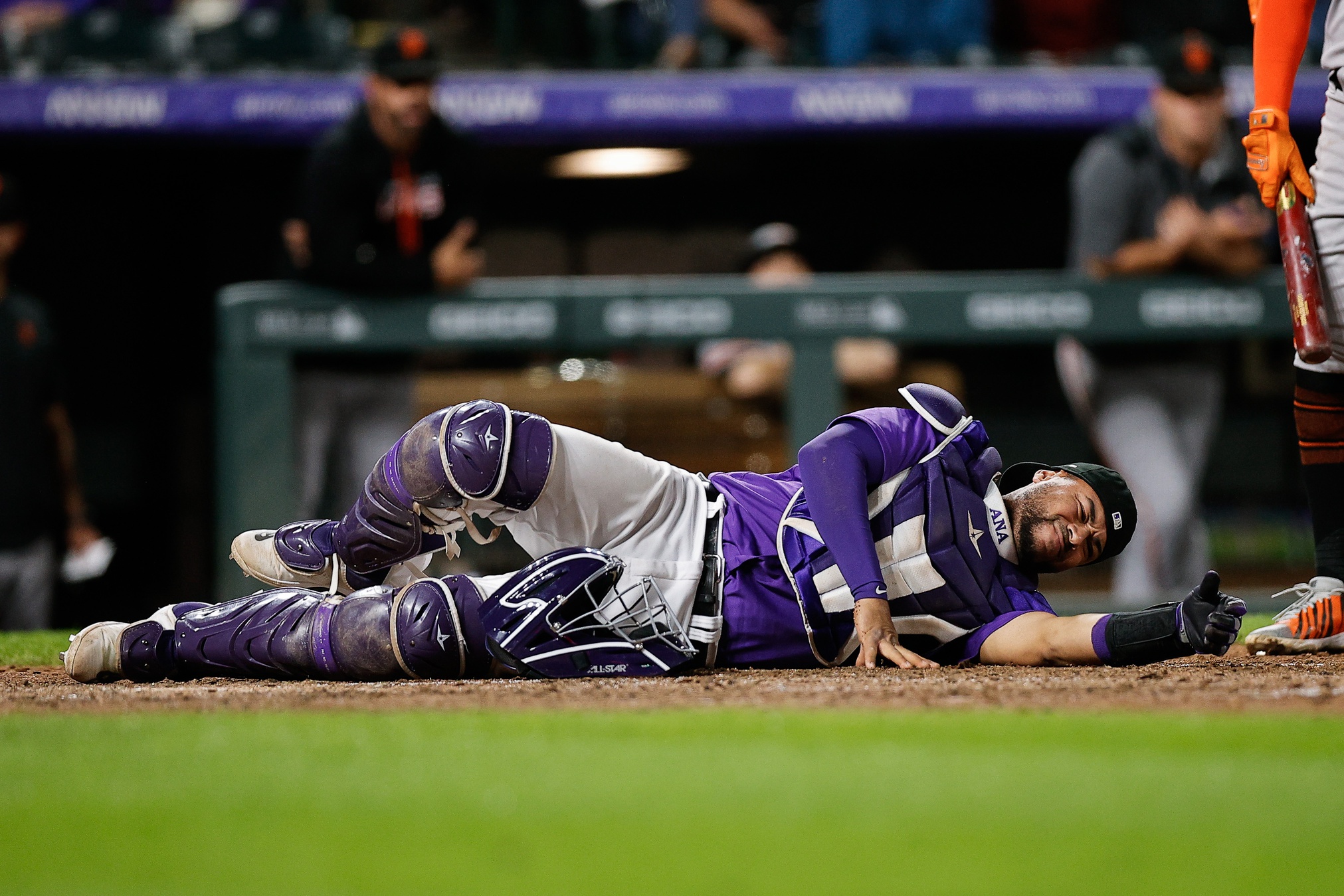 Other than C.J. Cron, nobody on the Colorado Rockies who was supposed to hit for power has been doing so with any kind of consistency.
Nowhere has this been more the case than behind the dish. It comes with an added tinge of frustration since this looked to be a potential advantage for the club whose catchers landed in the Top 10 for homers a year ago.
Elias Diaz and Dom Nunez, despite plenty of struggles both at and behind the plate throughout the season, managed to provide some pop and appeared to be settling into a comfortable place. But that simply has not manifest in any way so far into 2022.
Nunez got off to a slow start and needed to be sent back to Triple-A just to get some playing time and hasn't gotten into a groove at all, posting a 64 wRC+ in 24 games.
Diaz, meanwhile, has fallen into a bad slump and hasn't been able to produce at anywhere near the level that he, his coaches, and the fans had hoped.
In 46 games, over 163 plate appearances, he is hitting .215/.270/.315 with three home runs and 15 RBI. He hit a homer in his last game on June 19 and it was the first he had since April 29. And it's not like he has been making up for it by at least putting a few in the gap here and there. Diaz has managed just six doubles so far.
Because of all this, he has lost his regular starting gig to rookie Brian Serven. 
The 27-year-old, who has never been anywhere near the expert's top prospect lists, has gotten off to an excellent and surprising start to his MLB career.
Hitting .295/.358/.492 with three home runs and nine RBI over 20 games, Serven has been a much-needed breath of fresh air. 
And while it is clear that he need to make the bulk of the starts at backstop for now, it also isn't necessarily fair nor reasonable to believe that he is going to be able to make up for what the Rockies have lost at the position.
The hope was that they would be able to get at least 20 home runs out of these players but between all three of them, one of which has been a massive positive surprise, they still sit at just six.
Now, it's not impossible that they could really turn things on as we head toward the midway point and into the second half. Diaz in particular has some experience with dramatic turnarounds, producing one of the most dramatic ones in team history just a year ago.
But it would truly take something that dramatic in order for this group to not end up a disappointment by season's end.
The extended result of all this is that the lineup in general remains on a search for power. 
Feels like we've been saying it all season (because we have) but the return of Kris Bryant, reportedly happening this week in Minnesota, should do at least some to help with the issue. Ryan McMahon has been heating up a bit lately, something the club needs badly if they are to pull themselves out of this hole they've dug. 
Brendan Rodgers has been up and down but we know has the potential. Randal Grichuk, too, needs to find a way to power the party.
Maybe the most disappointing of all of them, especially because of how loved he is by the fans, has been Connor Joe.
The on-base ability remains strong and consistent but he is slugging just .392 on the season while often occupying a power position. 
They need to find it from somewhere and it will more than likely come from one of these players out in the field.
Unfortunately for the Colorado club, it looks like despite all the hope that they could finally put together a season where their catchers were a plus on both sides of the baseball, it almost certainly won't come from behind the plate.
Maybe next year.