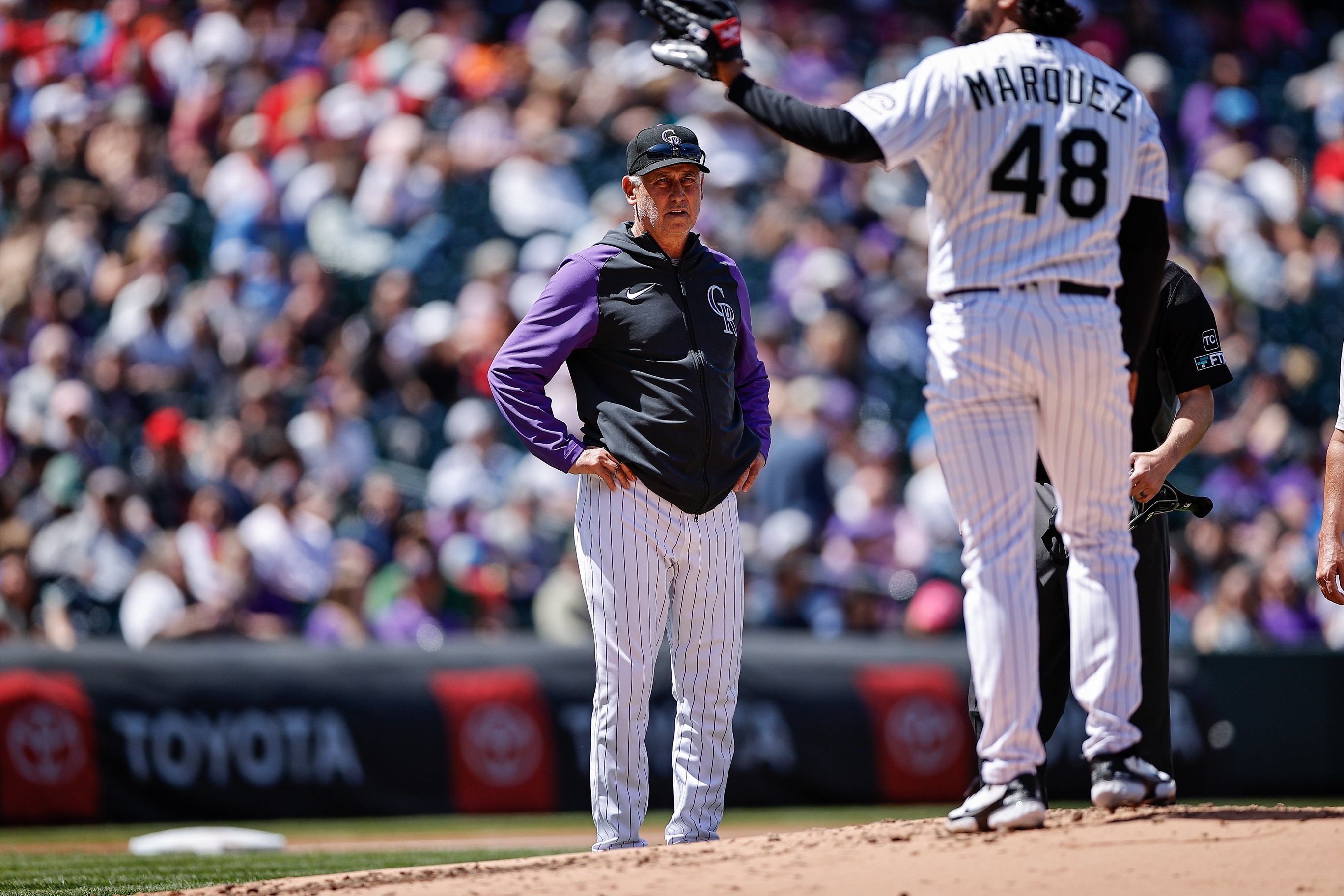 Despite what most casual observers might have you believe, the Colorado Rockies have been built around their starting pitching for quite some time.
Playing half their games at Coors Field, the most offensively friendly environment in baseball maybe ever, obscures this fact but we have some fancy advanced metrics that help us to understand it.
The statistics ERA+ and OPS+ help account for the ballpark and the relative production of the league in order to get a much better idea of where the Rockies are succeeding and where they are failing. They aren't perfect by any means, but they tend to be consistent, especially when looking at the history of just one club.
Since 2017, the Rockies team ERA+ has been significantly better than their team OPS+ year in and year out. That season, they posted a team OPS+ of 90, putting them in the bottom half of all Rockies teams ever. But they also posted an ERA+ of 112, matching the franchise high, and so won 87 games and made a postseason appearance.
They did basically the same thing the next year with an OPS+ of 90 and an ERA+ of 109 in 2018, playing October baseball for the second year in a row.
As every Rockies fan knows, things got really ugly after that, beginning with a brutal 2019 campaign. Still, though, as much as they fell apart, this dynamic remained intact with a 93 ERA+ that comfortably outpaced their 88 OPS+. Only six Rockies teams have hit worse than the 2019 squad.
In the shortened 2020 season, it happened again to an extreme degree with the club setting their all-time low mark in OPS+ at 80 but remaining mostly steady on the hill with an ERA+ of 95.
And once again in 2021, it was the pitching (99) that held up while the offense (87) floundered.
But so far in 2022, everything is upside down. The offense has been fantastic with a 103 OPS+ which would be a record if it held up. Though, is almost certainly won't. Still, the Rox have only topped 100 OPS+ twice in their history.
Meanwhile, the pitching has been very disappointing with an ERA+ of 92.
Chad Kuhl leads the starting group with a 119 and both Austin Gomber (104) and Antonio Senzatela (101) have been above league average but both Kyle Freeland (94) and German Marquez (74) are battling to get out of the red.
In the bullpen, Daniel Bard (123) and Justin Lawrence (138) have been very good, Alex Colome has been serviceable, and Tyler Kinley (739…not a typo) has been beyond incredible.
After those four, it ranges from pretty bad to truly terrible. 
Additionally, the Rockies got some bad news this week when Senzatela had to hit the IL with back stiffness, potentially exposing even further the Rockies lack of pitching depth.
With both Peter Lambert and Ryan Rolison already out with injuries, Colorado turned to Ryan Feltner the last time they needed a spot start, and he was fine given the full context of the game.
Sure, a five-inning, four-run performance doesn't make for a good ERA but considering the parade of terrible defense behind him and the fact that he got seven strikeouts against one of the most dangerous lineups in the National League, it was an encouraging outing.
Long relievers Ty Blach and Ashton Goudeau have had moments but are few are far between, not to mention they can only eat so many innings.
Manager Bud Black admitted recently that he expects the pitching depth to be greatly improved in a month or so but until then they may find themselves straining to keep their heads above water.
Either way, in both the short and long term, the Rockies are going to need more out of their starters and 'pen if they are going to get anywhere close to the postseason this year.
Of the Rockies Top 10 seasons in OPS+, they only reached the playoffs twice. In their Top 10 ERA+ seasons? Five times.
In fact, all five Rocktobers rank in the Top 7 ERA+ seasons in franchise history. Pitching matters. It matters much more than hitting. Especially for this team.
So, if this team wants to make good on their promise to play competitive baseball all season, they better get it together on the mound. Fast.