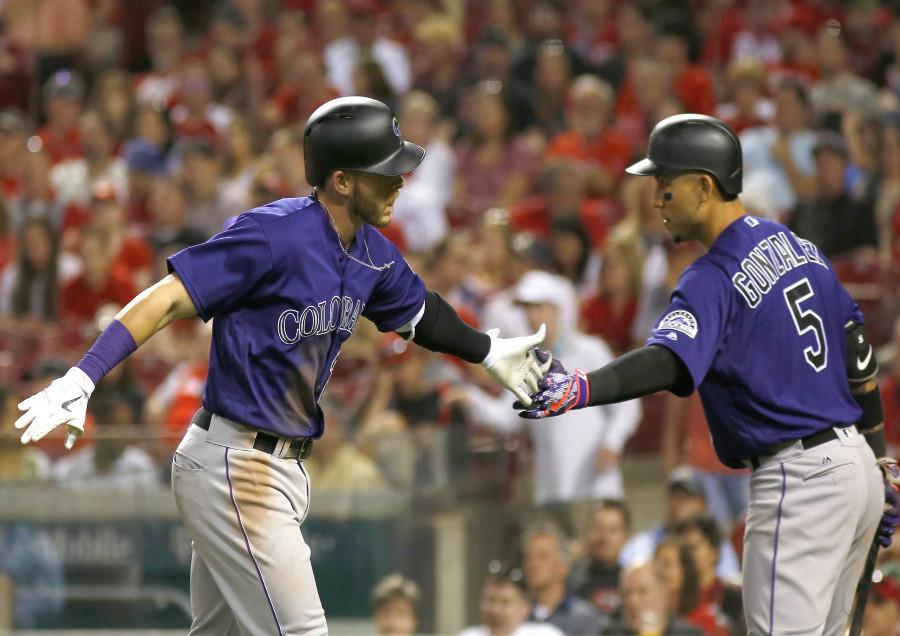 The Colorado Rockies finished up their road trip on a losing note; however, the 3-3 road skid revealed a ton about the future and potential this Rockies team.
"Overall, I'm pleased with the way we are competing, absolutely," Manager Walt Weiss told Patrick Saunders of The Denver Post. "Of course, we really wanted to win this game, and win both series on the road trip, but that one got away from us today. The guys are competing really well, for the most part. And playing very well."
The Rockies finished their road trip on a heartbreaking note, losing the rubber game in walk off fashion against the Cincinnati Reds.
However, there were a ton of positives to take away from the series and road trip.
"Obviously we wanted to win both series, against the Cubs and the Reds," said Carlos Gonzalez, who notched his 1000th career hit Wednesday. "I think we are finding the right way to play, especially on the road, something we haven't done in the past few years … Now we have to go home and take care of business at home. It's something we talk about a lot, but we have to dominate at home."
Obviously, the Rockies want to dominate all the time, but the limiting factor, for what has seemed to be eternity, has been the pitching.
The Rockies starting rotation managed to put together a 2.72 ERA over the last seven games, a more than acceptable number.
All of the starters have showed promise — except for maybe Jorge De La Rosa, who got rocked Tuesday night.
That said, more good news is in store for the Rockies as Jon Gray is set to make his debut Friday.
The big issue, though, has been the bullpen, which owns an National League-high 6.26 ERA.
News broke Wednesday that the bullpen's lone bright spot, Miguel Castro, is dealing with inflammation in his shoulder, meaning the Rockies bullpen may get a lot worse moving forward.
Although the bullpen has been bad, the offense has not, with a National League-leading 26 homeruns. They also rank second in the NL in batting average, with an average of .267.
The team has come together on the road trip, providing consistency which has resulted in much more competitive games.
Every game the Rockies lost on the getaway was by four runs or less, proving the pitching has done better, and the bats have stayed alive.
The team played well during the road trip, but they can't stop there. Fans have witnessed the Colorado Rockies play well in April in the past; they have to prove they can keep this going for a full season.