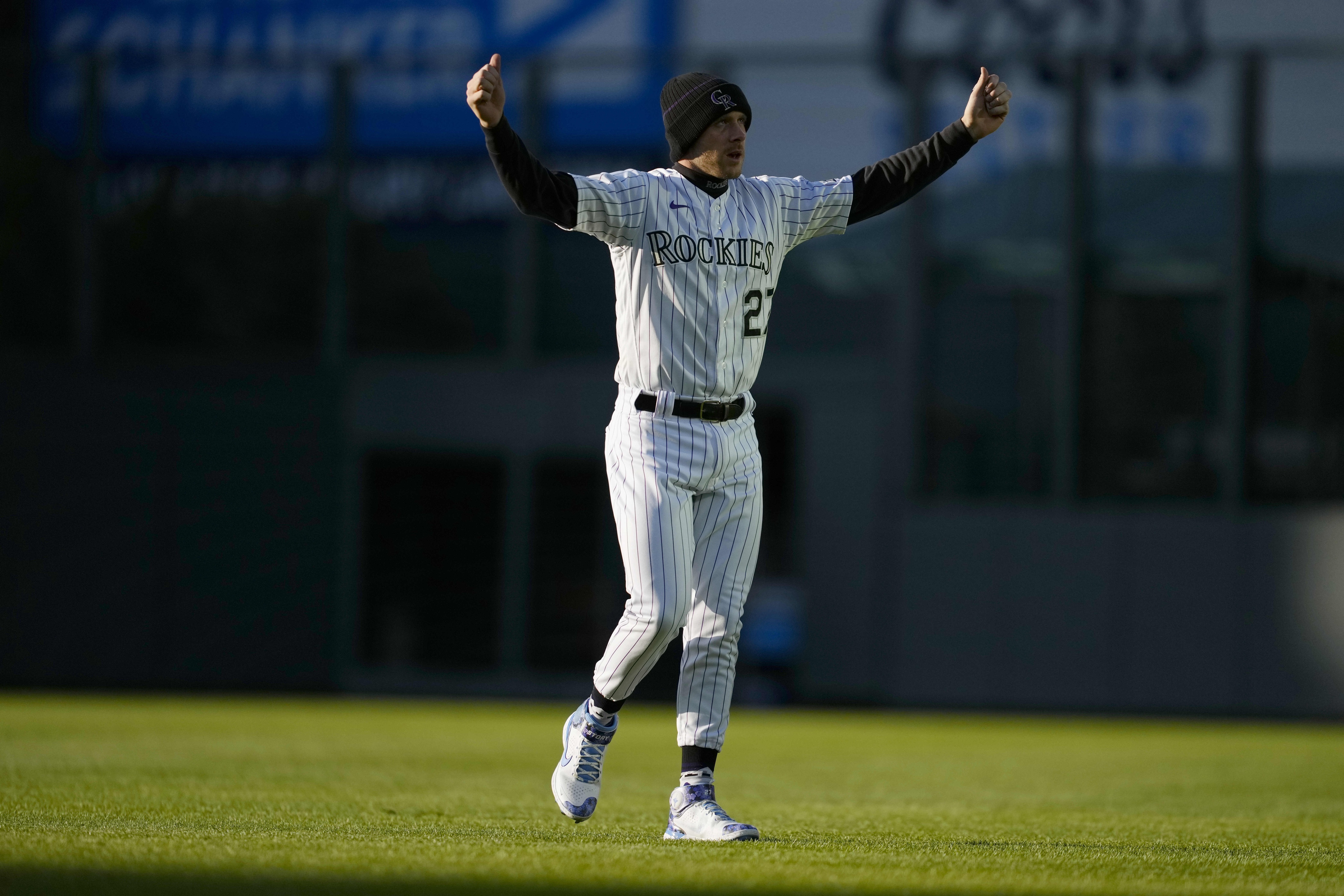 Colorado Rockies shortstop Trevor Story finally hit his first home run of the season on Friday night after going 17 games without a long ball. Story hasn't been bad overall, posting a roughly league-average .286/.320/.443 line through 75 plate appearances. But after hitting 37 and 35 home runs in his last two full seasons, it has definitely been a slow start for the impending free-agent star.
Story's homerless stretch prompted an interesting comment from AT&T Sports Rocky Mountain and MLB Network Radio analyst Ryan Spilborghs:
Trevor Story has 0 homers this year, according to baseball savant he would have 5.4 expected homers, even crazier if he hit in some other stadiums he would have up to 9HR already!!!! The only stadium that he wouldnt have multiple homers is Coors, which is ZERO! Explain!#coors 🤯

— Ryan Spilborghs (@spillygoat19) April 20, 2021
MLB's Statcast does, indeed, indicate that Story's expected home run total is now close to seven, and would be as high as 10 at parks such as Yankee Stadium and Angel Stadium, whereas his expected home run total at Coors Field is just one. However, this doesn't necessarily mean that Coors Field is a homer-supressing environment. Statcast's expected home run totals factor in wall heights and distances at the point in which balls are hit. Coors Field is very much known for having deeper gaps—particularly in left-center field, but don't discount right-center due to the added distance brought on by the Bridich barrier—than any other park in baseball. So it stands to reason that Story, who hits high percentage of flyballs to both gaps, would see more doubles and flyouts than homers on balls hit to those areas at his home park. Here's some visual proof in the form of Story's spray chart for 2021: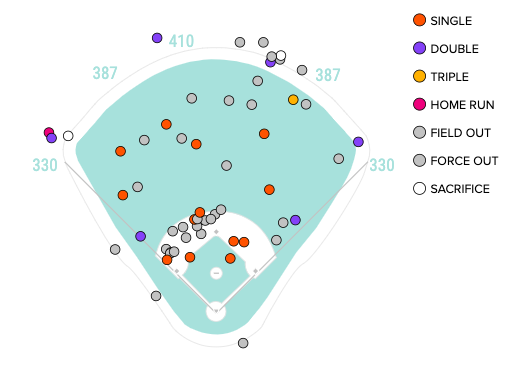 But, of course, there's a reason those gaps are so high and deep, and that's because the ball flies farther at elevation. Statcast's expected home run totals do not account for that, nor any other environmental effects. So there's a good chance that while Story is getting robbed of homers because of his home park's expansive outfield, those balls wouldn't be turning into homers at venues closer to sea level because of the whole air resistance factor.
Sorry to go all COOOOOOOOORS on you all.
All of that being said, 20th and Blake hasn't exactly been a homer haven this year, and rarely is it the best home run environment in baseball overall. Coors Field ranks 17th in home run park factor this season per ESPN, thanks in no small part to the sub-optimal weather, and it ranked outside of the top 10 in 2020. The Rockies' home park hasn't been the National League's best for home runs since 2014. The reason Coors Field is, far and away, the best offensive environment in baseball isn't because of the long ball; it's because singles, doubles, triples, and walks usually occur at a high volume—again, due to the expansive outfield and funky movement on pitches.
That was a rather long-winded answer to our beloved Spilly's question, but an answer nonetheless.
As for Story himself, the star shortstop is showing all kinds of signs of getting out of his offensive funk. His strikeout rate, something that has been a burden at times during his career, is actually below the league average and is currently the lowest of his career. Conversely, his walk rate is also low, meaning he's making more contact in general. And that quality of contact is good; Story's average exit velocity and hard-hit rate are well above average. That should all start to manifest itself in numbers such as batting average, slugging percentage, and—you guessed it—home runs sooner rather than later.